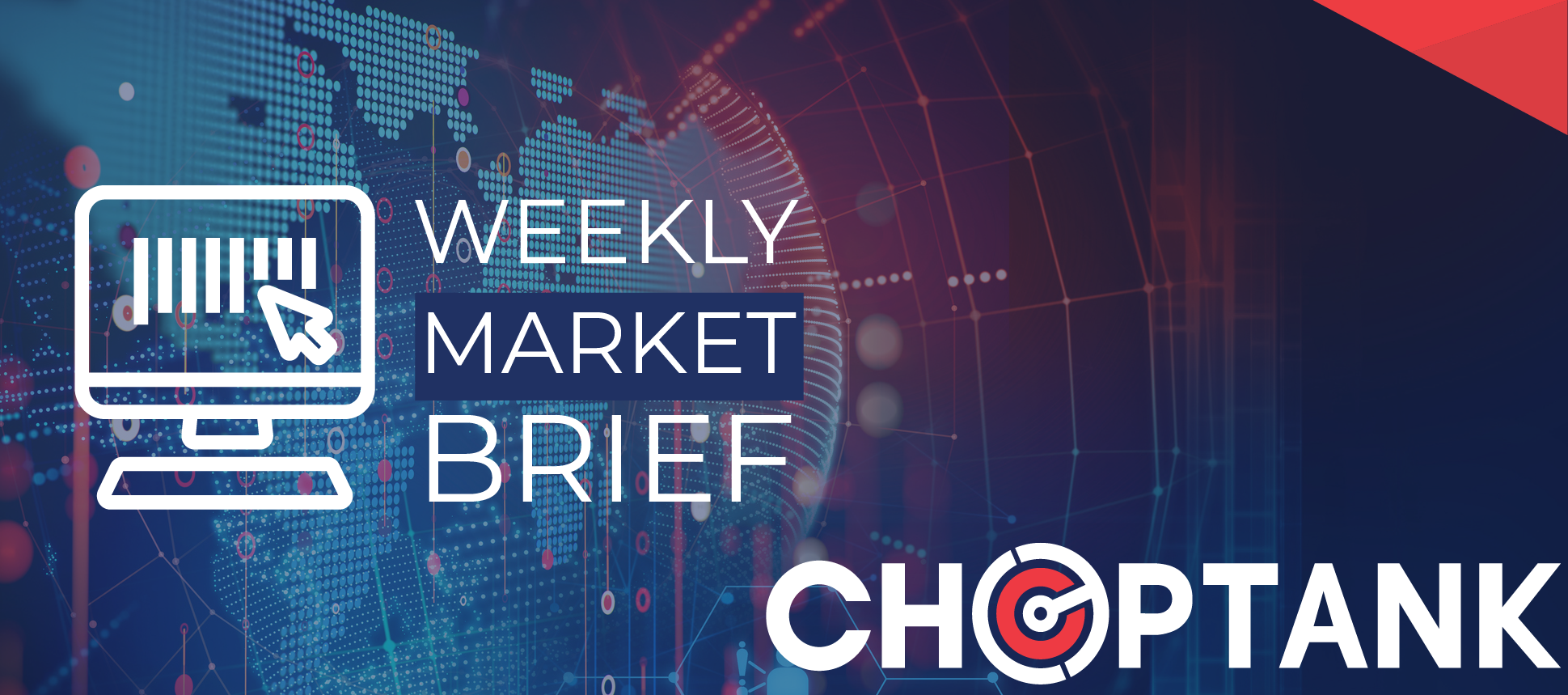 Shippers Should Secure Capacity Early This Week
March 30, 2021
The Choptank Weekly Market Brief is offered exclusively to Choptank Transport customers to provide accurate, timely and relevant freight market information. The contents of this brief are collected from reputable sources including DAT, Freightwaves/Sonar, Truckstop.com, the Department of Labor, the Department of Transportation, and other sources as cited throughout the brief.
Two prime factors are affecting the freight market this week, causing tightened capacity and inflated spot rates. This Wednesday, March 31, is the end of the quarter, and there is a push to get all freight off the docks and shipped by April 1. There also is a notable increase in port activity in the Eastern half of the United States due to the sustained congestion at West Coast ports. The Savannah market in particular has seen a significant jump in imports and volumes, as well as high rejection rates, in just the last few months.
And speaking of ports, the massive container ship that could be seen from space clogging up the works in the Suez Canal, called Never Moving... or oops, Ever Given, has finally been freed, but the damage caused by the delays to the supply chain has yet to be fully realized. When 10% of the world's GDP is hung up by a disruption of this magnitude, there is bound to be an international trickle-down effect.
This week's video

Number of the Week
$400 Million
The estimated cost to the global economy every HOUR that Ever Given was stuck in the Suez Canal. The New York Times says it held up
$10 billion in trade each day.
What's Up in the Spot Market?
All equipment types are experiencing increases in volumes and rates this week due to the close of the quarter. Flatbed rates are seeing an eight-week streak of increases.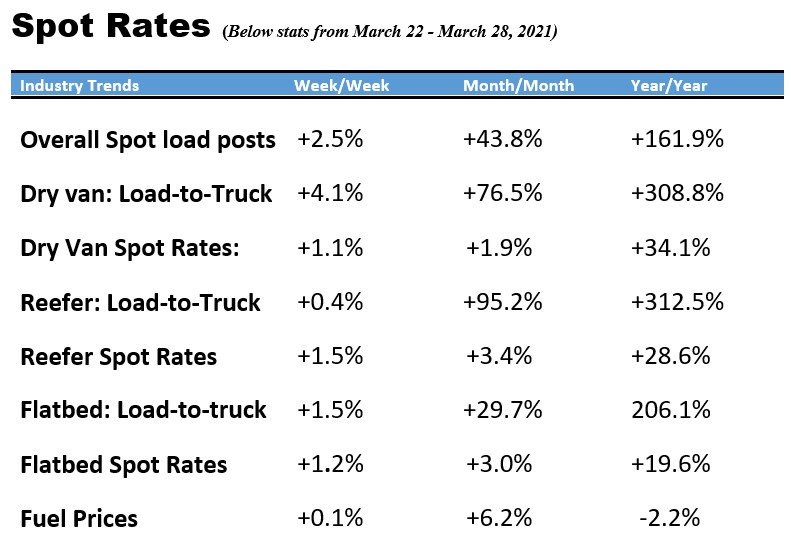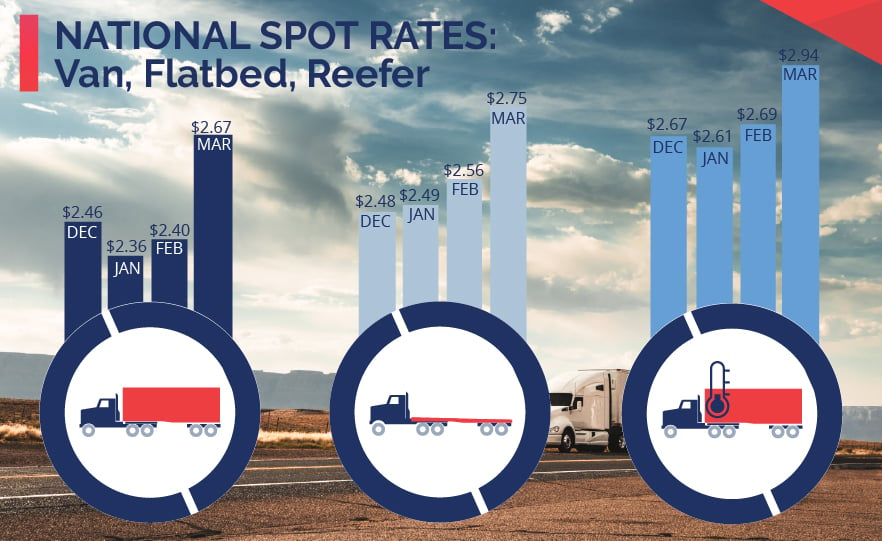 NEW!
Spot Rates Forecast
Last week's national average spot rates were up 30% year-over-year, or $0.71 per mile. Several sources have indicated that these rates most likely have hit their ceiling, or close to it. The chart below from DAT shows the following:
Ratecast: DAT's core forecasting model

Short-Term Scenario: Formerly the pessimistic model that focuses on a more near-term historical dataset.

Blended Scenario: More heavily weighted toward the longer-term models.

Blended Scenario v2:

More heavily weighted towards the shorter-term models.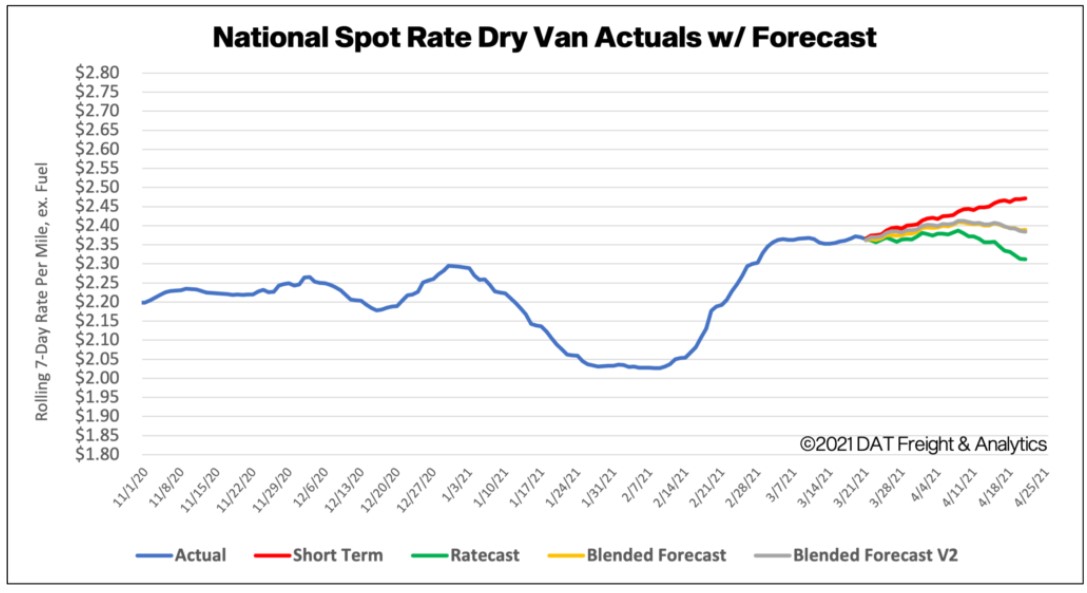 Outbound Volumes
With the exception of last year's Thanksgiving surge, volumes are at an all-time high. They jumped up another 4% last week. The disbursement of a third wave of stimulus checks along with the increased port activity and a recovery from winter storm activity in Denver and other Western states all have been factors toward making this an exceptionally busy freight week.
The data shows that consumer sentiment is favorable, and it has given the economy a huge leg up. Higher freight demand is expected to continue as more stimulus money makes its way into consumers' pockets, more port freight gets unloaded, and produce season gets into full swing.
Chart Below: National outbound tender volume with this year's data in blue compared with the previous three years in purple, green and orange. (Source: Freightwaves/Sonar)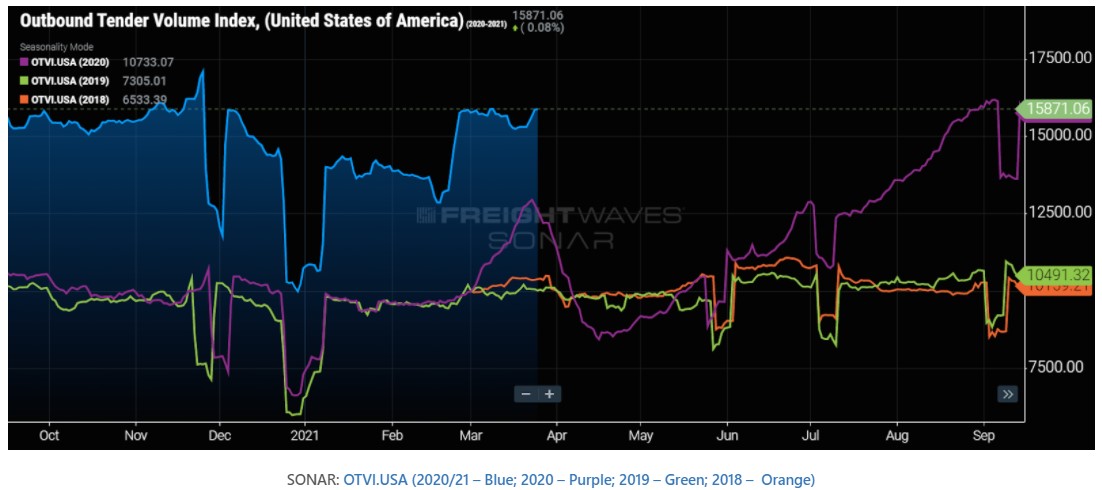 Outbound Tender Rejection
Outbound tender rejections are back up again too, close to the 30% mark. It is unlikely they will go higher than this on the national level, although many markets will see much higher rejection rates on a region-to-region basis. Last week, the Savannah market (one of the most significant East Coast port cities), was experiencing extremely high volumes (hitting an all-time high) with higher than normal rejection rates.
Chart Below: National outbound tender rejections with this year's data in blue compared with the previous three year's data in orange, green and purple. (Source: Freightwaves/Sonar)

Economy
Consumer spending data from Bank of America credit card activity shows that Americans are not holding back on purchases. According to Freightwaves, "This week's increase by far marks a pandemic high," as the numbers significantly rose, showing a 45% increase compared to last year at this same time. Also, "...only about one-sixth of the $1.9 trillion stimulus payments have been disbursed so this sharp rise likely has some legs for the next several weeks."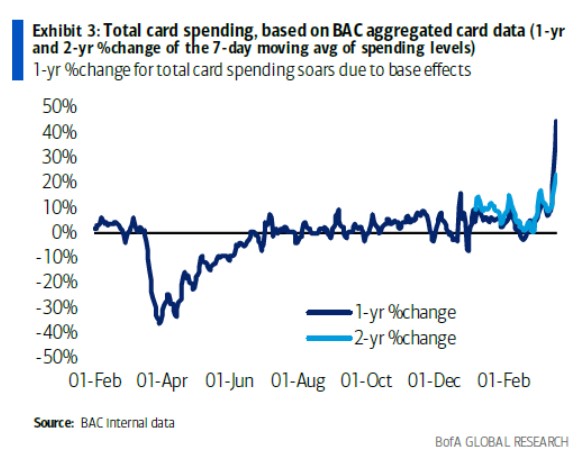 Market Conditions
This morning's market conditions are shown below for the previous day for van, reefer and flatbed. Areas in red are extremely tight.
Van Capacity
Van capacity has loosened up in many areas compared with a month ago but still is extremely tight in red shaded areas. On the East Coast, Elizabeth, Allentown, Philadelphia and Savannah markets will have higher rates and limited truck availability. The Laredo market load-to-truck ratio is 6,092/371.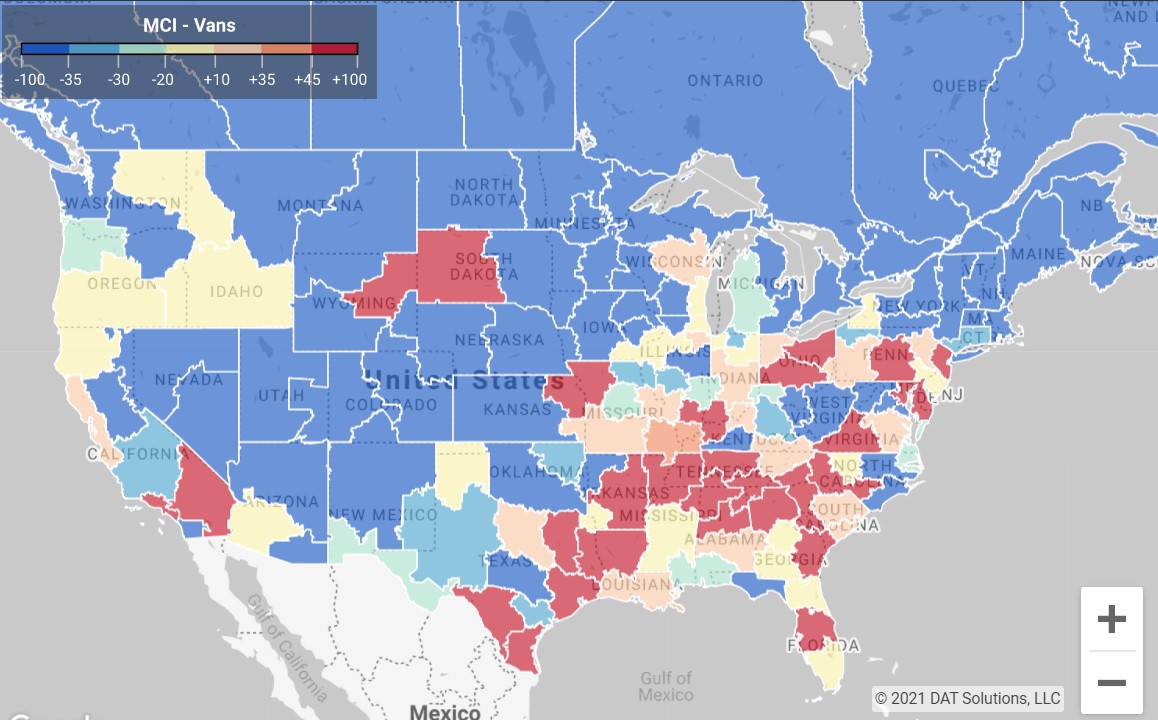 Reefer Capacity
Reefer capacity remains tight in some markets across the United States, especially in Miami, where the load-to-truck ratio yesterday was at 5,554/251.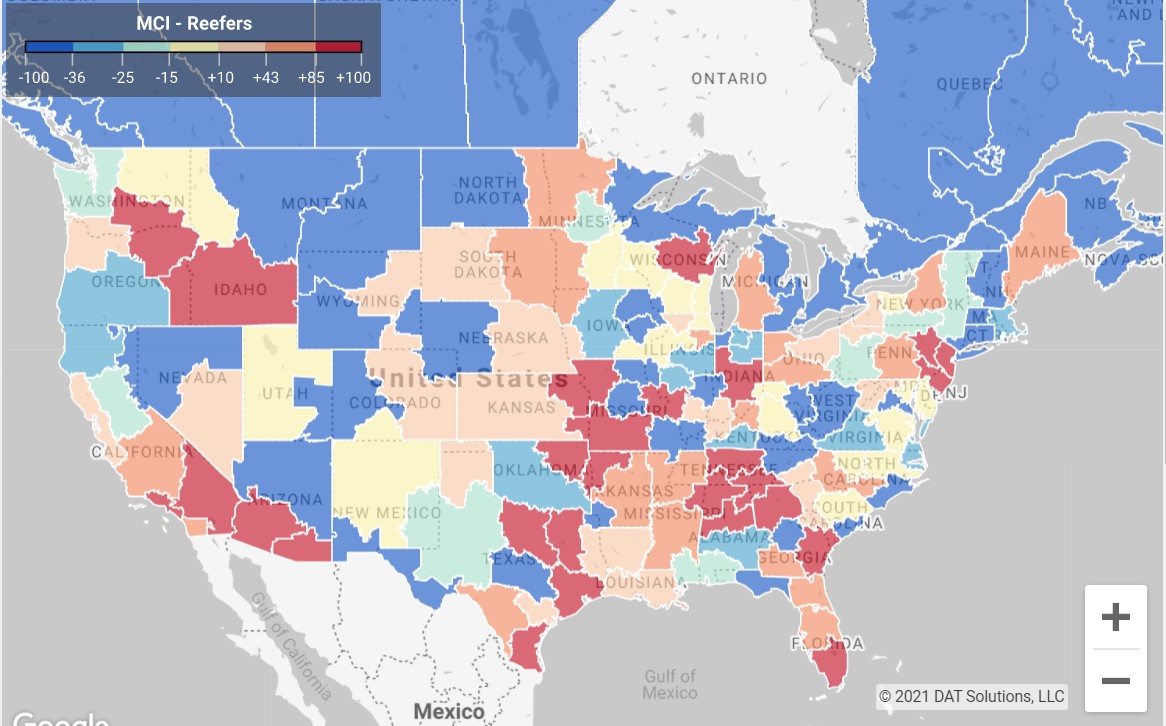 Flatbed Capacity
Flatbed demand continues to be strong, and capacity is tight across most of the U.S. With spring coming and lumber and manufacturing sectors heating up, there are few signs of any loosening. Check out the Charlotte market, where there are an astounding 14,526 loads with 76 trucks available.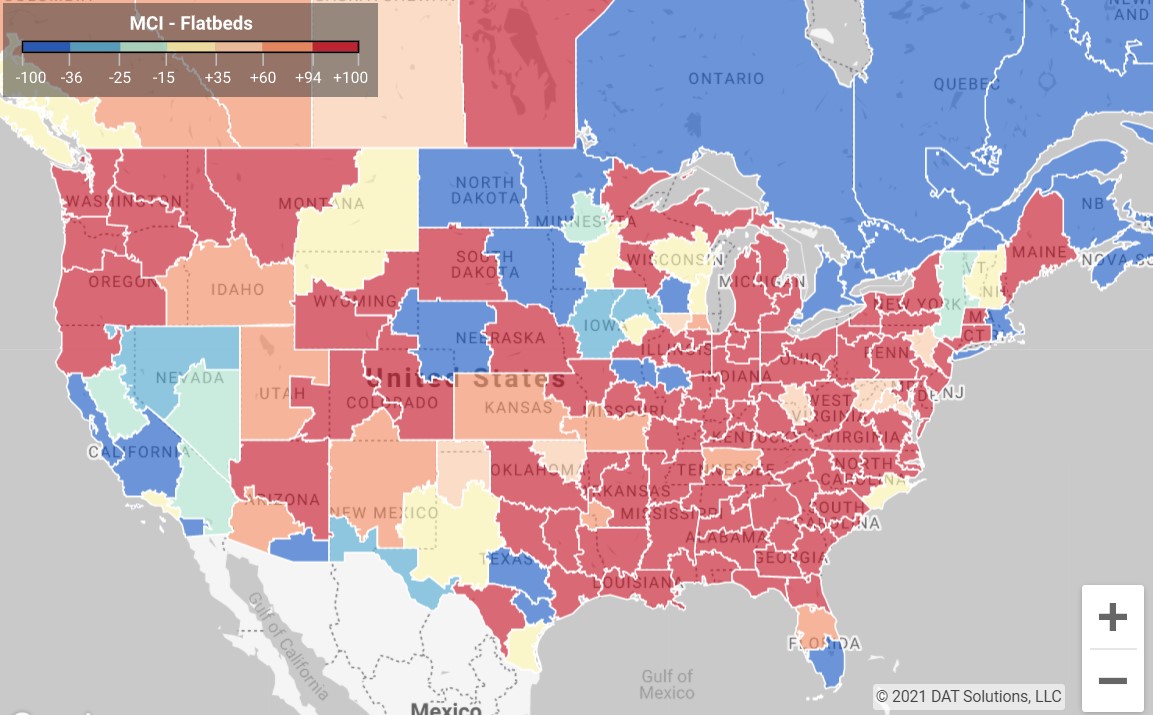 Intermodal News
Over the past seven days, domestic intermodal volumes are up about 5%, whereas international intermodal volumes are up 30%. Two weeks ago, total U.S. intermodal units were showing an increase of 19.8% year-over-year (y/y) on an 18.9% y/y increase in intermodal container volume and a 32.0% y/y increase in intermodal trailer volume, according to the American Association of Railroads.
Choptank Transport has a dedicated intermodal team. If you are interested in getting an intermodal quote, don't hesitate to contact one of our experts at rail@choptanktransport.com.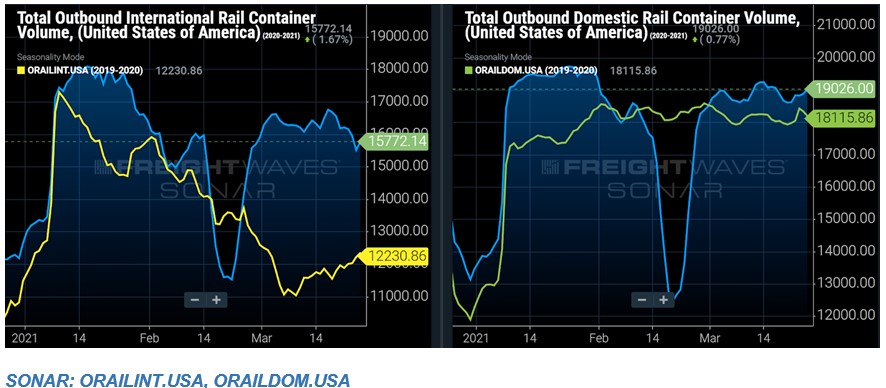 Port News
The massive container ship Ever Given has been freed from the clenches of the Suez Canal's mucky bottom. It has been sent up the canal to a docking station where it will be checked for any propeller/hull damage. It is expected to take days before the backlog of container ships clears from the canal. Some ships already had started rerouting around the Cape of Good Hope or alternate routes through the Panama Canal or over the Pacific Ocean. It is unclear if they will return to wait their turn to pass through or continue under way on the alternate course.
According to data from Freightwaves, the average rate for a 40-foot container (per FEU) from China to North America's West Coast has broken its all-time high and currently sits at $5,150 per FEU, up 20% w/w, up 5% m/m, and up 245% y/y. From China to North America's East Coast, ocean container rates currently are at $5,778 per FEU, up 1% w/w, down 1% m/m, and up 112% y/y.
Who's Got the Power?
The DHL Pricing Power Index gauge rose back up to 80 as volumes and rejection rates increased with a push for month-end freight shipments.
The pricing power index is a weekly gauge put out by DHL that indicates who has more sway in negotiations when it comes to pricing and freight rates. (Source: Freightwaves)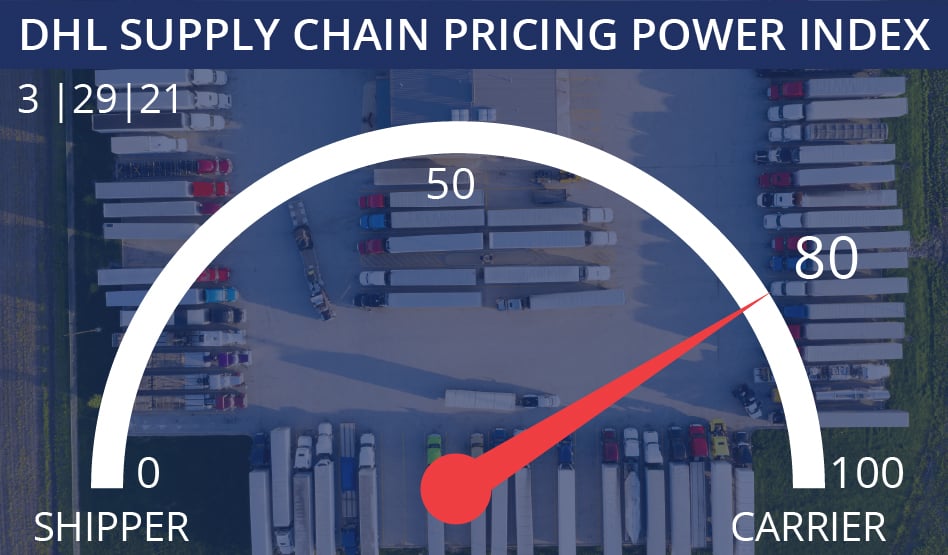 Shippers rely on the relationships they have with their 3PLs to ensure a smooth continuation of service whenever capacity gets tight. We hope you will continue to count on Choptank for all your freight needs, whether it be van, reefer, truckload, LTL, intermodal or cross-border shipping.
We would love to hear from you
What do you think about the Choptank Transport Market Brief? Do you find it helpful? Is there additional information you would like us to include or is there information you don't find relevant? Send comments to: marketing@choptanktransport.com
Have a Question? Ask one of our Experts
Your sales representative or a member of our professional logistics team is ready to help, so give us a call! 800.568.2240. If this information was forwarded to you and you would like to receive it, sign up here.