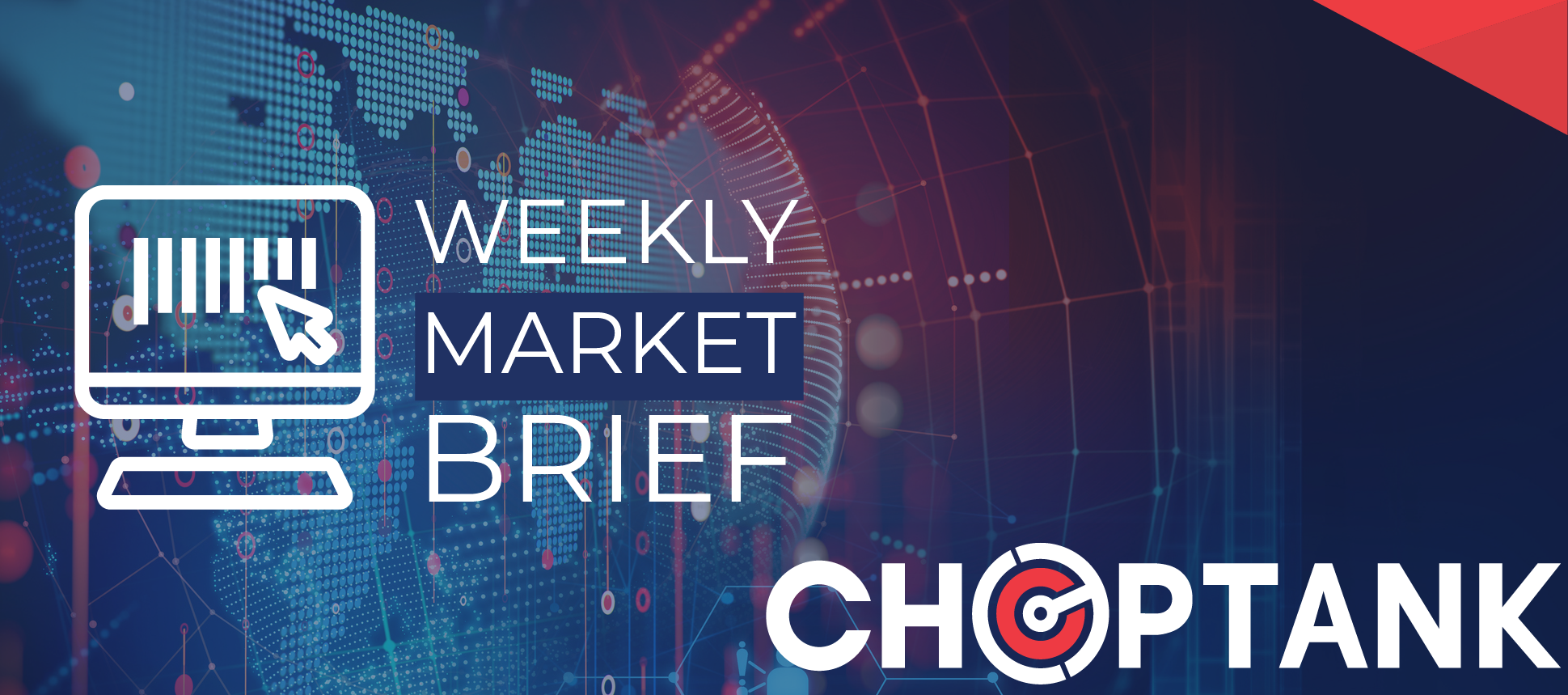 Seasonal Patterns Begin to Emerge - Happy Spring!
March 23, 2021
The Choptank Weekly Market Brief is offered exclusively to Choptank Transport customers to provide accurate, timely and relevant freight market information. The contents of this brief are collected from reputable sources including DAT, Freightwaves/Sonar, Truckstop.com, the Department of Labor, the Department of Transportation, and other sources as cited throughout the brief.
Spring is officially here, and we are beginning to see the early signs of nursery and produce freight hitting the market. Although domestic produce numbers are down by 18% year-over-year, imported produce is up 30% year-over-year. No worries, though, domestic produce is seeing increased volumes every week.
During the week of March 8, imported produce accounted for 59% of all truckload produce in the United States (mostly from Mexico and South America), whereas only 41% came from within the U.S. These are typical numbers for this time of year because in early July, the imbalance corrects itself with the higher percentage of produce coming from within U.S. borders. In 2020, 69% of all produce was grown here at home.
_____________________
Switching gears (pun intended), the autonomous truck debate continues around how and when driverless trucks will have a viable impact on the industry. A recent Department of Transportation-sponsored study concluded that drivers should not worry about driverless trucks taking away their jobs. The study predicts that long-haul drivers simply will be reassigned to short-haul lanes and will not lose their livelihoods altogether. Others are not so confident.
Former DOT Deputy Assistant Secretary for Transportation Policy Finch Fulton summed it up in a recent Freightwaves interview, "If you are a trucker today, you will probably be able to retire as a trucker. If you are a younger-than-average trucker today, you can choose to work for a company with a human-centric approach or use autonomous truckers to help augment your own operations. If you are the trucker of tomorrow, you will likely be able to make informed decisions and to choose to be trained for the jobs of tomorrow."
This week's video
What's the Latest on Autonomous Trucks?
Intermodal News
The first railroad to connect the United States with both Canada and Mexico is becoming a reality with the $29 billion dollar merger of Canadian Pacific and Kansas City Southern rail lines.
There is excitement and optimism surrounding this venture with opportunities that exist due to the tight freight market and driver shortage. Freight that normally would be transported on trucks will now have the option (in these areas) to go by rail. This larger rail network also will be in alignment with those interested in a greener U.S. economy. Read more about it here.
Choptank Transport has a dedicated intermodal team. If you are interested in getting an intermodal quote, don't hesitate to contact one of our experts at rail@choptanktransport.com.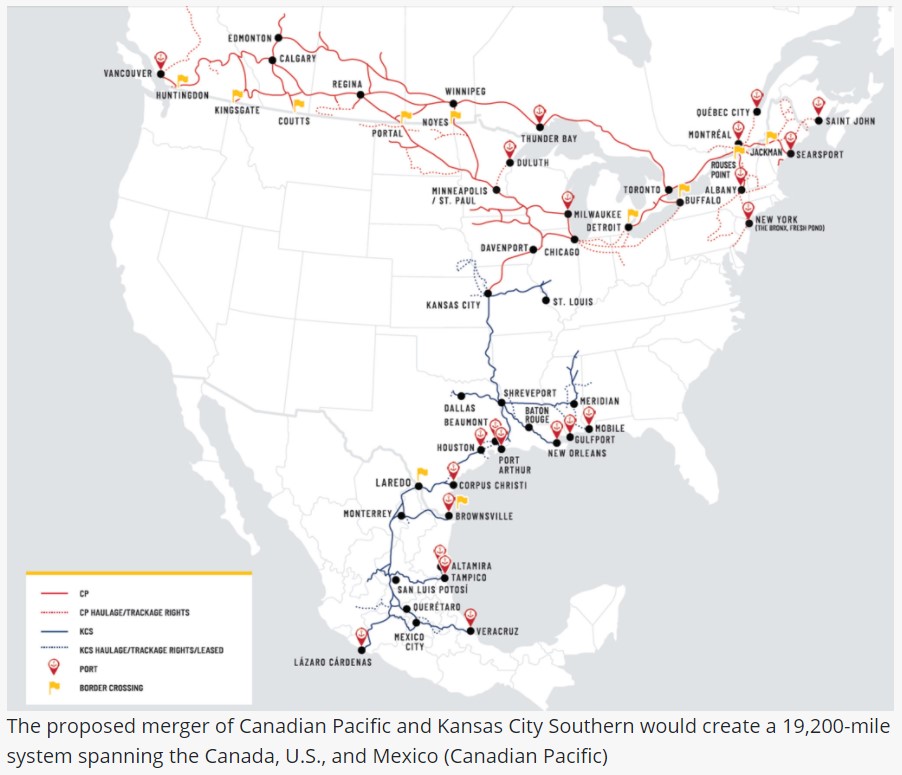 LTL Market
The LTL market is booming as the spillover from truckload freight combined with a boost from e-commerce is creating a greater mixture of load types that are garnishing much higher rates. The recent winter storms took capacity out of the market and contributed even further to higher rates. In this carrier-favored environment, many LTL carriers are being selective about the freight they want to haul and are picking and choosing the lanes that benefit them most.
Choptank's Doug VanDerveer, director of specialized logistics, weighs in on the situation: "Because of reduced capacity, multi-stop shipments are having to pay a premium. Reefer LTL rates are increasing all the time. Many asset- based LTL providers have scaled back service areas and reduced their core customer base by not quoting or accepting new clients. Choptank takes a different approach. We will rate new clients at a market-based option that will ensure we can move their orders."
VanDerveer goes on to explain that transit times have suffered with the loss of capacity, and suppliers should encourage their customers to order a little heavier. "Delays can be expected," he said.
"By loading and unloading quickly at specified appointments, suppliers and receivers can keep trucks rolling and on time," said VanDerveer. "Even an hour or two delay on LTL can have a cascading effect on multiple customers' orders, and in some cases, it can push deliveries out a full week if redelivery services are required."
Economy
In 2020, retail stores closed faster than anyone could have predicted due to the pandemic, and malls became ghost towns. Now, as more people get vaccinated and states reopen, real estate is cheap and retailers are looking at properties, reopening stores and are reviving old expansion plans that had been put on hold because of COVID. Short term leases seem to be the latest trend. Keeping or expanding brick and mortar is still a gamble, but one that some brands like Dick's Sporting Goods, Ulta Beauty and Five Below are opting to take.
Here are some uplifting and surprising statistics. More retail stores have planned openings in 2021 than closings. That is bright news since it is a "first" for quite some time. So far this year, 3,199 stores in the U.S. have planned openings while 2,548 have announced closures. In all of last year, a devastating 8,953 stores closed their doors.
Ports
Nike recently reported that Q3 revenues in 2020 missed their mark with North American revenue dropping 11%. The reason? Shipping disruptions at the ports from the pandemic. And Nike was not the only manufacturer that was affected.
Congestion at the ports held up all kinds of merchandise and delays are still an issue, although the situation is improving as more dock workers become vaccinated and containers get unloaded and on the road or distributed by rail.
Last week The Wall Street Journal reported that the Port of Los Angeles confirms that "the bottlenecks are gradually improving, with the average time arriving ships have to wait to reach a dock down to a week from up to two weeks in December and January." But, "... another rush of ships is scheduled to arrive in the coming days and the port expects the rush to continue "into the spring and early summer."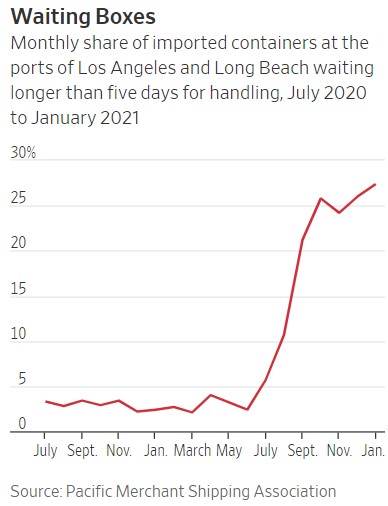 Spot Volumes & Rates
(Below stats from March 15- March 21, 2021)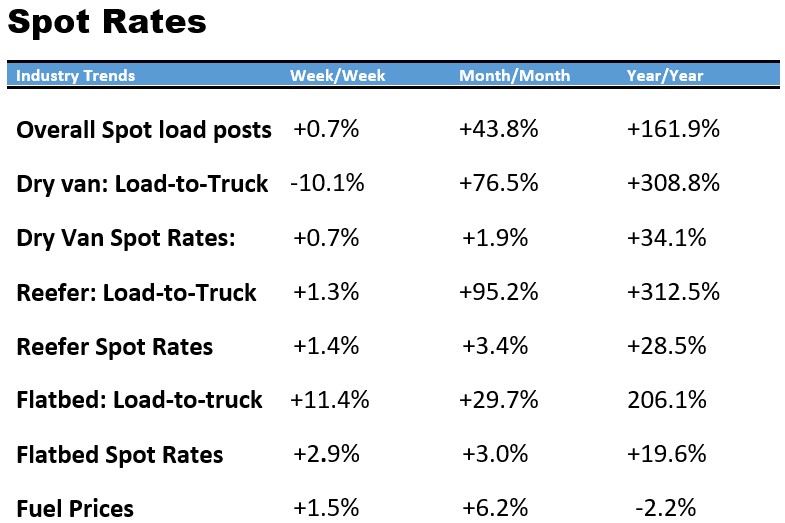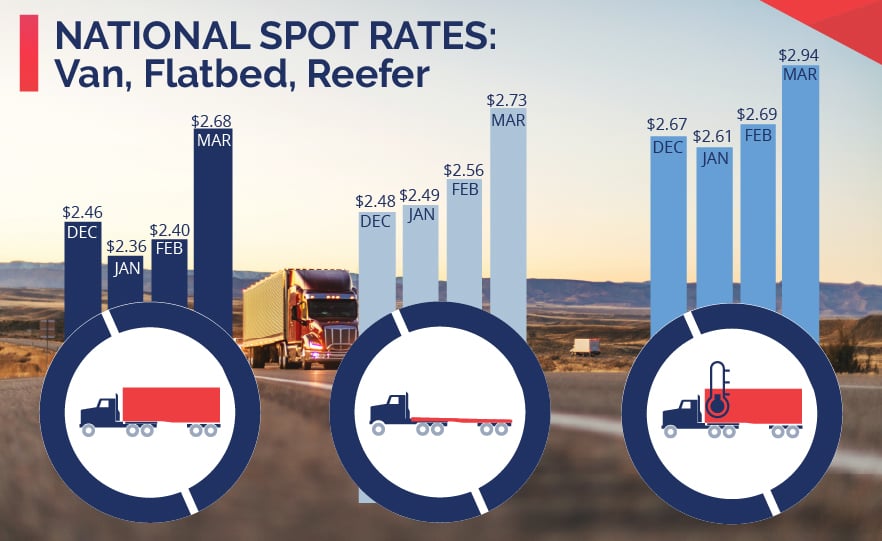 .
Number of the Week

8,953
The number of retail stores that closed in 2020 due to the pandemic.
- Freightwaves
Market Conditions
This morning's market conditions are shown below for van, reefer and flatbed. Areas in red are extremely tight.
Van Capacity
Van capacity has loosened some in many areas of the country, although there are still quite a few markets with too few trucks to fill the demand. For example, the Houston market, as illustrated in the graph below the map, shows a load-to-truck ratio of 8,112 to 978.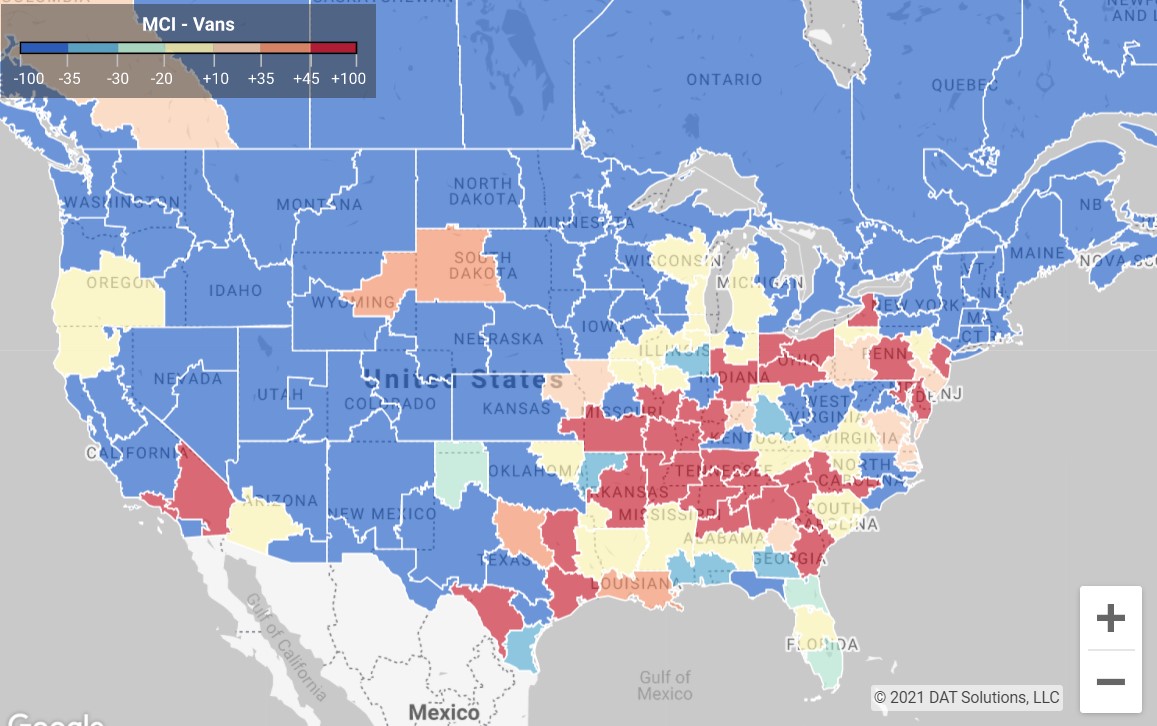 Reefer Capacity
Reefer capacity remains tight in some areas of the United States, especially in the Indianapolis area, where the load-to-truck ratio yesterday was at 3,001 to 199. Twin Falls, ID, Sioux Falls, SD, and Green Bay, WI, also are very tight.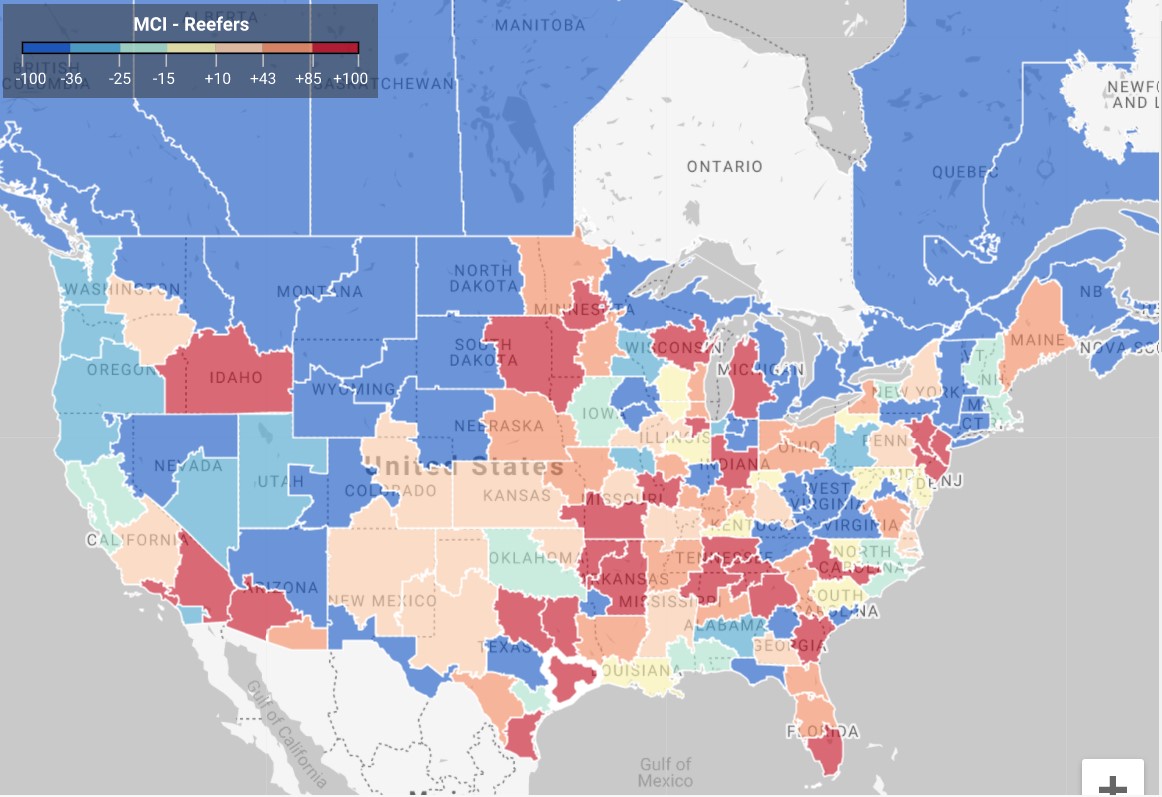 Flatbed Capacity
Flatbed demand continues to be strong and capacity is tight across the U.S. With the housing market booming and manufacturing markets regaining momentum, there are few signs of any loosening.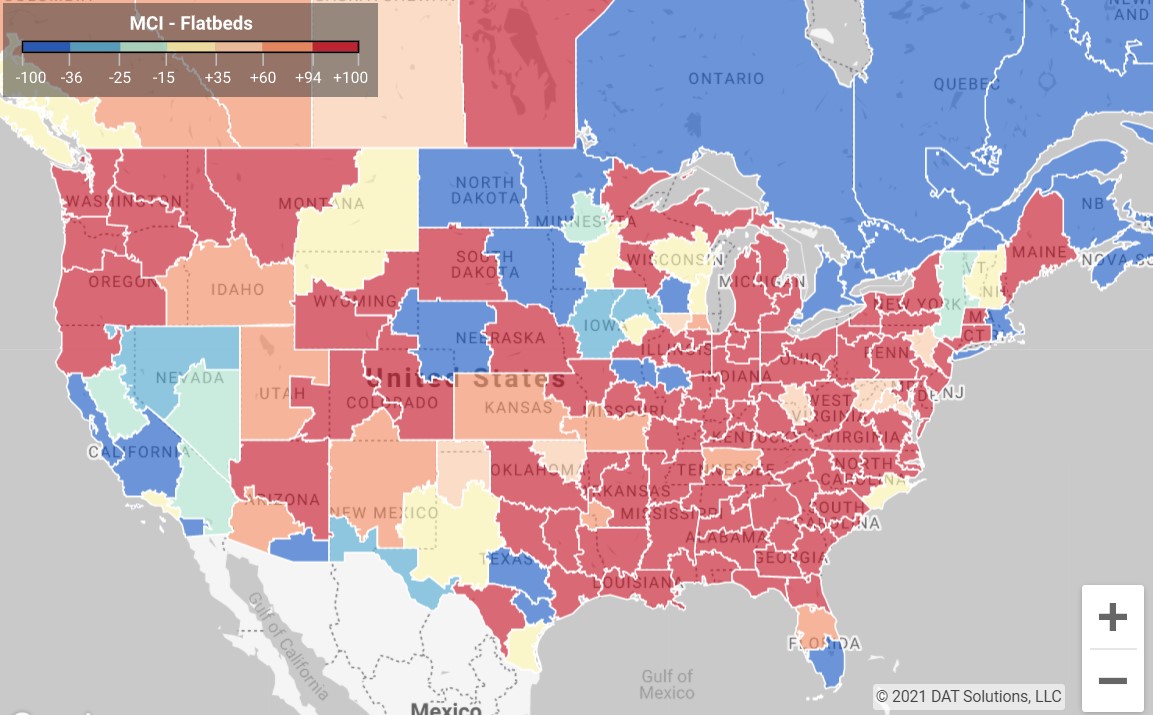 Outbound Tender Rejections
Outbound tender rejections have soared on a national level to more than 50% of all reefer loads being rejected. Rates are high and capacity is tight. Entering produce season, refrigerated trucks will be hard to find, and produce shippers can expect to pay higher prices than in previous seasons. The national average reefer spot rate on Truckstop.com's load board on Friday of last week was $3.73/mile inclusive of fuel.
Dry van outbound tender rejection rates have increased to 25.60% in the past five days.
(Source: Freightwaves/Sonar)

Outbound Volumes
Outbound tender volumes for reefer freight are up 25.1% from just a month ago and are up 30% year-over-year. It was a year ago that tenders were suddenly increasing from grocery stores grappling for replenishment stock after the mass panic-buying from the first wave of the pandemic. Reefer demand has been slow to decline after the winter storms stole most of the capacity from the market and had a ripple effect throughout the U.S. (Source: Freightwaves/Sonar)

Who's Got the Power?
The DHL Pricing Power Index gauge dropped last week to 75 as volumes and rejection rates took a slight dip downward.
The pricing power index is a weekly gauge put out by DHL that indicates who has more sway in negotiations when it comes to pricing and freight rates. (Source: Freightwaves)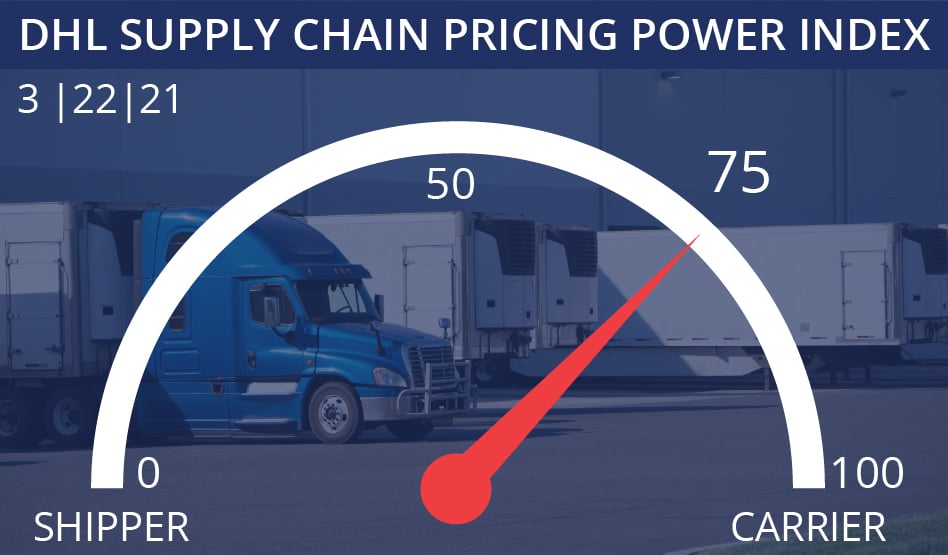 Shippers rely on the relationships they have with their 3PLs to ensure a smooth continuation of service whenever capacity gets tight. We hope you will continue to count on Choptank for all your freight needs, whether it be van, reefer, truckload, LTL, intermodal or cross-border shipping.
We would love to hear from you
What do you think about the Choptank Transport Market Brief? Do you find it helpful? Is there additional information you would like us to include or is there information you don't find relevant? Send comments to: marketing@choptanktransport.com
Have a Question? Ask one of our Experts
Your sales representative or a member of our professional logistics team is ready to help, so give us a call! 800.568.2240. If this information was forwarded to you and you would like to receive it, sign up here.