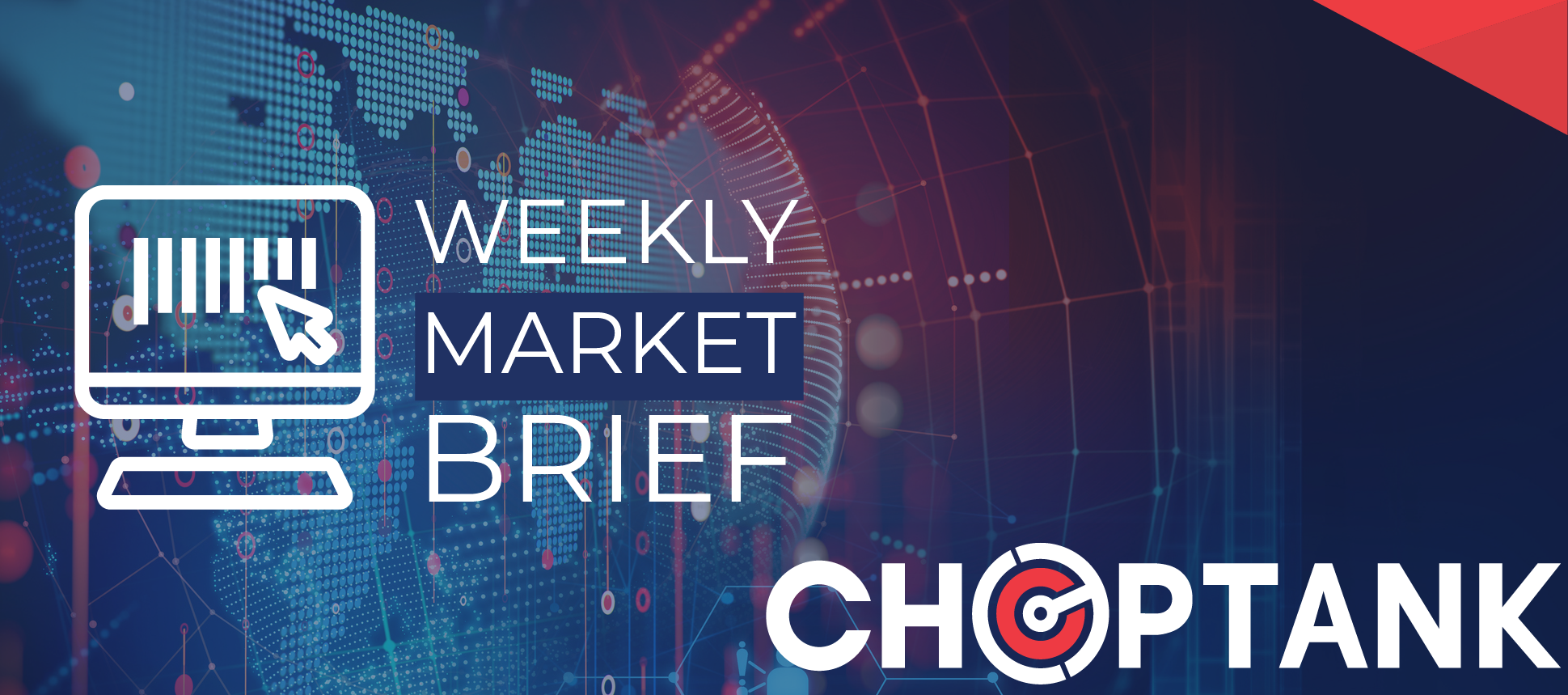 One Year Later: Blue Skies Ahead?
March 16, 2021
The Choptank Weekly Market Brief is offered exclusively to Choptank Transport customers to provide accurate, timely and relevant freight market information. The contents of this brief are collected from reputable sources including DAT, Freightwaves/Sonar, Truckstop.com, the Department of Labor, the Department of Transportation, and other sources as cited throughout the brief.
It is hard not to ruminate over all we've been through the past year with hundreds of thousands in lost lives from the pandemic. This past week marks the anniversary of America's shutdown. One in three people have had a family member or knew someone who died as a result of COVID-19. The toll it has taken on us as human beings is staggering. (And we are not out of the woods yet. This morning's Bloomberg Business reports that there is an 11% uptick in transmission cases of COVID-19 as the U.S. opens back up.)
But enough of the doom and gloom. The future is beginning to look much brighter. At the risk of being prematurely optimistic, the days are getting longer and warmer, vaccines are being administered, and Americans are beginning to receive new stimulus money. Along with the first day of spring coming this weekend, many of the crushing regulations brought about by the pandemic are disappearing, almost it seems, as quickly as they were introduced. For the first time in a year, people are feeling palpably hopeful.
According to JP Morgan, the United States is on the threshold of the strongest consumer backdrop in decades. Not only is recovery accelerating, it is even set to surpass China's V-shaped recovery curve. "We now expect the U.S. to outpace China, moving on a path that raises GDP well above its pre-crisis trajectory," wrote JP Morgan's economist Bruce Kasman in a February 20 article. What is a U shape, V shape or L shape recovery?
Personal consumption growth is up 7.5% year-over-year -- the best eight quarters of growth since 1990. Now that things are opening up, there are already strong gains in certain markets. For example, airline travel is now up 4X, or 300% year-over-year for older Americans.
Reviewing 50 weeks worth of data from Bank of America, the first stimulus package revealed that people were spending their money on grocery runs, furniture, home repairs and the stock market.
It is anticipated that the second wave of stimulus checks will be spent instead on clothes/retail sales (Throw out those ol' COVID sweats!) and services like restaurants, outdoor concerts, and hotels. Movie theaters and crowded indoor venues still will be off the table, yet slowly but surely we are returning to a semblance of normalcy.
This week's video
Understanding the Economic Shock of the Covid-19 Crisis
Drivers Still Hard to Find
DC Velocity magazine published a recent article featuring a report released by the industry analyst firm Act Research. "For the second straight month, this was the tightest reading in the three-year history of this index. Rising driver pay for several months has yet to impact the tight driver market. The surge in pandemic cases, which is now reversing, and extended unemployment benefits, which are set to be extended further, are also supply constraints."
Adding to the problem, according to the article, is the potential of additional stimulus money, which seems to be a deterring factor to drivers wanting to get back to work. The trend, however, is expected to change once vaccinations become more widespread, driver schools reopen, and drivers fully realize pay rate increases.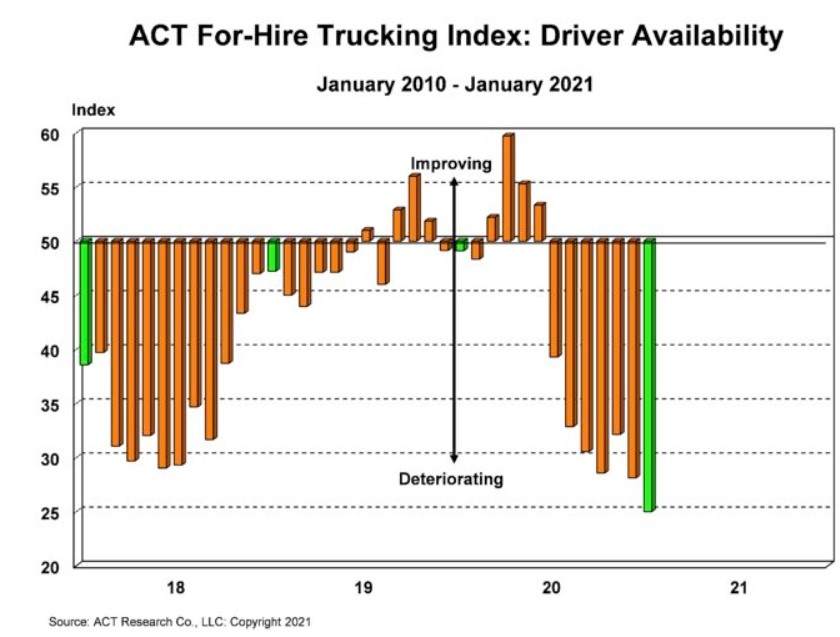 New Interactive Cold LTL Map Feature
If you ship temperature-controlled LTL freight, Choptank's website has an exciting new feature that can help you see pallet space availability by week for less-than-truckload shipments. Click the link below.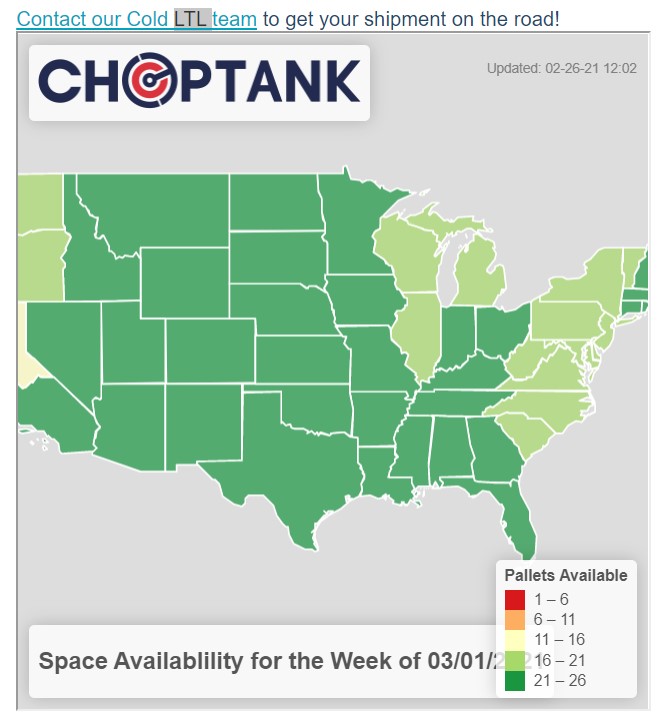 Job Claims
Good news on the jobless claims and job market front from last week. Continuing jobless claims fell by 193,000 to 4.1 million (a new low in the COVID era), according to the most recent release from the U.S. Department of Labor. Initial jobless claims also fell from 750,000 to 712,000. In February, the U.S. economy added 379,000 jobs. All in all, it is safe to say we are trending in the right direction.

Consumer Spending
Consumer sentiment is growing even more positive than before with card spending up 9.7% last week, up from 3.5% the prior week. It is interesting to note that debit card spending (14% year-over-year) far overshadows credit card spending (6% year-over-year). Department store sales, surprisingly, grew last week a whopping 24% year-over-year. Bank of America has provided a two-year snapshot of credit and debit card spending since 2020 was such an atypical year for comparison.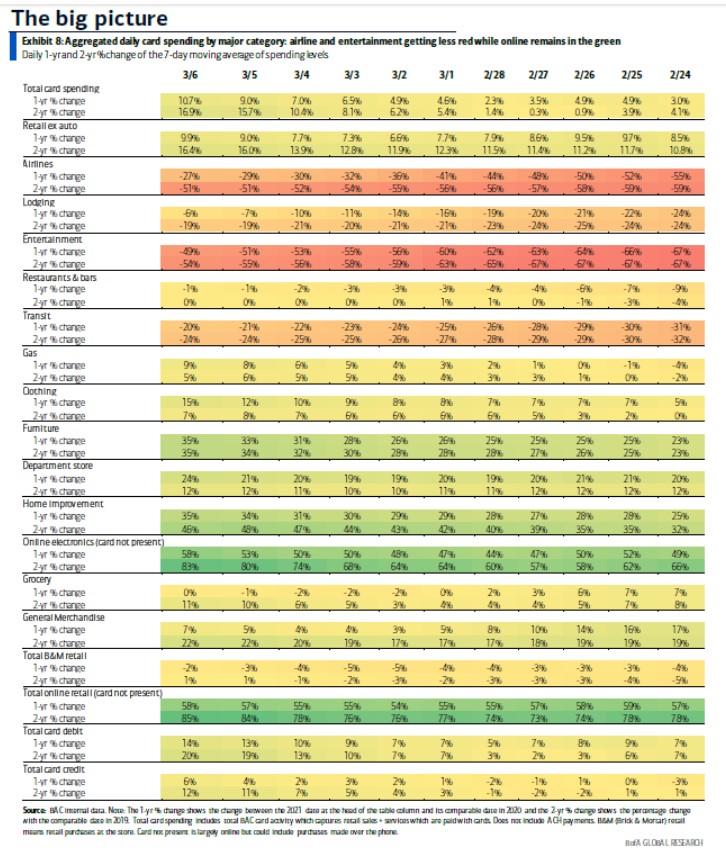 Spot Volumes & Rates
(Below stats from March 8 - March 14, 2021)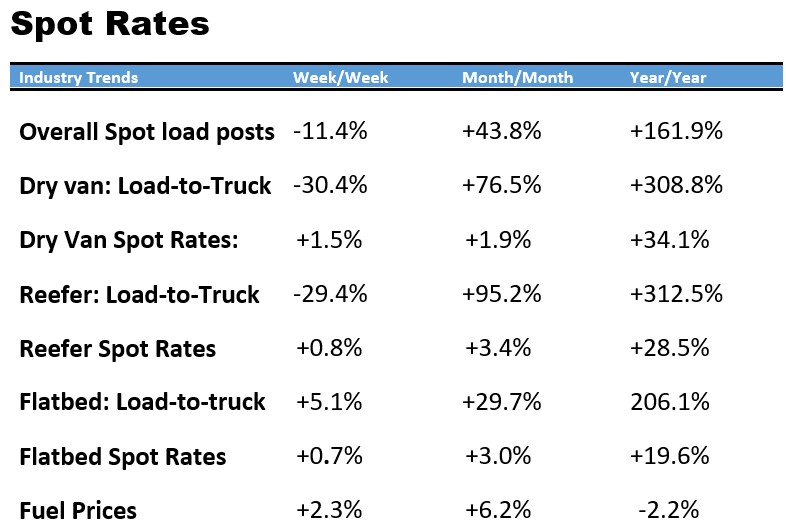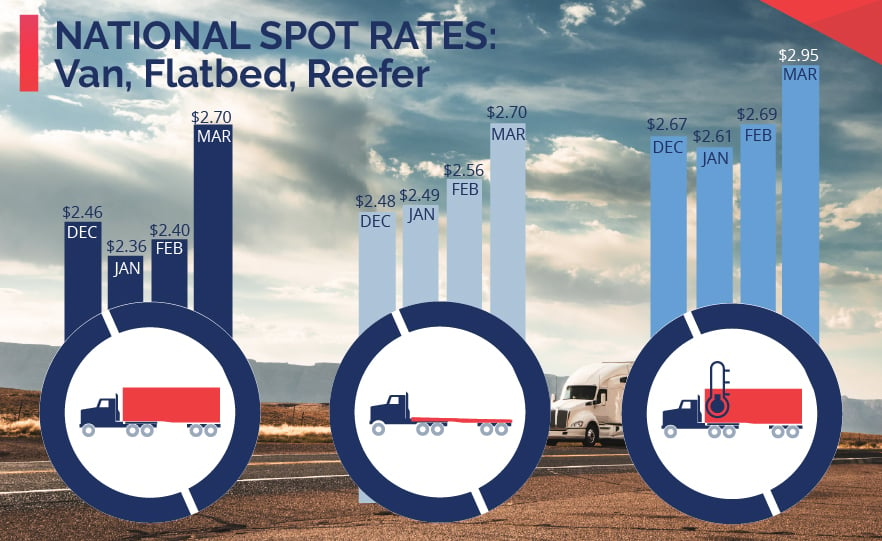 .
Number of the Week

72%
People are relocating due to the pandemic. U-Haul truck rentals were up 72% in May of 2020, reflecting the panic flight that drove many buyers to uproot themselves as cities across the country shut down. - Forbes Covid-19 Set America's Housing Market on Fire
Market Conditions
This morning's market conditions are shown below for van, reefer and flatbed. Areas in red are extremely tight.
Van Capacity
Van capacity has not changed much from last week. West Coast and Northeast saw the least change overall, while Southern markets are experiencing some tightening.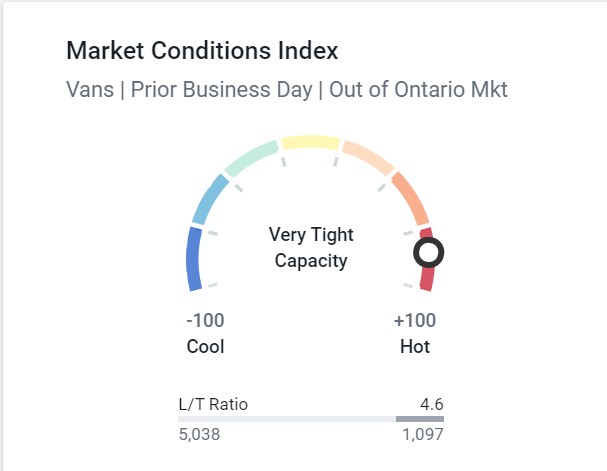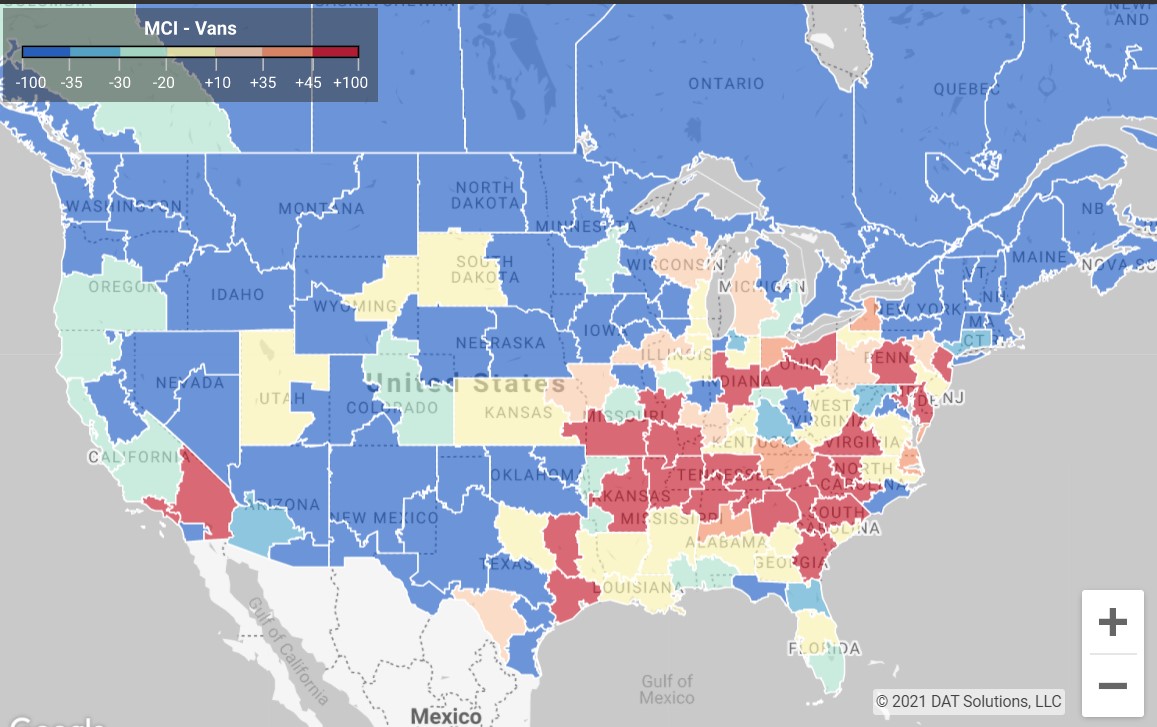 Reefer Capacity
Reefer capacity remains tight in many areas of the United States, especially in markets such as Ontario, Miami and Tucson. Yesterday in Miami, there were 3,754 loads for 292 reefers, which is almost identical to last week's load-to-truck ratio in Miami, further evidence that the market has changed little in the last week, but continues to experience elevated capacity restraints.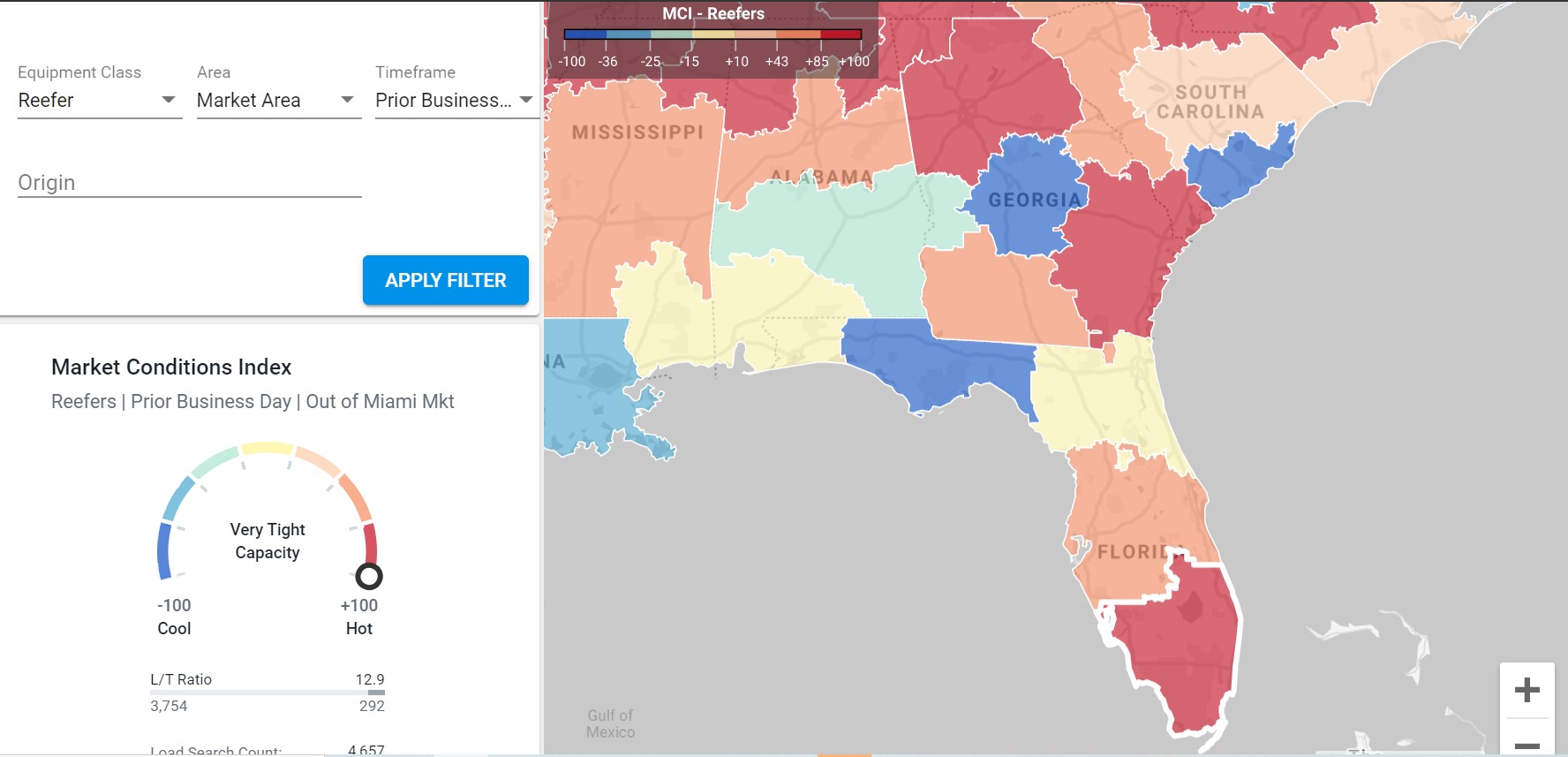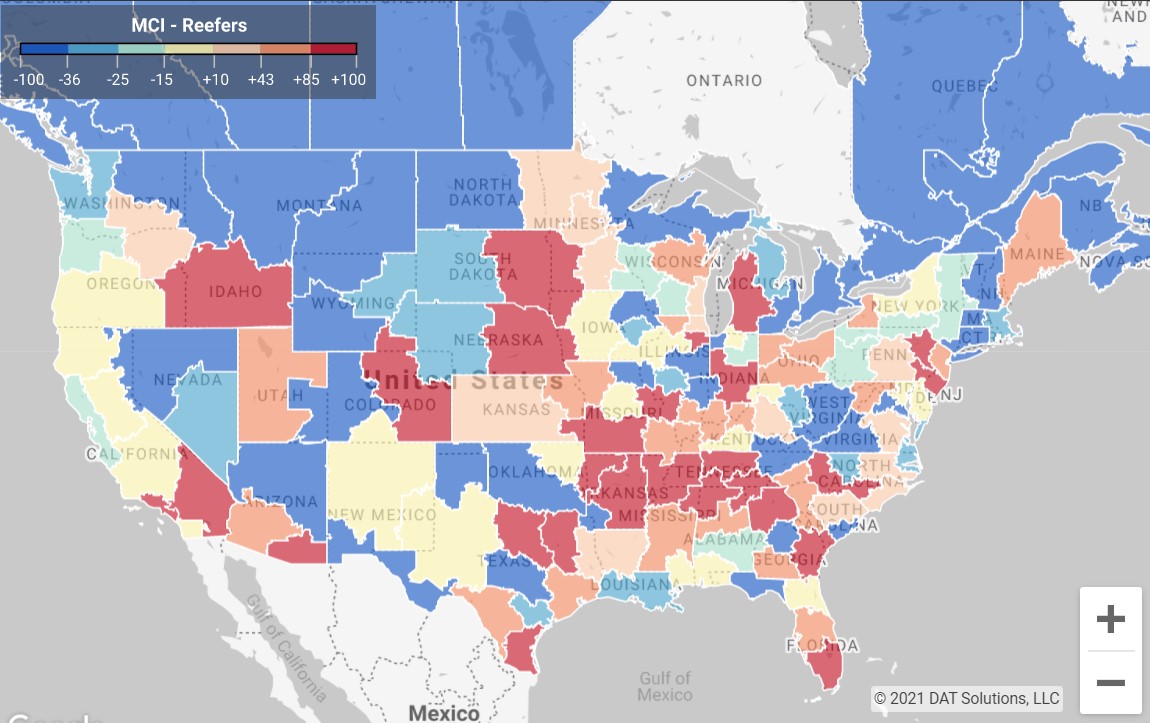 Flatbed Capacity
Flatbed demand also has changed little from last week and capacity is tight across the U.S. With the housing market booming and manufacturing markets regaining momentum, there are few signs of any loosening.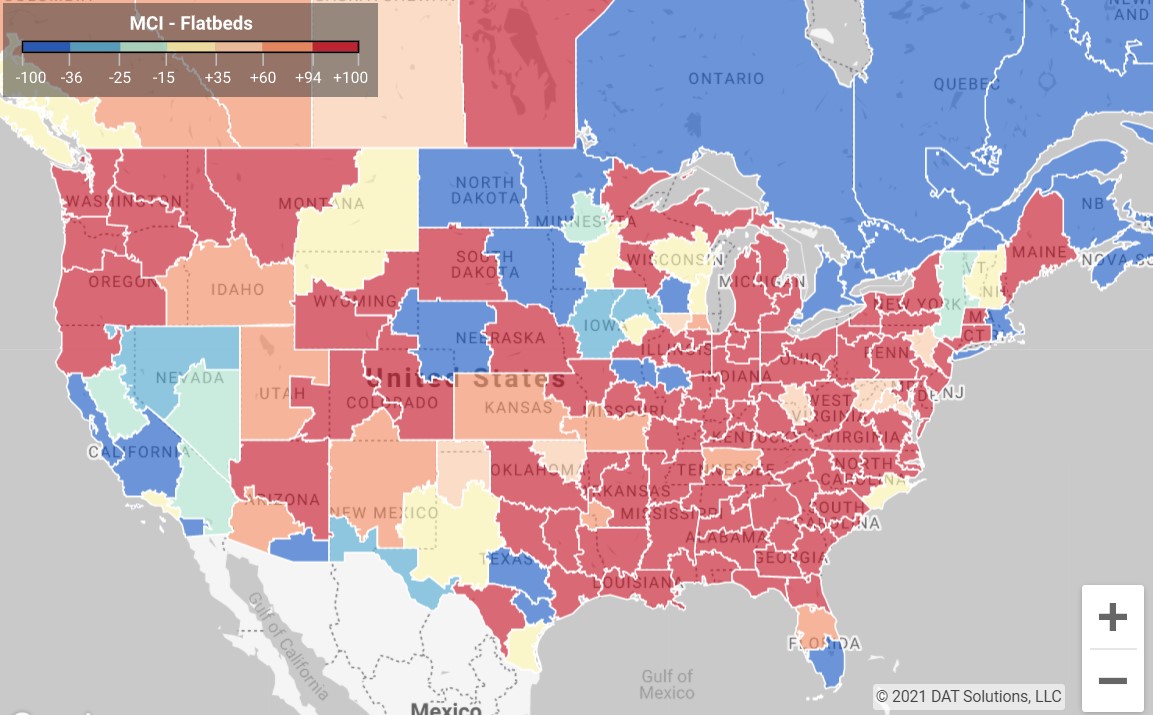 Outbound Tender Rejections
Like volumes and rates, there have not been any significant market changes to outbound tender rejections. They have remained high and virtually level with a slight decrease over the last few days. The graph below shows this year's index in blue as compared with the last three years. You can see that 2018 experienced similar market conditions at this same time. (Source: Freightwaves/Sonar)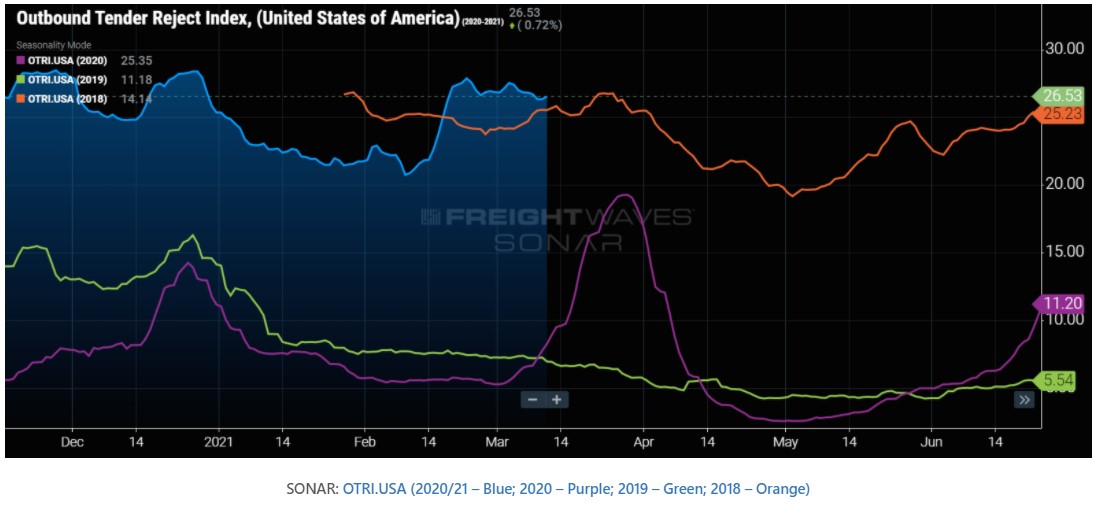 Outbound Volumes
Outbound tender volumes are up 25% from 2019 and 13% up from last year when we were on the precipice of the panic-buying craze. In a ten-day span, volumes increased by 50% in Texas because of the snow and ice storms that hit the state. Reefer demand has become such an issue that states like California, North Carolina and Florida are still experiencing severe shortages. Once produce pulls even more reefer capacity out of the market, we could see historic reefer issues. (Source: Freightwaves/Sonar)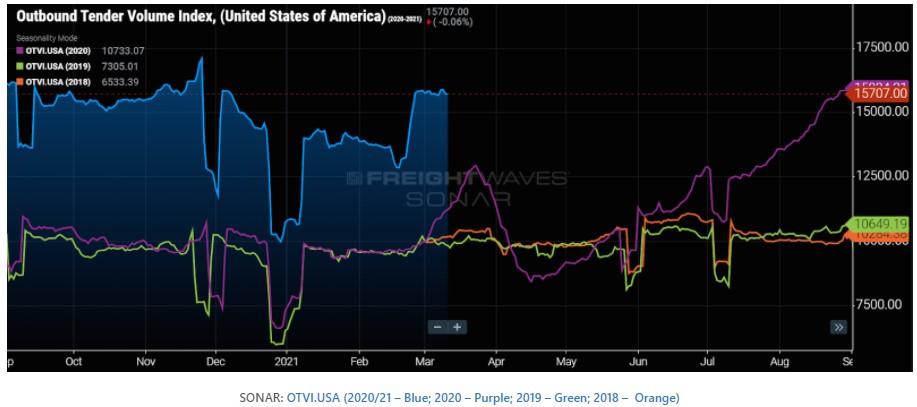 Who's Got the Power?
The DHL Pricing Power Index gauge remains again this week at 80 as volumes spring back up and capacity stays tight.
The pricing power index is a weekly gauge put out by DHL that indicates who has more sway in negotiations when it comes to pricing and freight rates. (Source: Freightwaves)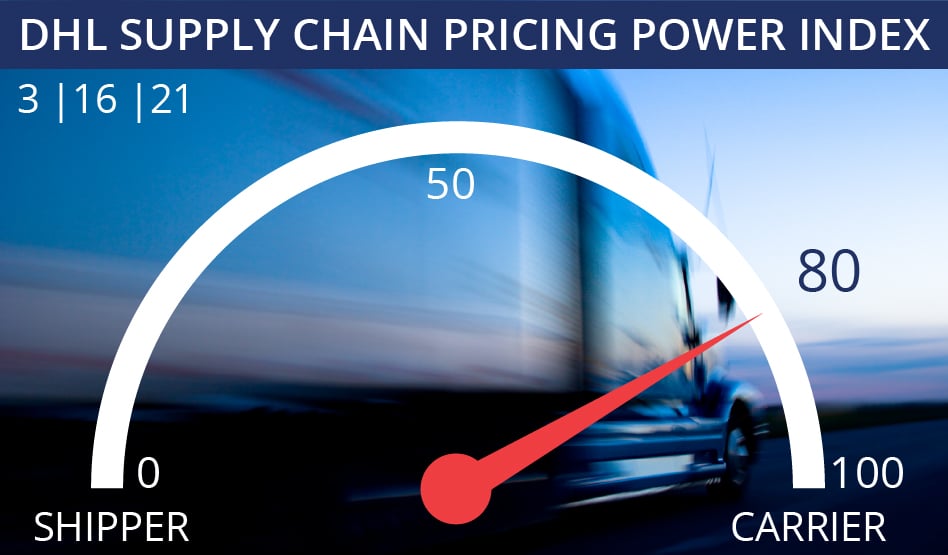 Shippers rely on the relationships they have with their 3PLs to ensure a smooth continuation of service whenever capacity gets tight. We hope you will continue to count on Choptank for all your freight needs, whether it be van, reefer, truckload, LTL, intermodal or cross-border shipping.
We would love to hear from you
What do you think about the Choptank Transport Market Brief? Do you find it helpful? Is there additional information you would like us to include or is there information you don't find relevant? Send comments to: marketing@choptanktransport.com
Have a Question? Ask one of our Experts
Your sales representative or a member of our professional logistics team is ready to help, so give us a call! 800.568.2240. If this information was forwarded to you and you would like to receive it, sign up here.