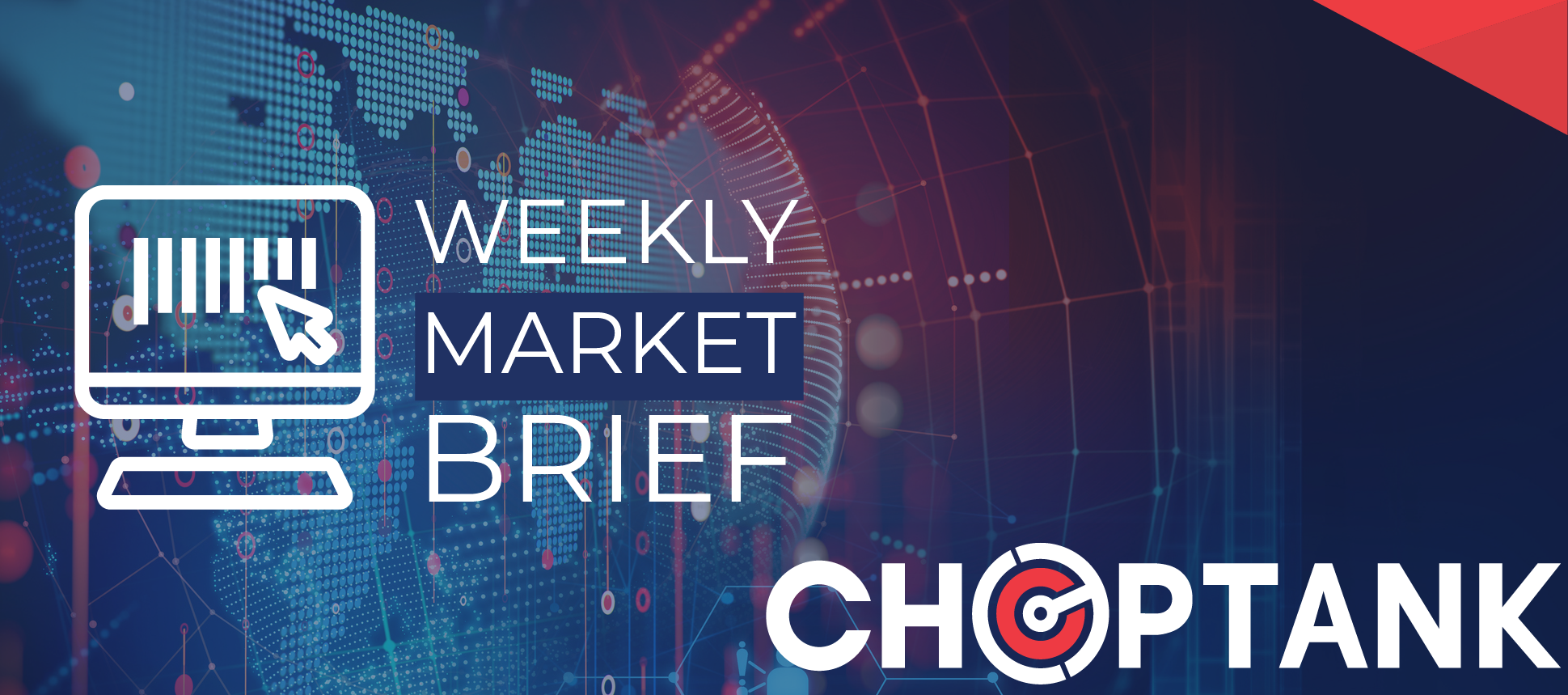 Late-Winter Freight Lull? Not
This

Season

March 9, 2021

The Choptank Weekly Market Brief is offered exclusively to Choptank Transport customers to provide accurate, timely and relevant freight market information. The contents of this brief are collected from reputable sources including DAT, Freightwaves/Sonar, Truckstop.com, the Department of Labor, the Department of Transportation, and other sources as cited throughout the brief.

Like the young executive after too many Redbulls, freight demand just keeps going and going. The typical slowdown we expect in January and February simply didn't happen this year. Now, with the first full week of March behind us, there is more freight on the roads than ever before.

And so it begs the question: What will happen in a few weeks when produce season kicks in? With capacity already strained from low inventories, packed ports, carriers out of business from the pandemic, and growing manufacturing needs, what can we expect?

Most likely, a continuation of what we are currently experiencing--although there may be some relief at the ports as shippers are opting for alternate, less-trafficked ports of call. Also, some shippers are using air cargo when urgency is required, or intermodal when time is less of a factor and avoiding the high costs of over-the-road shipping is a higher priority.

There is some optimistic news, however, for shippers. Class 8 truck orders are up a massive 212% from February of last year. Current orders stand at 43,800 versus last year's 14,040, according to ACT Research. In addition, the number of drivers working their way back into the workforce (drivers who had been put out of commission by the FMCSA Clearing House), has improved from 14% last June to now almost 25%.

The effects of these positives most likely won't come into play until the second half of the year, probably the fourth quarter, but it is encouraging news, nonetheless. (The blue line shows all drivers with at least one violation, the gray line shows drivers in prohibited status and the yellow line, drivers not prohibited status, which is on the upswing.)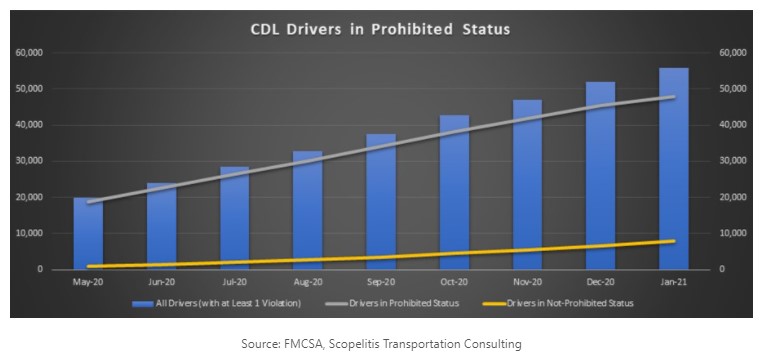 New Interactive Cold LTL Map Feature
If you ship temperature-controlled LTL freight, Choptank's website has an exciting new feature that can help you see pallet space availability by week for less-than-truckload shipments. Click the link below.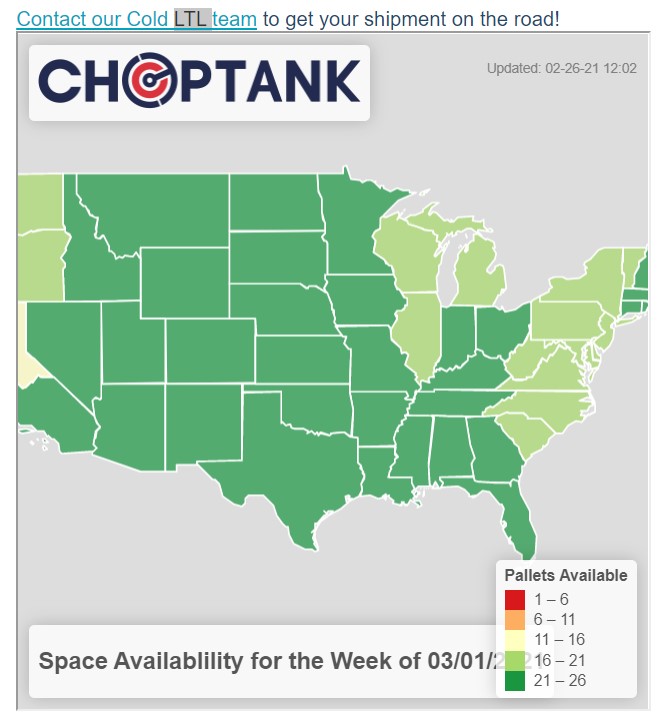 Unemployment
In April of last year, America's unemployment rate hit a pandemic-high of 14.7%. It only took a single month to undo an entire decade of job growth. We have been struggling to get that number back down ever since. In February, the unemployment rate declined to 6.2%, but when looking at the big picture, we are still facing 9.5 million fewer jobs than a year ago.
Spot Volumes Ease but Rates are Slow to Follow
(Below stats from March 1 - March 7, 2021)
Load posts on the spot market seemed to be leveling out after soaring from the big winter upset, but rates have not followed the downward trend as quickly. Last week's overall spot loads were up 24%, dry van +34% and reefer +0.9, while this week the load-to-truck ratios are all in the negative. Rates, on the other hand, still are showing positive numbers.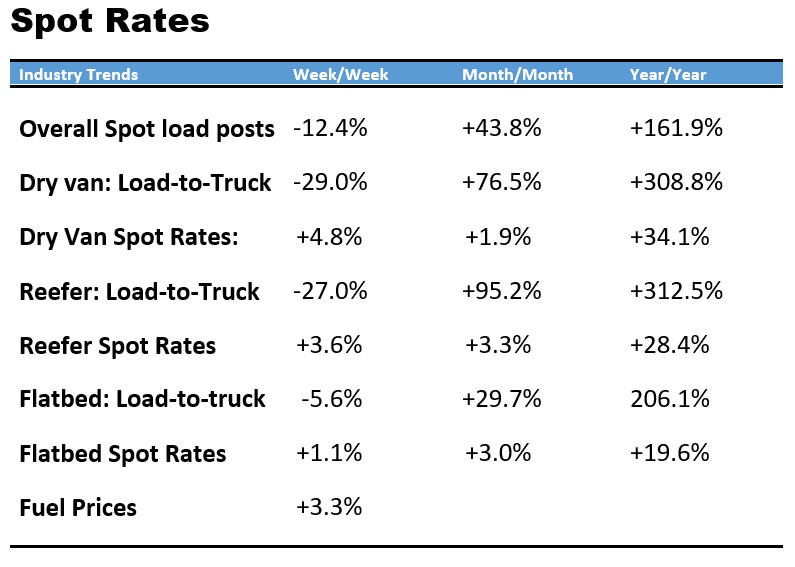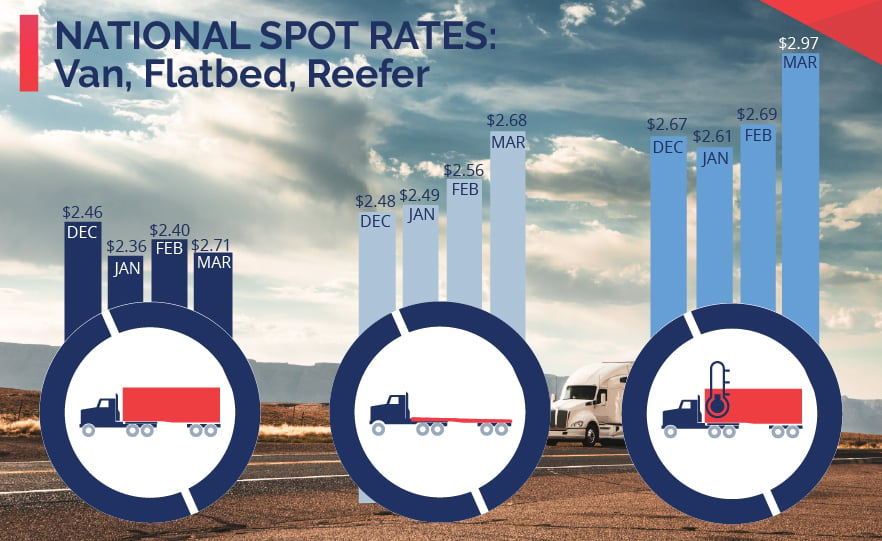 .
Number of the Week
$350 billion
The amount that Walmart plans to invest in the next ten
years in U.S. manufacturing, helping to create 750,000 jobs.
- Washington Post (March 3, 2021)
Market Conditions
This morning's market conditions are shown below for van, reefer and flatbed. Areas in red are extremely tight.
Van Capacity
Van capacity has opened up a little and is less of an issue in many area markets; however, there are still hot spots where capacity is extremely tight. Areas like the Ohio Valley, many Southern states, and the perpetually busy Ontario market (which is still processing incoming port freight), are potential choke points to watch this week.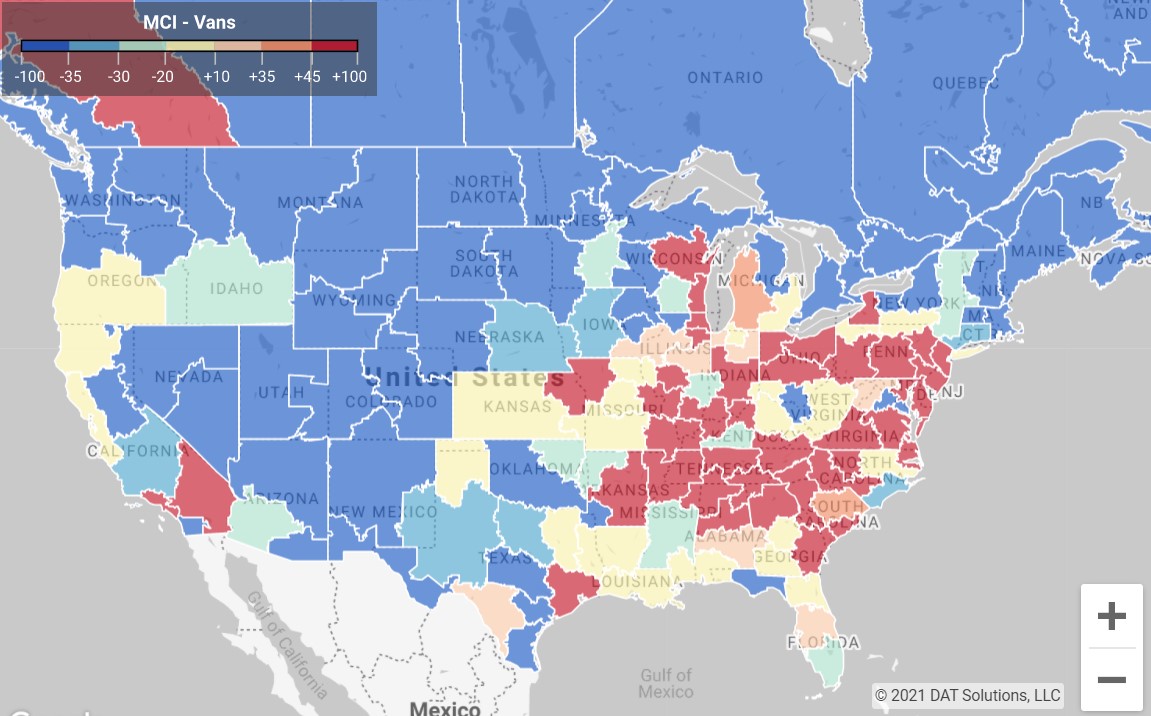 Reefer Capacity
Reefer capacity it tight in many areas of the United States, especially along border regions such as the Ontario, Phoenix, McAllen and Tucson markets. Also, Southern Florida is tight; yesterday in Miami, there were 3,493 loads for 296 reefers.
Flatbed Capacity
Flatbed demand is booming as the economy restarts for spring and gains momentum in lumber (housing) and manufacturing markets. Below you can see that almost all areas of the country are experiencing tight capacity with flatbed freight.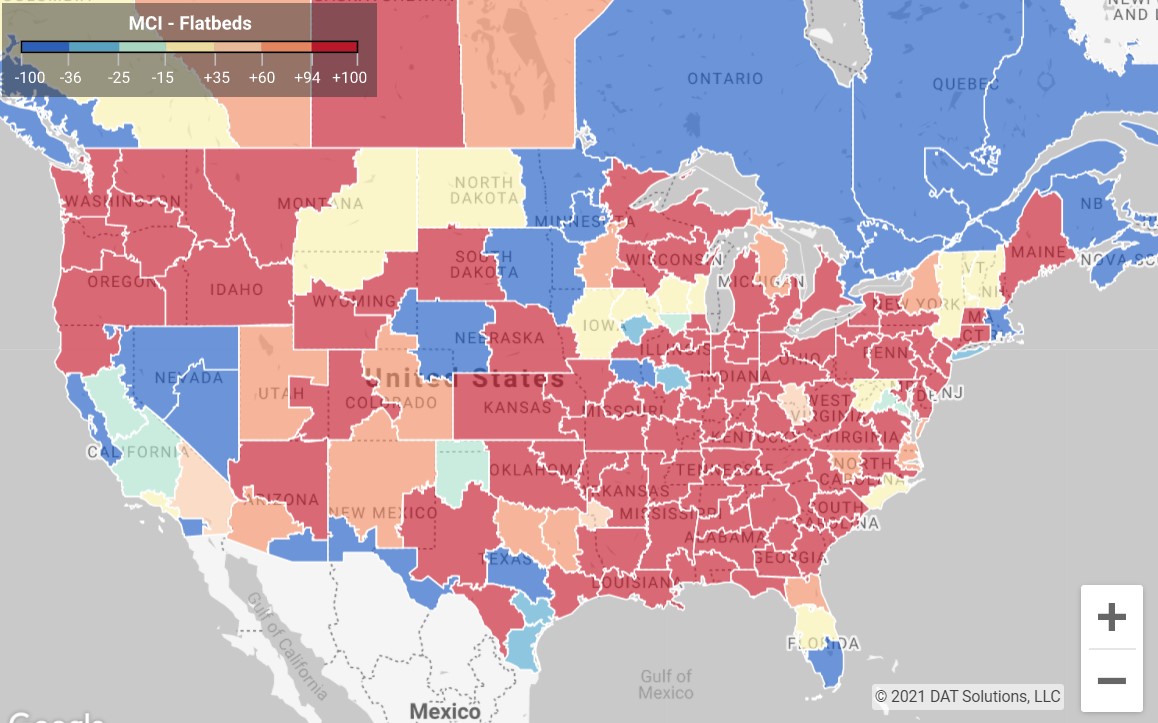 Intermodal News
Like the truckload market, rail lines were equally ravaged by the harsh winter storms several weeks ago, but things are back on "track" after volumes slipped during the winter weather blitz. Rail container volumes currently are seeing double-digit year-over-year gains, rising 11.6% last week. As a reminder, Choptank has a dedicated intermodal team. Feel free to contact us for a no-hassle, competitive quote. (Source: Freightwaves/Sonar)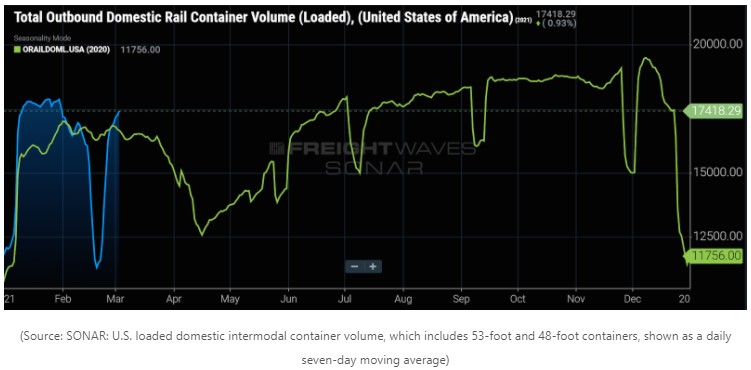 Outbound Tender Rejection Index by Markets
You can see from the snapshot below (March 5) that outbound tender rejections (blue line) rose again, soaring to 50.61%. Reefer equipment demand is exceptionally high right now. Rejection rates exceeding 70% were felt by the largest reefer markets (by volume) last week, namely Ontario, Milwaukee, Des Moines, Madison, Little Rock, and Fayetteville. (Source: Freightwaves/Sonar)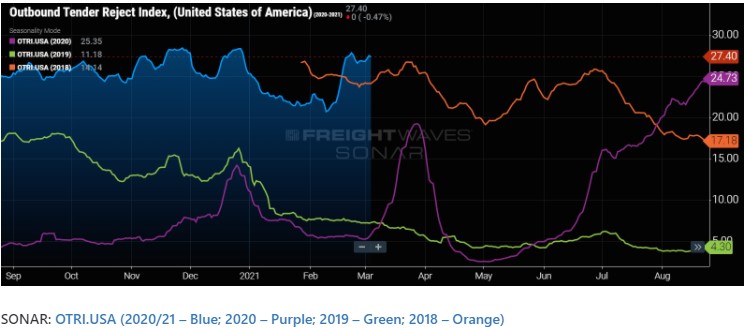 Outbound Volumes
Outbound tender volumes are up 16% year-over-year. The chart below clearly shows how volumes were affected by the winter storms that hit a large portion of the United States in late February. There is a notable dip in activity, but what is surprising is the robust nature of the resurgence back to heavy volumes that show no signs of letting up.. at least not in the near future. (Source: Freightwaves/Sonar)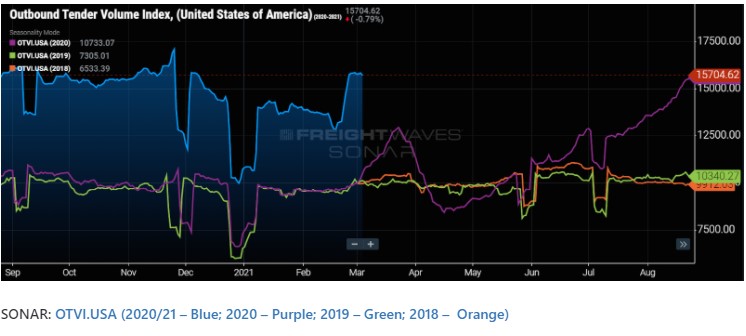 Who's Got the Power?
The DHL Pricing Power Index gauge remains again this week at 80 as volumes spring back up and capacity stays tight.
The pricing power index is a weekly gauge put out by DHL that indicates who has more sway in negotiations when it comes to pricing and freight rates. (Source: Freightwaves)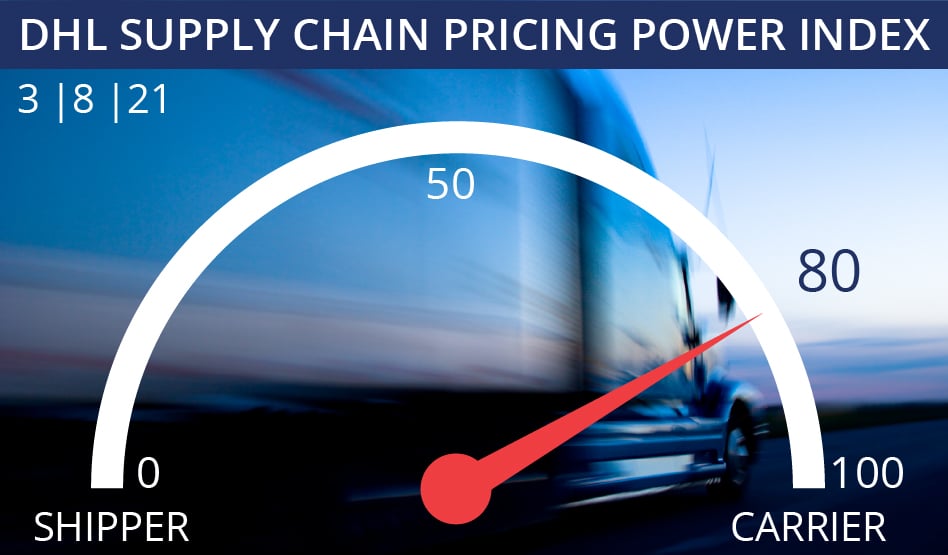 Shippers rely on the relationships they have with their 3PLs to ensure a smooth continuation of service whenever capacity gets tight. We hope you will continue to count on Choptank for all your freight needs, whether it be van, reefer, truckload, LTL, intermodal or cross-border shipping.
We would love to hear from you.
What do you think about the Choptank Transport Market Brief? Do you find it helpful? Is there additional information you would like us to include or is there information you don't find relevant? Send comments to: marketing@choptanktransport.com
Have a Question? Ask one of our Experts
Your sales representative or a member of our professional logistics team is ready to help, so give us a call! 800.568.2240. If this information was forwarded to you and you would like to receive it, sign up here.