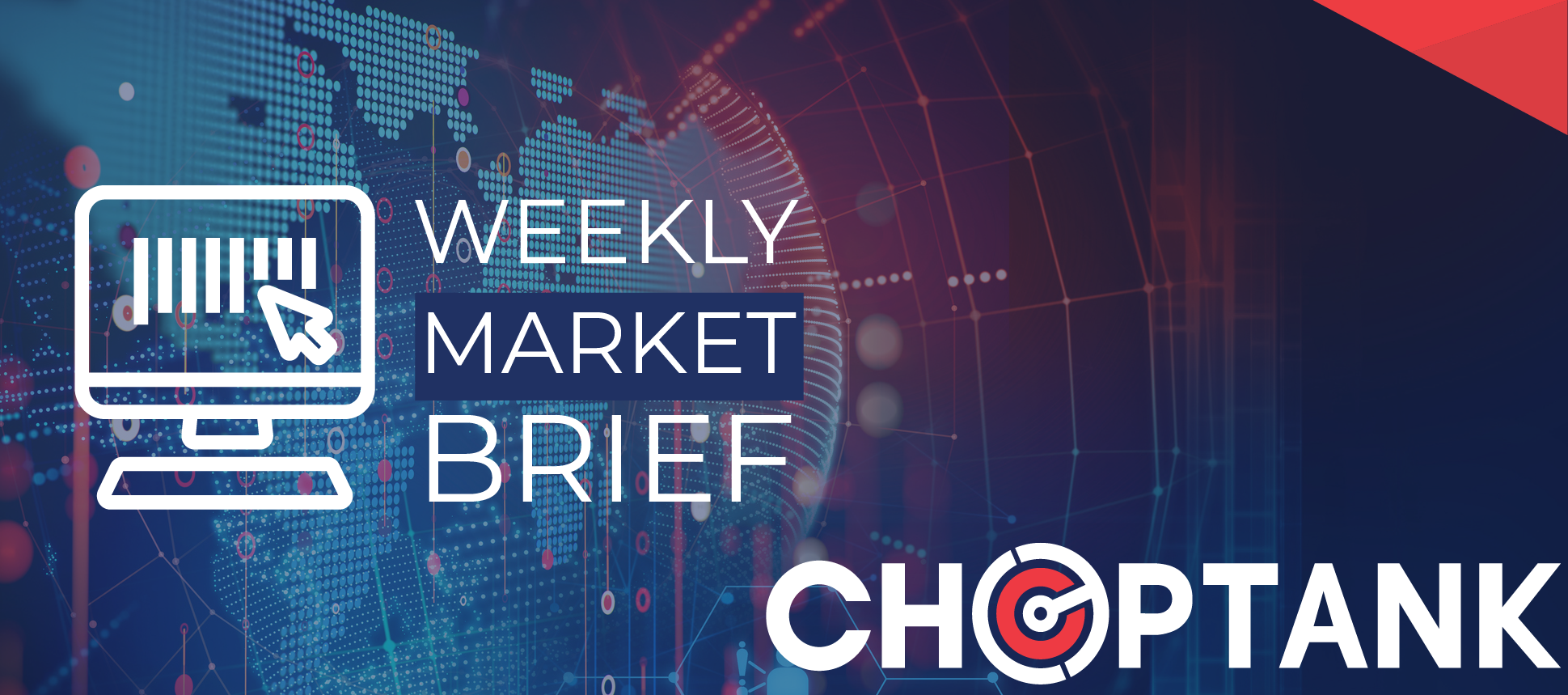 Capacity Still Bogged Down
from Storms' Aftermath
March 2
, 2021
The Choptank Weekly Market Brief is offered exclusively to Choptank Transport customers to provide accurate, timely and relevant freight market information. The contents of this brief are collected from reputable sources including DAT, Freightwaves/Sonar, Truckstop.com, the Department of Labor, the Department of Transportation, and other sources as cited throughout the brief.
Whew! What a week. The winter storms that hit much of the country are in the rearview mirror now, but the aftermath of "standing" freight and the ripple effects it had on the supply chain are taking their toll. Spot rates hit record-level numbers last week (although now declining slightly) and rejection rates were high at 27.59 last week slipping only marginally on Sunday to 26.23. Rejection rates are expected to decline further as the week progresses.
The strong market is expected to continue through Q1 with consumer spending and sentiment remaining elevated, more stimulus money on the way, and an industrial sector that is ramping back up to pre-pandemic levels.
JANUARY STATS AT A GLANCE
Contract freight volumes +1% year-over-year
Spot volumes +47% year-over-year
Combination freight volumes +5% year-over-year
(Source: DAT February 17)
_____________
This week's video
You never know what you are going to encounter as a truck driver.
Unbelievably, there were no injuries due to this mishap.
Record-Level Spot Market Volumes
(Below stats from Feb 22 - Feb 28, 2021) Load-to-truck ratios and rates on the spot market continued to reel from the effects created by the winter weather of the previous week. Carriers are still trying to rebound and rebalance after more than 70% of the country navigated around Old Man Winter. The real eye-opener is the year-over-year percentage increases for this week.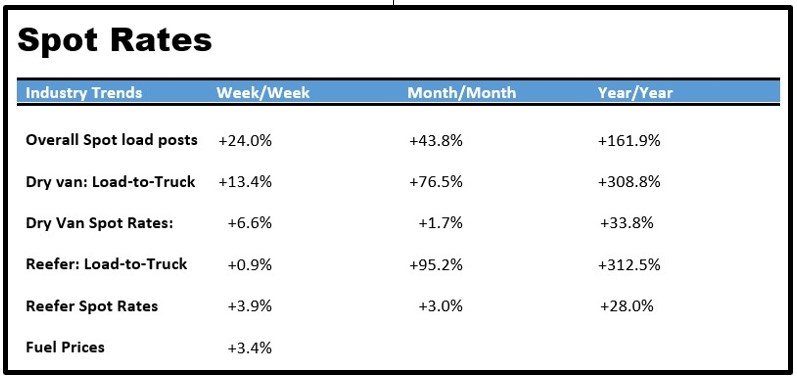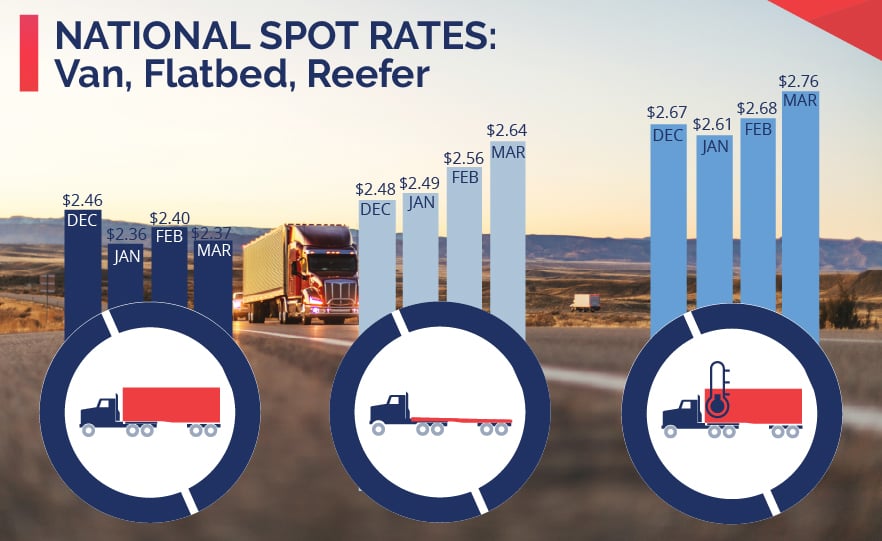 Number of the Week
$0.30/per lb. higher
The increase in U.S. fish costs due to port-related logjams. "Overall, extra port-related costs for seafood companies are on track to be 20 times higher than last year if the disruptions continue."
- Transport Topics, Feb. 26, 2021 edition
Market Conditions
This morning's market conditions are shown below for van, reefer and flatbed. Areas in red are extremely tight. For each equipment type, one market has been highlighted as an example. Van capacity is seeing tight capacity in the Eastern half of the country with the graph below showing the Indianapolis market where the load-to-truck ratio is 7,552 loads with 976 available vans.
Van Capacity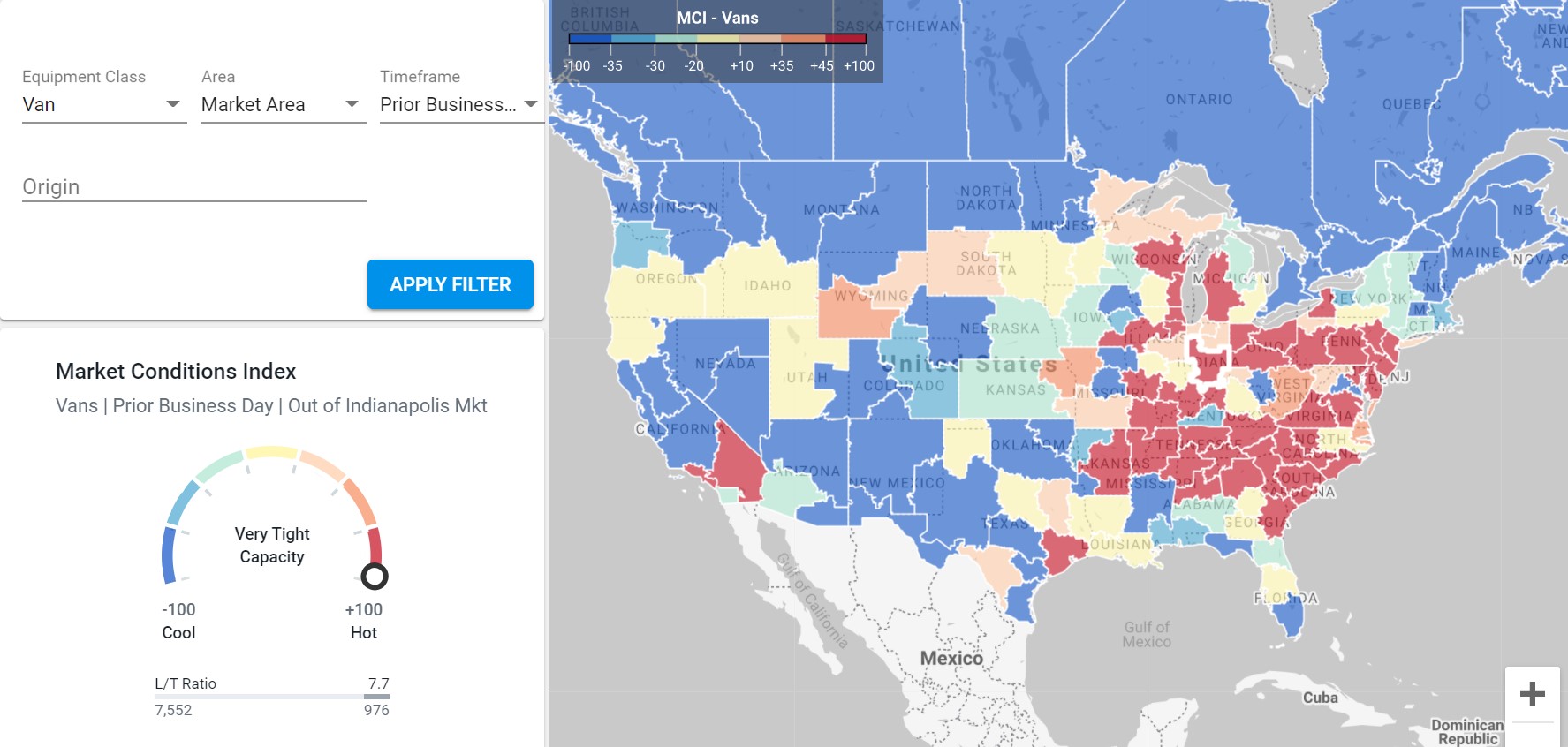 Reefer Capacity
Reefer capacity it tight in many areas of the United States. The Memphis market is highlighted below where the load-to-truck ratio is 2,632 loads for 137 available trucks.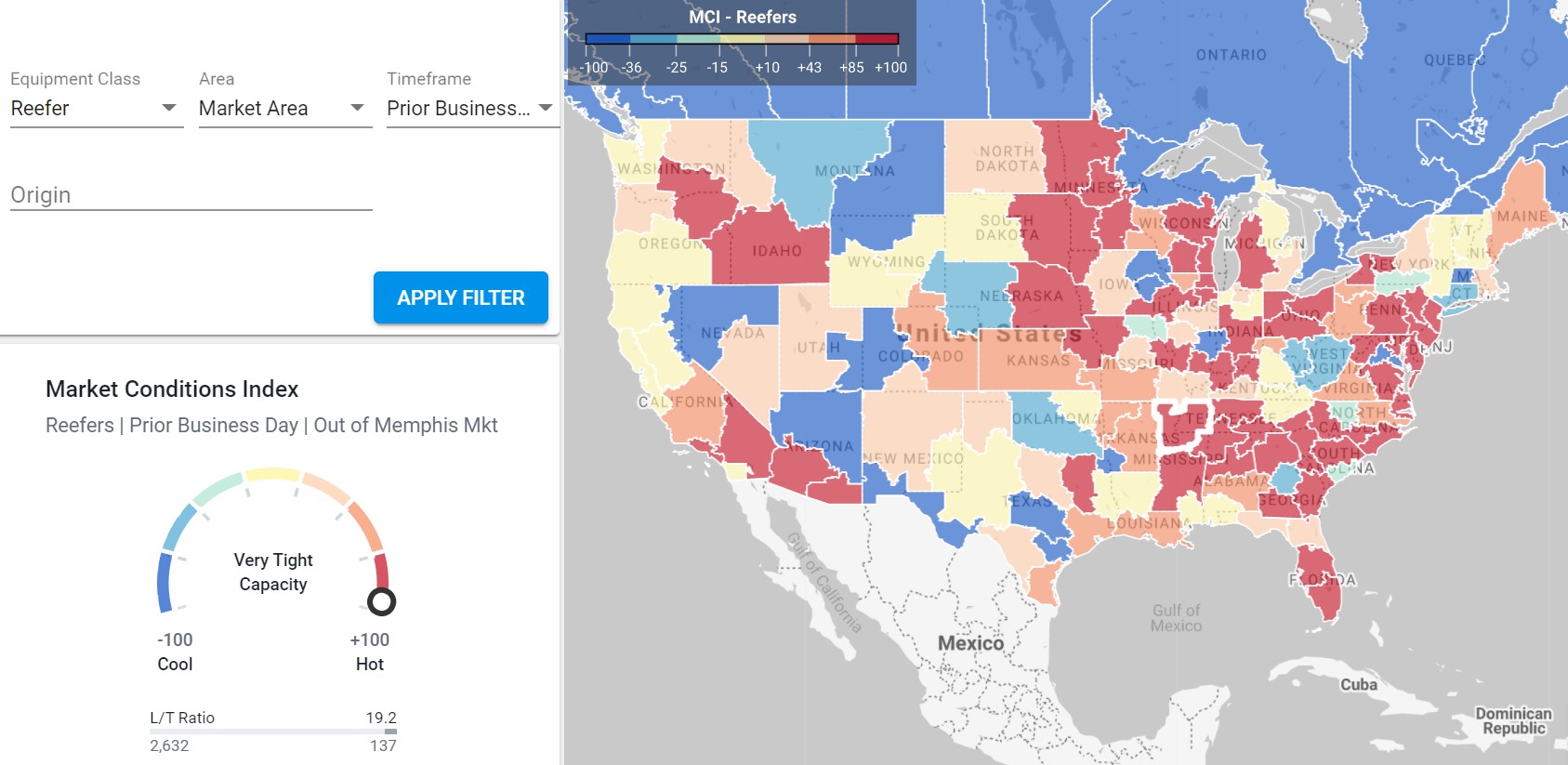 Flatbed Capacity
As the housing market starts to gain traction again, flatbed demand is growing. Below you can see the Savannah market experiencing tight capacity with 4,354 loads and only 46 available flatbeds.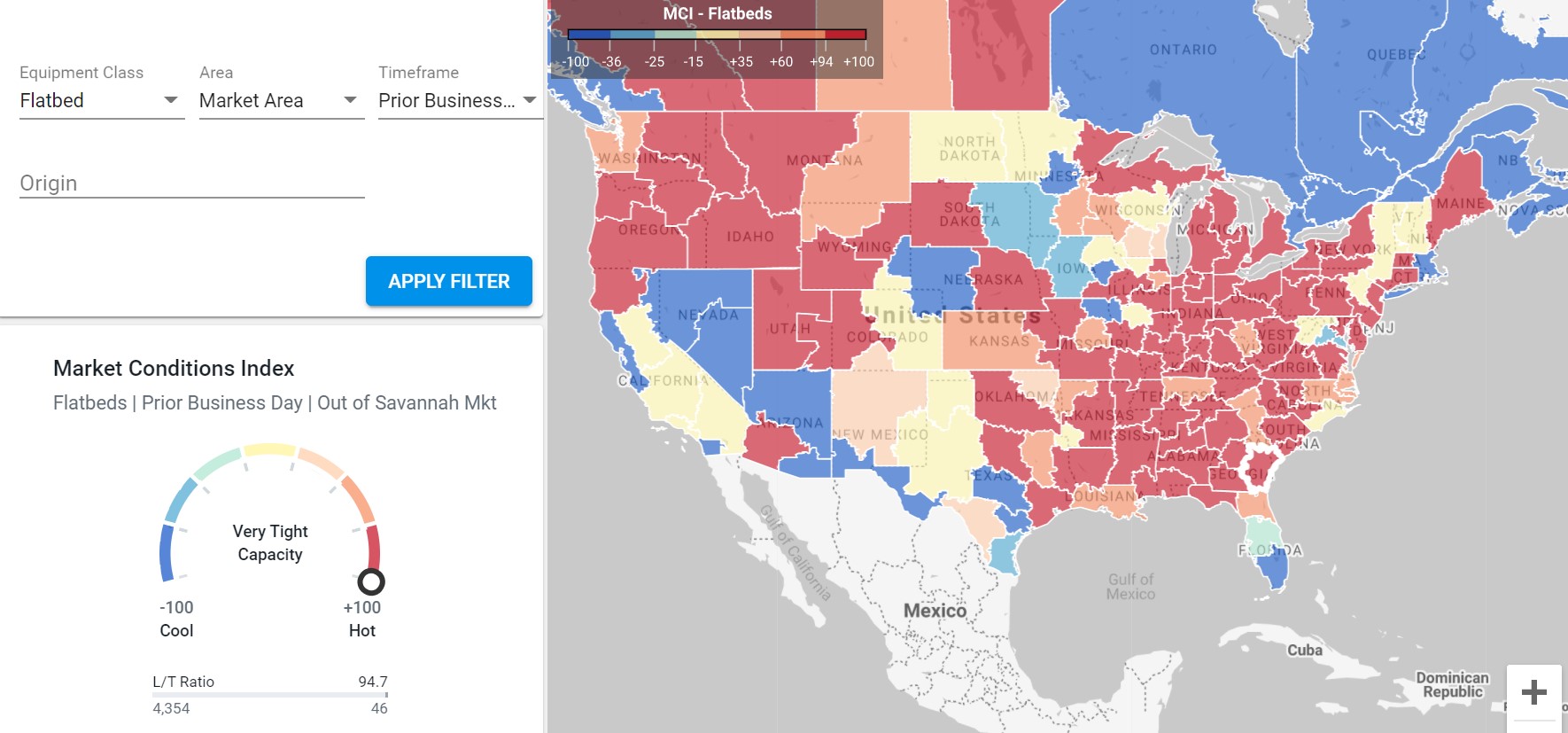 Ports
Due to the massive congestion at West Coast ports, East Coast ports accounted for 80% of January's TEU import volume. New York volumes climbed 14%, Savannah, GA, was up by 3% y/y, Norfolk, VA, up 21% y/y and Charleston, SC, up 8% y/y.
China imports accounted for 60% of all West Coast imports. Volumes in Los Angeles ports actually decreased by 12% y/y in TEU volume, and 15% in Oakland due to congestion.
Jobless Claims
Americans may have felt discouraged when they read a February 18 report that cited the first increase of jobless claims after several weeks of downward momentum. Last week's report, though, is somewhat encouraging again with the numbers dropping from 861K to 730K. Some question the accuracy of the data, however. As CBS News reported, "Initial estimates for previous weeks were revised upward to show that more people had filed for jobless benefits than previously thought."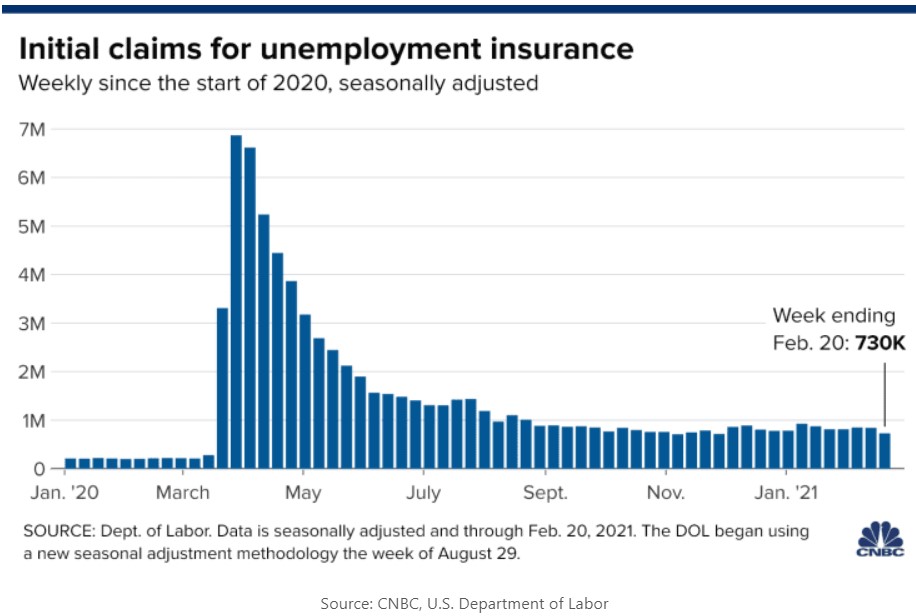 Purchasing Manager's Index
According to data from the Institute of Supply Management (ISM), manufacturing orders are on the rise, and that is good news for the flatbed market. There are, however, anticipated commodity shortages which most likely will translate into higher prices and halted production in some areas of manufacturing. More information from ISM is expected next week. (Source: Freightwaves/Sonar)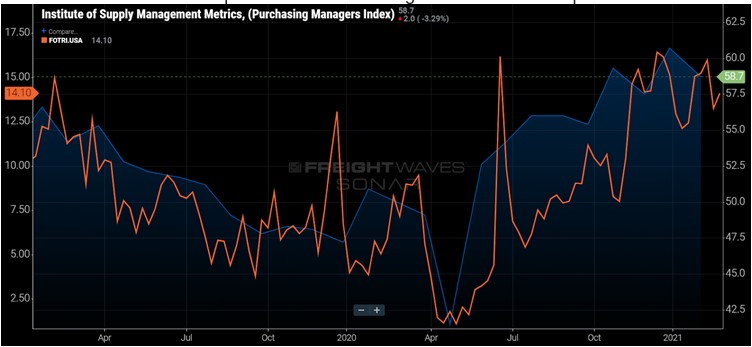 Outbound Tender Rejection Index by Markets
You can see from the chart below that rejection rates peaked last week, and have declined slightly in the days that followed, in Dallas, Los Angeles, Atlanta, Chicago and Harrisburg. (Source: Freightwaves/Sonar)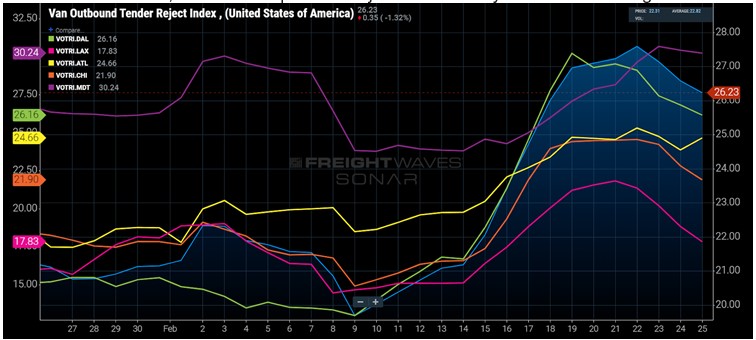 Outbound Volume vs. Outbound Rejections
Rejection rates (purple line) fell this past week as volumes (blue line) began to climb back up after a disrupted week prior that saw volumes drop 6%. According to Freightwaves, part of this sudden climb was not all due to the weather recovery but can be attributed to seasonality too, as "freight volumes have risen in the last week of February/first week of March each of the last three years." (Source: Freightwaves/Sonar)

Who's Got the Power?
The DHL Pricing Power Index gauge accelerated to 80 as the backlog of shipments from the storm kept tight capacity at very high levels.
The pricing power index is a weekly gauge put out by DHL that indicates who has more sway in negotiations when it comes to pricing and freight rates. (Source: Freightwaves)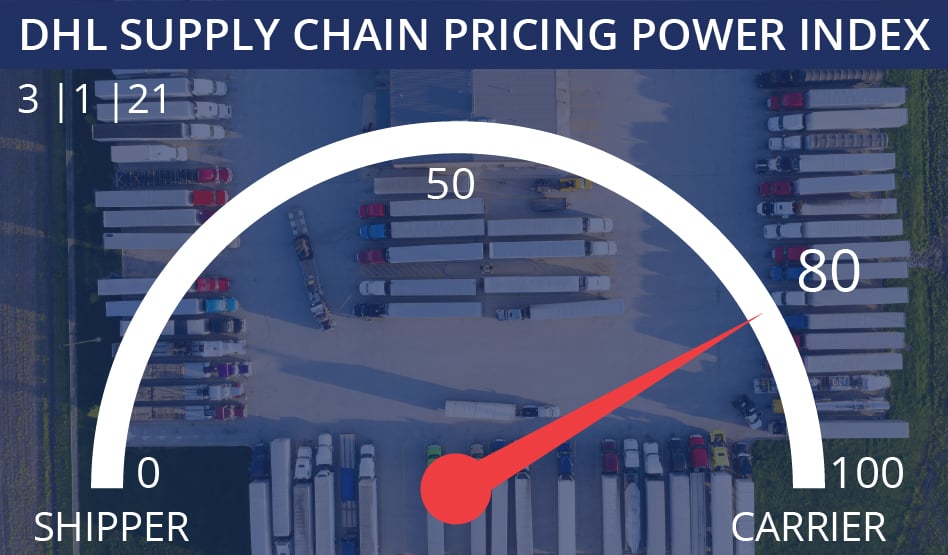 We would love to hear from you.
What do you think about the Choptank Transport Market Brief? Do you find it helpful? Is there additional information you would like us to include or is there information you don't find relevant? Send comments to: marketing@choptanktransport.com
Have a Question? Ask one of our Experts
Your sales representative or a member of our professional logistics team is ready to help, so give us a call! 800.568.2240.