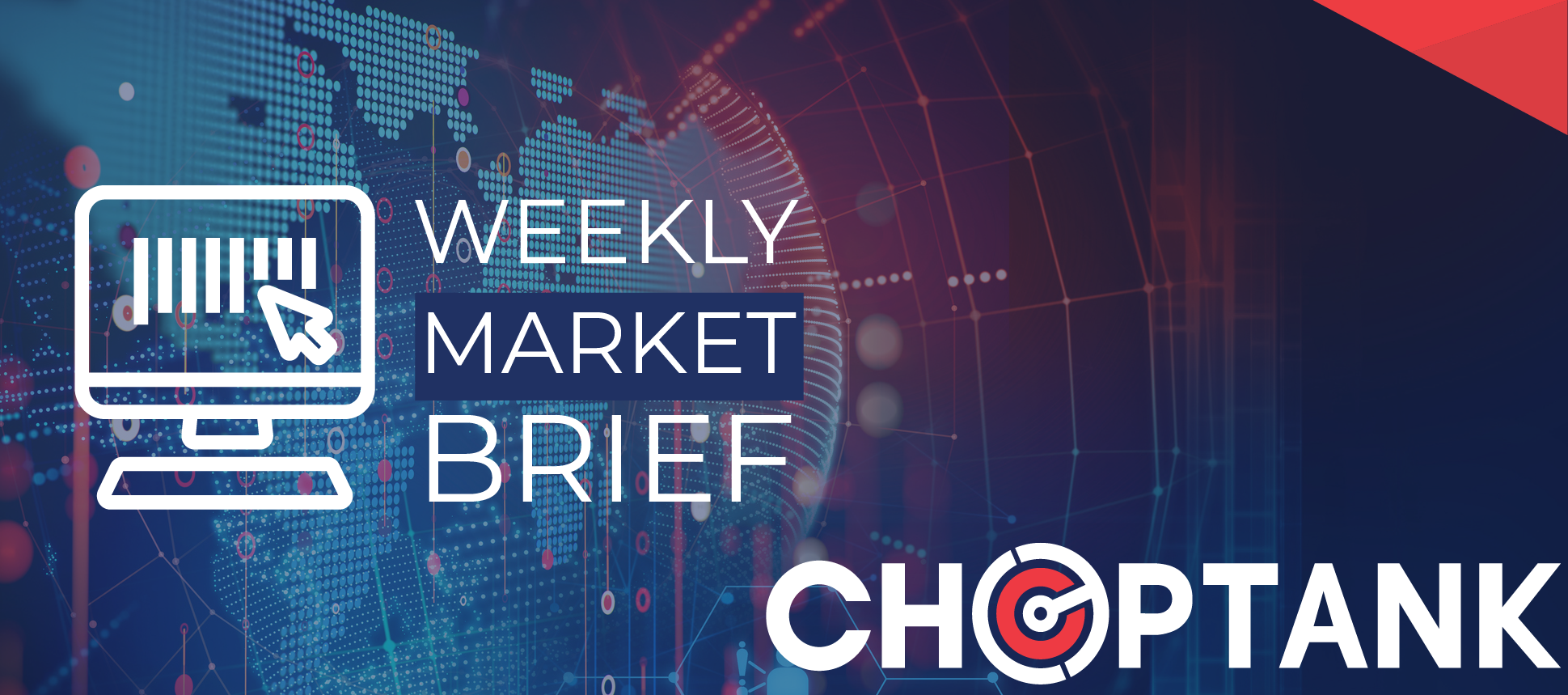 February's Icy Temps Cause
Temporary but Measurable Disruption
February 9, 2021
The Choptank Weekly Market Brief is offered exclusively to Choptank Transport customers to provide accurate, timely and relevant freight market information. The contents of this brief are collected from reputable sources including DAT, Freightwaves/Sonar, Truckstop.com, the Department of Labor, the Department of Transportation, and other sources as cited throughout the brief.
Winter storms bringing cold temperatures, snow and treacherous driving conditions to the Eastern United States and other areas have been the disrupting force over the past week and most likely will continue to do so into this week with more bad weather ahead. Snow and ice removal at loading docks is fouling up the works and creating delayed deliveries and additional congestion.
Video (2:33) - An Example of Amazing Truck-Driving Skills!
Winter Weather can Wreak Havoc on the Supply Chain
---
Number of the Week
56,000 is the number of truck driver violations in 2020 cited by the FMCSA Clearing House
"Of the 45,000 driver violators who lost their jobs due to the violations, 34,000 have not yet completed the return-to-work program," adding to a shortage of drivers and tight capacity.
---
Market Conditions This Week
Freight demand remains strong on the national scene but with less volatility over the past several weeks than we have experienced previously. Load posts are up by 4.6% over last week on the spot market, and spot rates have held steady.
The maps below show capacity across the United States. The dark red and pink areas (hot spots) indicate capacity is tightening. The top map displays dry van capacity and the bottom map, reefer. Rates in the darker red areas typically will be higher than in blue areas.
Van
Dry van capacity has loosened in the Western half of the country this morning, but remains tight in areas of the Ohio Valley, Mid-Atlantic and several Southern markets. The nationwide map below shows the big picture. The map below it shows the MCI (Market Conditions Index) in the

Philadelphia

area where capacity is very tight with a load-to-truck ratio of

4,204/823.


Van Market Conditions Nationwide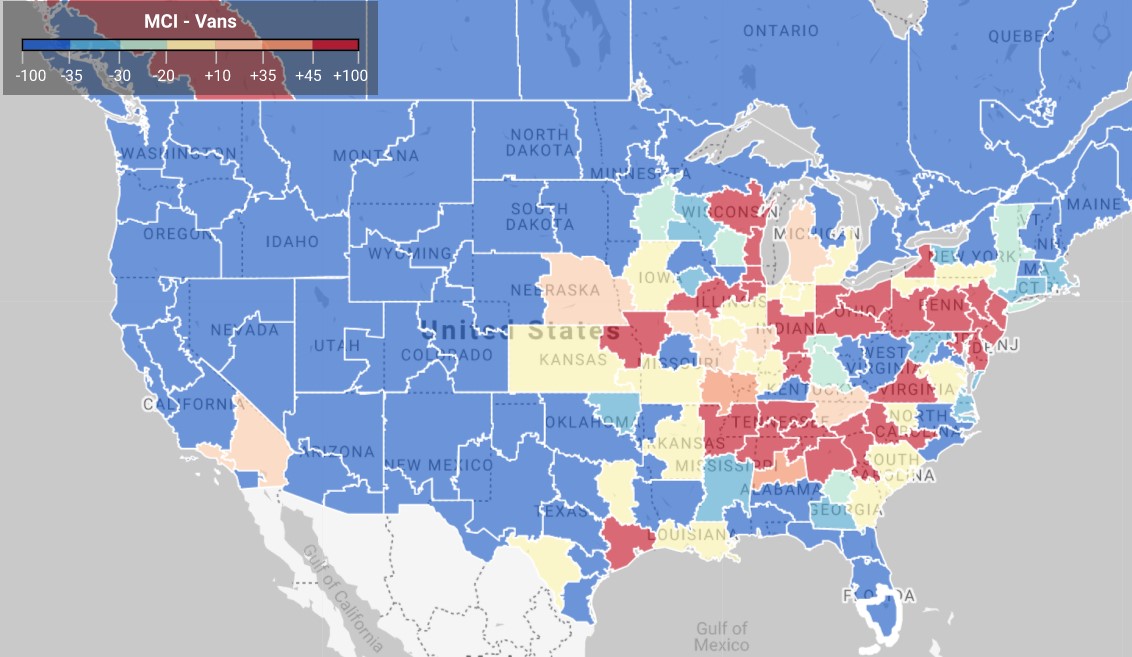 Market Conditions - Van, Philadelphia Area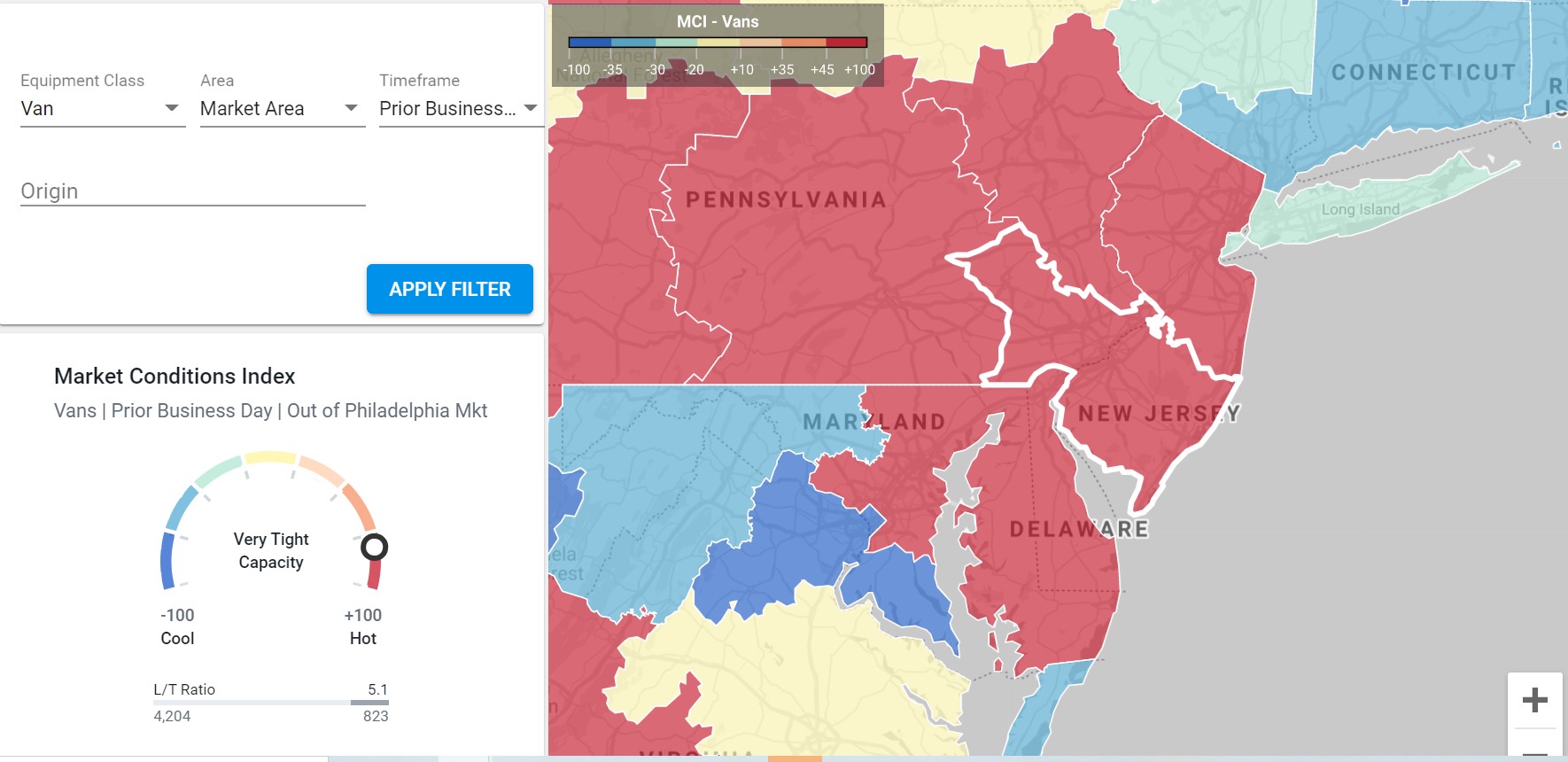 Reefer Market Conditions
Temperature-controlled freight is still seeing tighter capacity across the country than van, although van makes up a much larger portion of the market. In the nationwide capacity map below you can see that

Little Rock, Arkansas,

is a tough spot for capacity, as evident from its load-to-truck ratio of

1467/47. Even more significant is the

Miami market, where the load-to-truck ratio is

4952/280.
Reefer Capacity Map Nationwide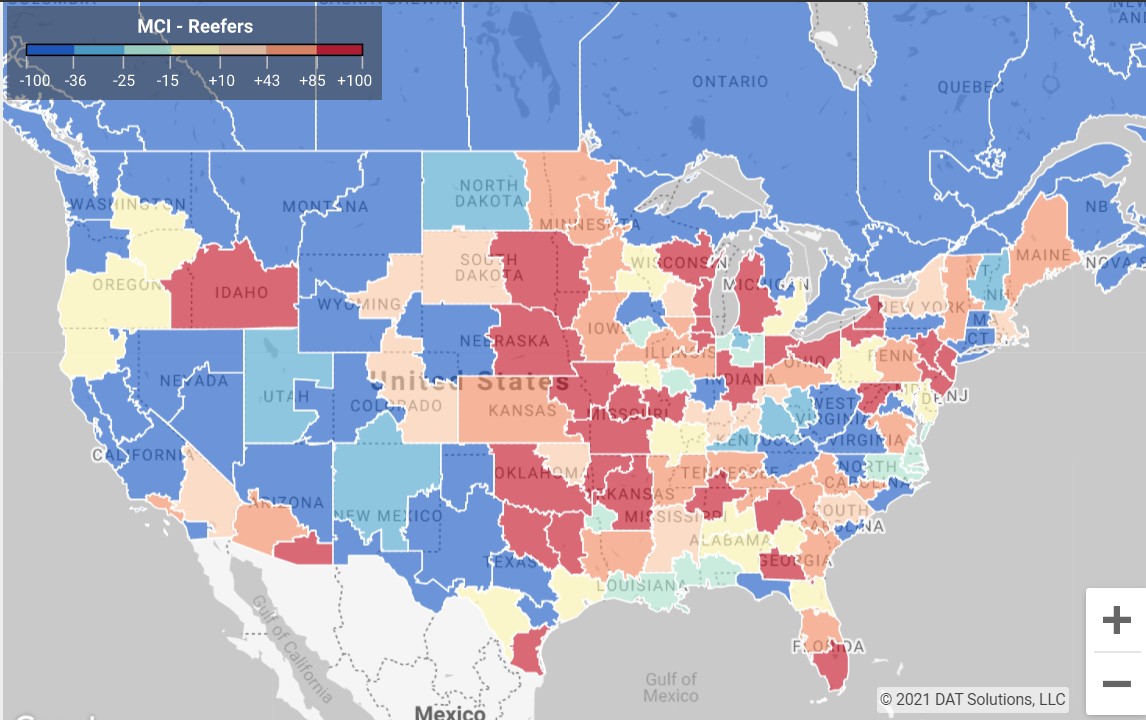 Market Conditions: Reefer - Little Rock, A

R

Market Conditions: Reefer - Miami Area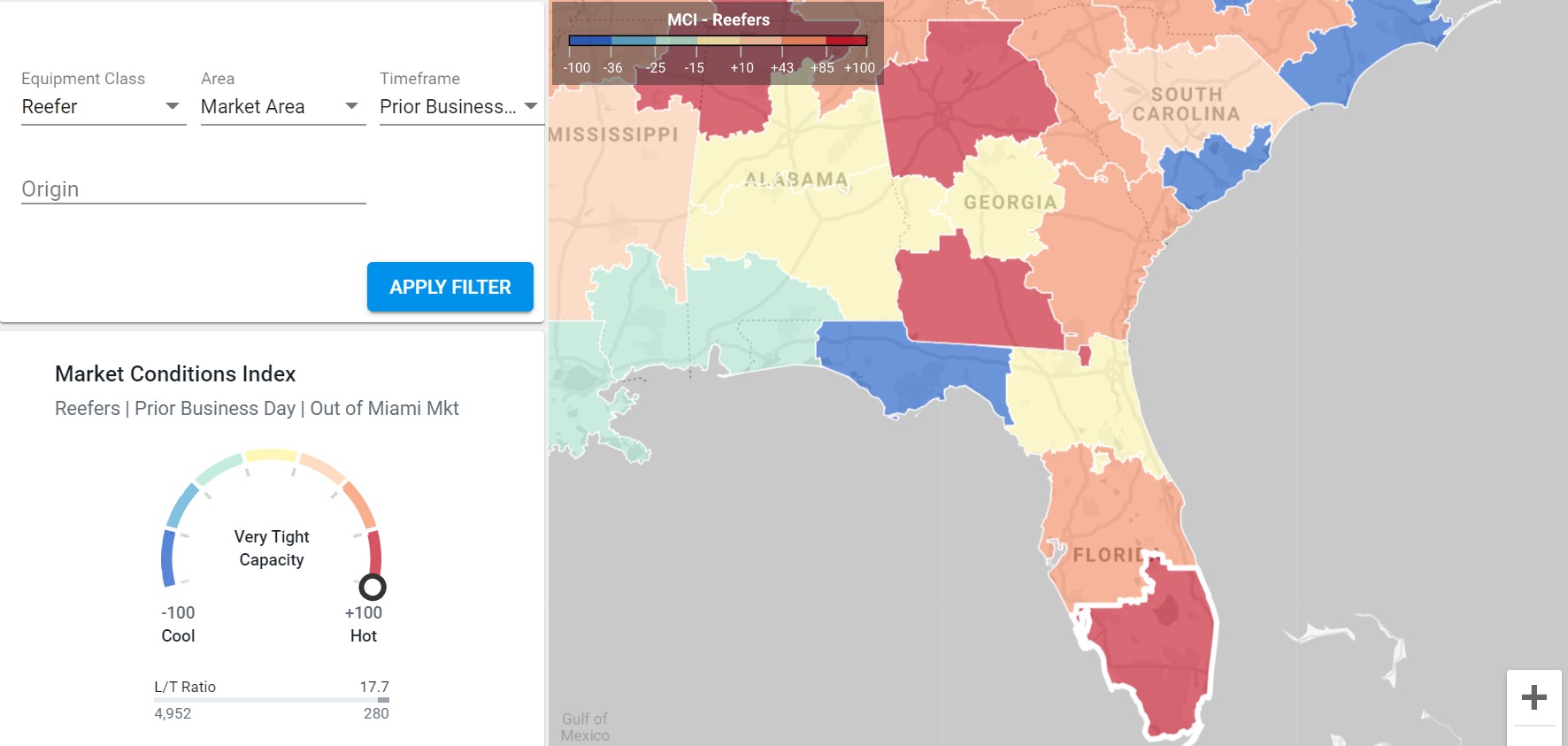 Market Conditions: Flatbed, Nationwide
Flatbed capacity is still extremely tight in comparison with reefer and dry van market conditions. Rates will be highest in the red areas of the map.


"Our advanced analytics is changing how we make decisions, from who to call first to how we think about the future." - Director ofData Science & Analytics, Choptank Transport
Outbound Tender Rejection Rates
The charts below show the outbound tender volume index and the outbound tender rejections in the contract market.
National outbound tender rejection rates for reefer freight shot up this week as the blast of cold air dipped down from Canada. Shippers who normally don't require temp-controlled shipping services, such as beverage and paint manufacturers, suddenly are forced to take extra measures to safeguard their freight from potentially freezing. This week's cold air made rejection rates skyrocket to more than 78% in the Little Rock area (as highlighted in the market conditions map previously), as well as many other markets, from Fargo to Indianapolis to the Pacific Northwest.
The chart below shows Friday's national outbound tender rejection index for reefer and van combined compared to the last two years.

Outbound Tender Volumes
Overall outbound tender volumes showed a slight decline in January and have flattened over the last few weeks, but still remain far above the previous two years. It is hard to tell if this elevated demand will hold out until we see more states opening back up and the arrival of warmer weather, triggering the customary spring uptick in freight volume.

Less-Than-Truckload Market
Most of the primary LTL carriers reported an increase in both the number of shipments and the tonnage in Q4 of 2020. Inventory levels remain low in 2021 and the expectation is that LTL volumes will maintain current levels or become elevated as manufacturing catches up. Rates in 2021 are expected to increase anywhere from the high single digits to lower double digits, according to a story in Supplychain247 . The Purchasing Manager's Index (PMI) at 58.7% in January is a good indication that the LTL market is poised for strong growth this year. (Graph and chart below courtesy of Institute for Supply Chain Management)

Manufacturing
Manufacturing has a significant impact on the freight market. Any reading over 50 signifies growth. Any reading below 50 is an indication of manufacturing's economic contraction. According to the Institute of Supply Chain Management's Report on Business, in January, "Five of six of the biggest manufacturing industries — Chemical Products; Fabricated Metal Products; Transportation Equipment; Food, Beverage & Tobacco Products; and Computer & Electronic Products, expanded."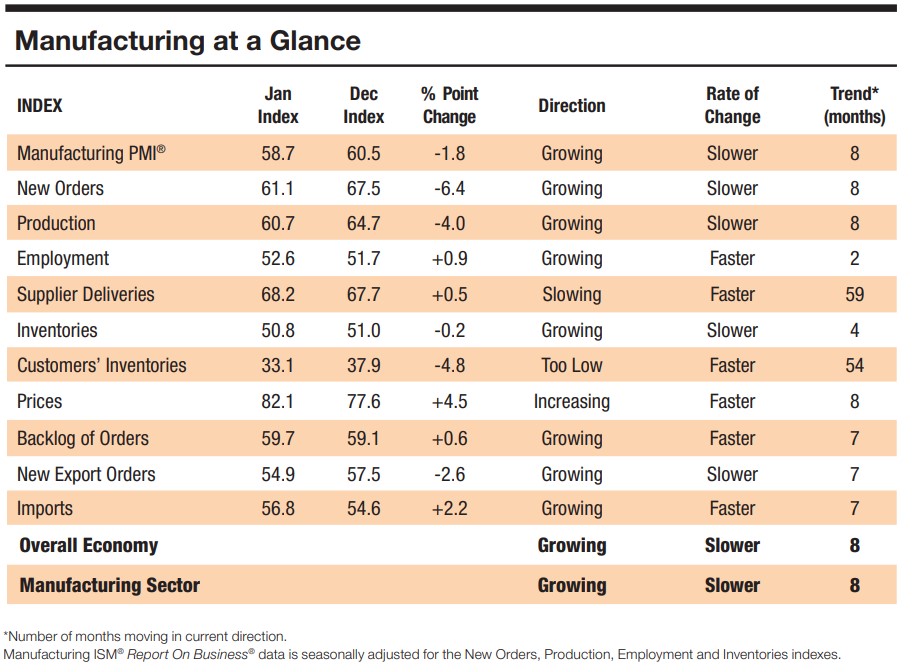 Who's Got the Power?
The DHL Pricing Power Index gauge stayed the same as last week at 70, favoring carriers in negotiations.
The pricing power index is a weekly gauge put out by DHL that indicates who has more sway in negotiations when it comes to pricing and freight rates. The farther the needle leans to the left of the gauge, the more power the shipper has in negotiation. The farther to the right, the carrier has the upper hand. (Source: Freightwaves)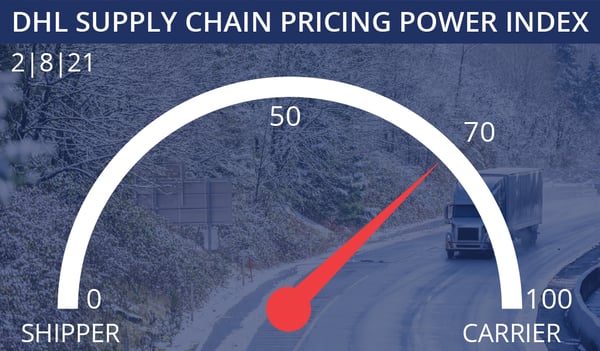 Spot Volumes Rise Again, But Rates Move little
(Below stats from February 1-7, 2021) Load posts saw a slight upswing last week with only marginally affected rates. Shippers are trying to get inventories restocked ahead of the Chinese New Year, and before the threat of more winter weather.
Overall Spot load posts rose 4.6% w/w, - 0.4% m/m and up 67.9% y/y.
Dry van: Load-to-truck ratio rose 5.1% w/w, -11.7% m/m and up 92.0% y/y.
Dry Van Spot Rates: Rates are up 1.3% w/w, -4.0% m/m, and up 25.8% y/y.
Reefer: Load-to-Truck ratio is up 13.9% w/w, down -4.3% m/m, and up 54.4% y/y.
Reefer Spot Rates: Rates up 1.6% w/w, down -2.5% m/m, and up 16.3% y/y.
Fuel prices have risen by 0.7% w//w.
(Source: DAT Trendlines)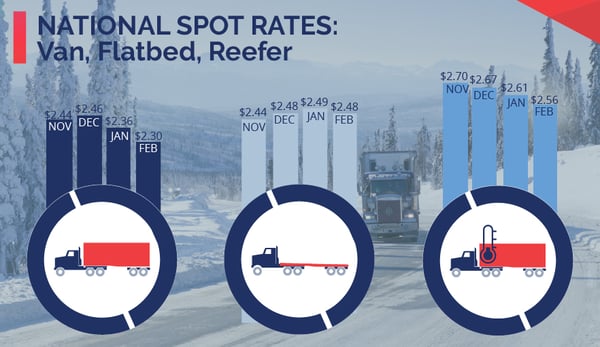 ---
Ways to Save on Increasing Costs
You may be able to save costs by consolidating shipments, tendering consistent freight and utilizing distribution centers to shorten some lengths of haul. Read our blog for other cost saving measures.
Have a Question? Ask our Experts.
Do you have specific questions about the freight market in your area? Don't hesitate to ask us. Your sales representative or a member of our professional logistics team is ready to help, so give us a call! 800.568.2240.