Your Outlook for the Week Ahead
January 11, 2022
The Choptank Weekly Market Brief is offered exclusively to Choptank Transport customers to provide accurate, timely, and relevant freight market information. The contents of this brief are collected from reputable sources including DAT, Freightwaves/Sonar, Truckstop.com, the Department of Labor, the Department of Transportation, and other sources as cited throughout the brief.
Supply chain interruptions over the past two years have had an unprecedented impact on the economy. Google can attest to that, as the number of hits for the search term "supply chain" rose 194% in October this past year. Even more impressive was the sharp rise in people looking up "port congestion," a term that saw a jaw-dropping search spike of 376% compared with the beginning of 2021.
Every week it seems the average American is learning more about the logistics industry as access to goods becomes more costly and availability becomes less predictable. It is important to keep in perspective that supply chains are not simply ports, rails, trucks, airlines or ships. Supply chains are also the people behind all these modes of transport. When the people aren't there, the supply chain no longer functions properly. Such is the case with the most recent COVID-related shutdown in China. Watch this week's video.
This week's video
China's Zero-Tolerance Policy

... and its effects on the supply chain
Source: CNBC
In other supply chain news this week:

Trucker Pilot Program - FMCSA is requesting approval of the highly debated truck driver pilot program (a three-year apprenticeship) from the Office of Management and Budget. FMCSA is proposing a deadline date of February 13, if all is approved, allowing 18- to 21-year-olds to drive trucks across state lines.



Trucking Employment

- Freightwaves reports,

"The figure for December was up just 300 jobs from the prior month. Since jobs began rebounding after the huge declines of March and April of last year, the increase of 300 jobs was the third smallest, behind the two months when declines were recorded

.



The small seasonally adjusted jobs gain in December stood in stark contrast to the prior six months, when monthly job gains ranged from 4,700 jobs to 8,700 jobs. More eye-popping was the number of not seasonally adjusted jobs. That declined 10,000 positions."

Truckload Spot Market
January 3 - January 9, 2021: Load posts were slightly down in the reefer spot market this past week compared with the week prior, but overall posted loads jumped by a whopping 52% from the week before. Both van and flatbed saw increases in posted loads, although rates slipped slightly.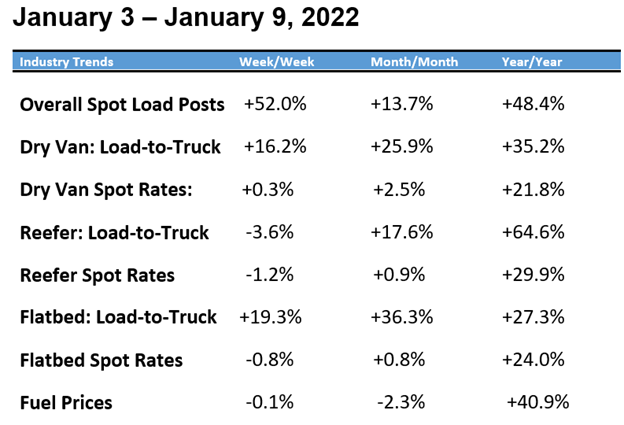 Ningbo Port

Shutdown

- China's zero-tolerance rule regarding COVID is having an impact not only on the port of Ningbo, but on the world, as warehouse workers, longshoreman and truck drivers experience yet another

partial shutdown.



Port Problems Persist -

A lineup of vessels at U.S. ports continues to be problematic. As of Friday, January 7, the ports of LA/LB had a record-breaking 105 ships waiting at berth.
Map: Marinetraffic.com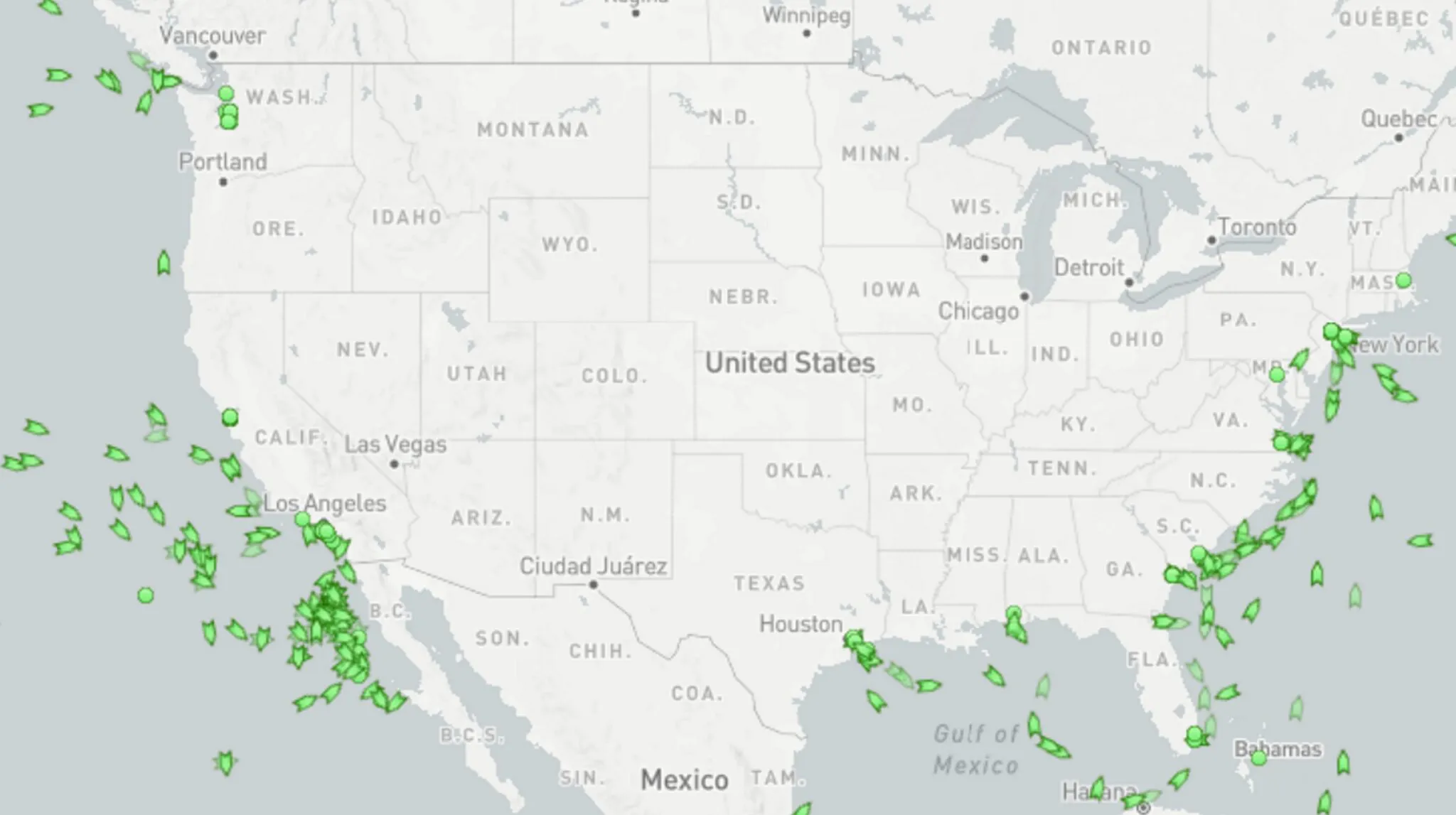 Two Rails to Merge - Canadian Pacific Chief Executive Officer Keith Creel and Kansas City Southern President and Chief Executive Officer Patrick J. Ottensmeyer sit down to accept Railway Age's 2022 Railroaders-of-the-Year awards. Editor-in-Chief William C. Vantuono talks about the current proposed merger between the two companies to form a new transnational railway in the United States. Ottensmeyer says, "The historic significance of this transaction truly is going to be a North American rail franchise unmatched by any other."

Watch the Video.



Rail Volumes 2021 Wrap Up

- American Association of Railroads reported volumes for 2021 were 4.9% higher than 2020, peaking the first half but then falling in Q4, but still reaching the

second-highest year on record.
Reciprocal Switching News - The Surface Transportation Board (STB) will propose new legislation on reciprocal switching obligations at a public hearing scheduled for March 15-16. In an article in Logistics Management, the STB explains that "under reciprocal switching, an incumbent carrier transports a shipper's traffic to an interchange point, where it switches the rail cars over to the competing carrier. And it observed that the competing carrier pays the incumbent carrier a switching fee for bringing or taking the cars from the shipper's facility to the interchange point, or the opposite way."
Charts below: Freightwaves/Sonar

Below: Weekly change by markets for domestic intermodal spot rates (including fuel surcharges).
Chart: Freightwaves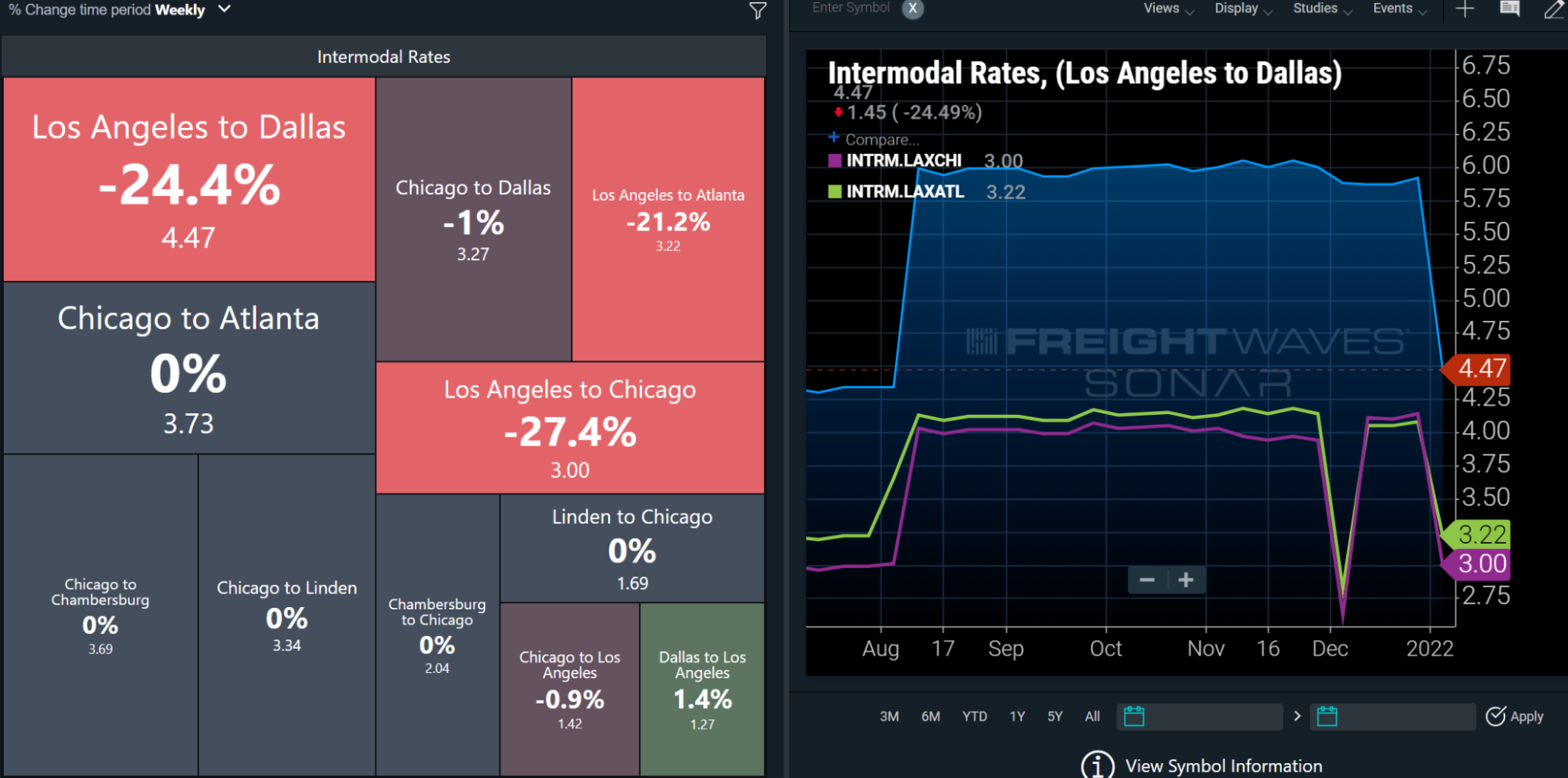 Number of the Week
480 miles


On average, the number of miles on one gallon of fuel it takes
to move one ton of freight on U.S. railroads. - Freightwaves
Quote of the Week
"Basically, Americans went on a shopping spree as soon as lockdown started, and we haven't really stopped since." - Christopher Mims, Author of Arriving Today
National Outbound Truckload Tender Volumes
January and February typically are considered slow times for the freight market. The challenges this January, however, are expected to be similar to those of Q4 in 2021, if not even more pronounced. Comparing volumes between 2020 and 2021 during Q4's holiday season, 2021 rounded out the year markedly higher than volumes in 2020.
Chart Below: Freightwaves/Sonar (Blue line represents 2021 volume, green - 2020.)

Truckload Volumes vs. Rejections
Truckload Outbound Tender Volumes do not always correspond accordingly with Outbound Tender Rejections. Volumes remained high for most of the year. One would assume that rejections also would be elevated, but rejections dropped off after April and, with few exceptions, didn't climb back up again until early December with the approach of the holidays.
Chart Below: Freightwaves/Sonar (The blue line shows volumes compared with an orange line that indicates rejections for 2021.)

National Outbound Tender Rejections
The chart below clearly shows the volatility of rejection rates from year to year. For the first time in months, rejections are almost at the exact same levels they were a year ago at this time. But unlike last year, rejections this January haven't backed off after the holidays.
The national reefer rejection index topped just over 40% (41.12%) for the first time since May of last year.
Chart Below: Freightwaves/Sonar (Blue line represents 2021 tender rejections, green - 2020 and orange, 2019.)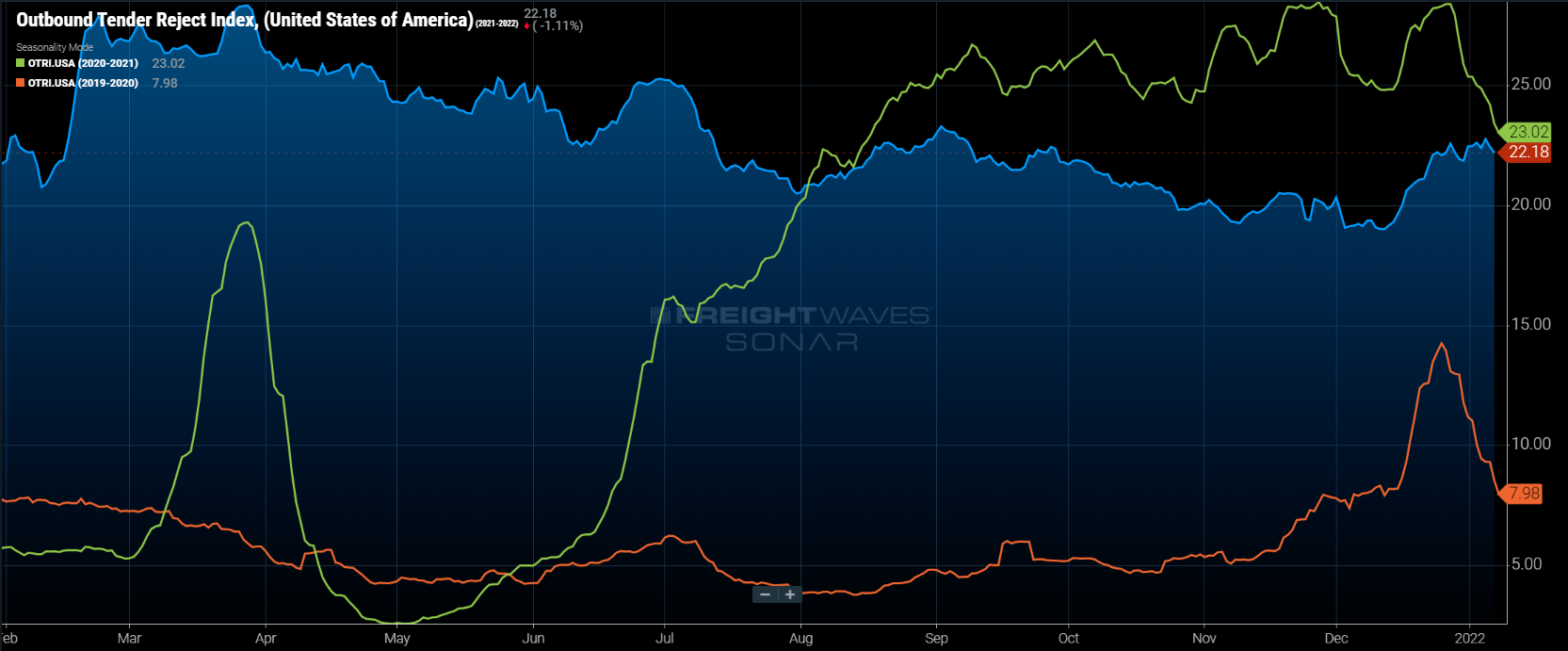 National Outbound Tender Rejections by Mode
Last week's rejections by mode show the uptick in reefer rejections as mentioned above. Flatbed rejections also are increasing compared with the beginning of last year. Van rejections have seen little change, and capacity is much easier to access than the other two modes.
Chart Below: Freightwaves/Sonar (Blue line represents van tender rejections, green - flatbed tender rejections and orange - reefer rejections.)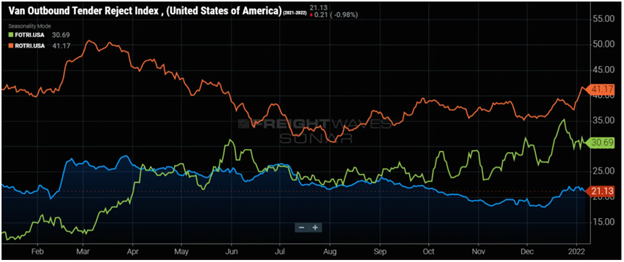 Last week's update, as reported by Baltimore-Washington Financial Advisors Source: BWFA : (Posted January 7, 2022)
Unemployment Rate - The unemployment rate fell 0.3 percentage points to 3.9%.
Unemployment Claims - Claims for unemployment insurance rose during the holiday period of Christmas through New Year's Day. For the week ended January 1, there were 207,000 new claims for unemployment insurance, an increase of 7,000 from the previous week's level.
New Jobs

- In December 199,000 new jobs in the U.S. were added.
Job Earnings

- In the past 12 months, average hourly earnings have increased by 4.7%.
Job Openings

- According to the latest Job Openings and Labor Turnover Summary, November saw the number and rate of job openings decrease to 10.6 million (-529,000) and 6.6%, respectively.
PMI

- The U.S. Purchasing Managers' Index for December dipped to 57.7, down from 58.3 in November.
Resignations

- The number of workers who quit their respective jobs increased in November to a high of 4.5 million, while the quits rate jumped to 3.0%.
Trade Deficit

-Year to date, the goods and services trade deficit increased $174.6 billion, or 28.6%, from the same period in 2020.
Imports/Exports

- increased $354.4 billion, or 18.2%. Imports increased $529.0 billion, or 20.7%.
Gas Prices

- On January 3, the national average retail price for regular gasoline was $3.281, $1.032 higher than a year ago.
Chart below: The Wall Street Journal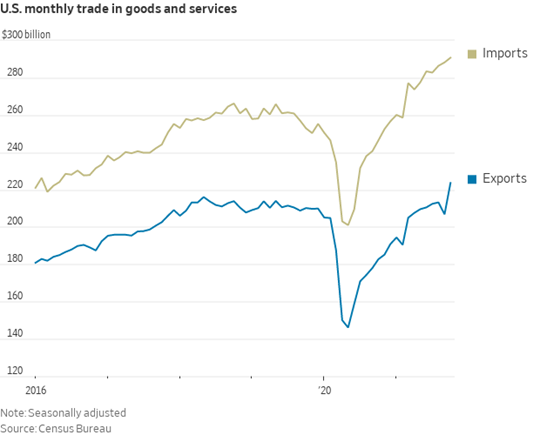 Truckload Market Conditions
From DAT Solutions, this morning's market conditions are shown below for the previous day for van, reefer and flatbed. Areas in red exhibit areas of extremely tight capacity.
Van Capacity (DAT Solutions)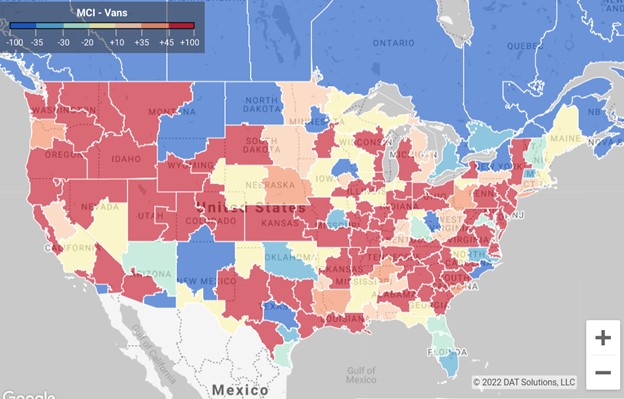 Reefer Capacity (DAT Solutions)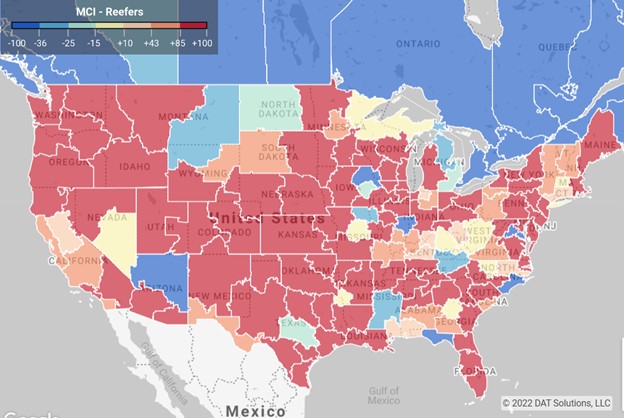 Flatbed Capacity (DAT Solutions)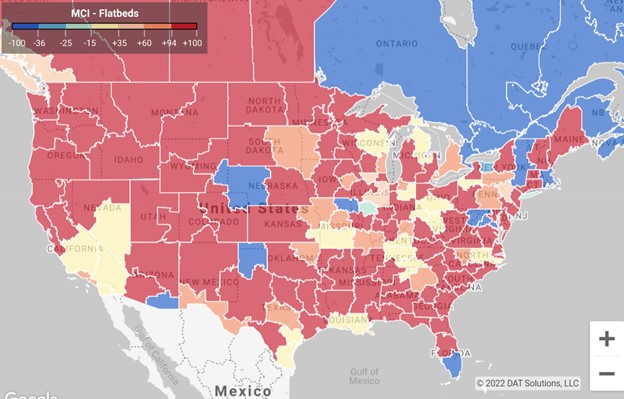 Shippers rely on the relationships they have with their 3PLs to ensure a smooth continuation of service whenever capacity gets tight. We hope you will continue to count on Choptank and Hub Group for all your freight needs, whether it be van, reefer, truckload, LTL, intermodal or cross-border shipping.
Have a Question? Ask one of our Experts
Your sales representative or a member of our professional logistics team is ready to help, so give us a call! 800.568.2240. If this email was forwarded to you and you would like to receive it, sign up here.