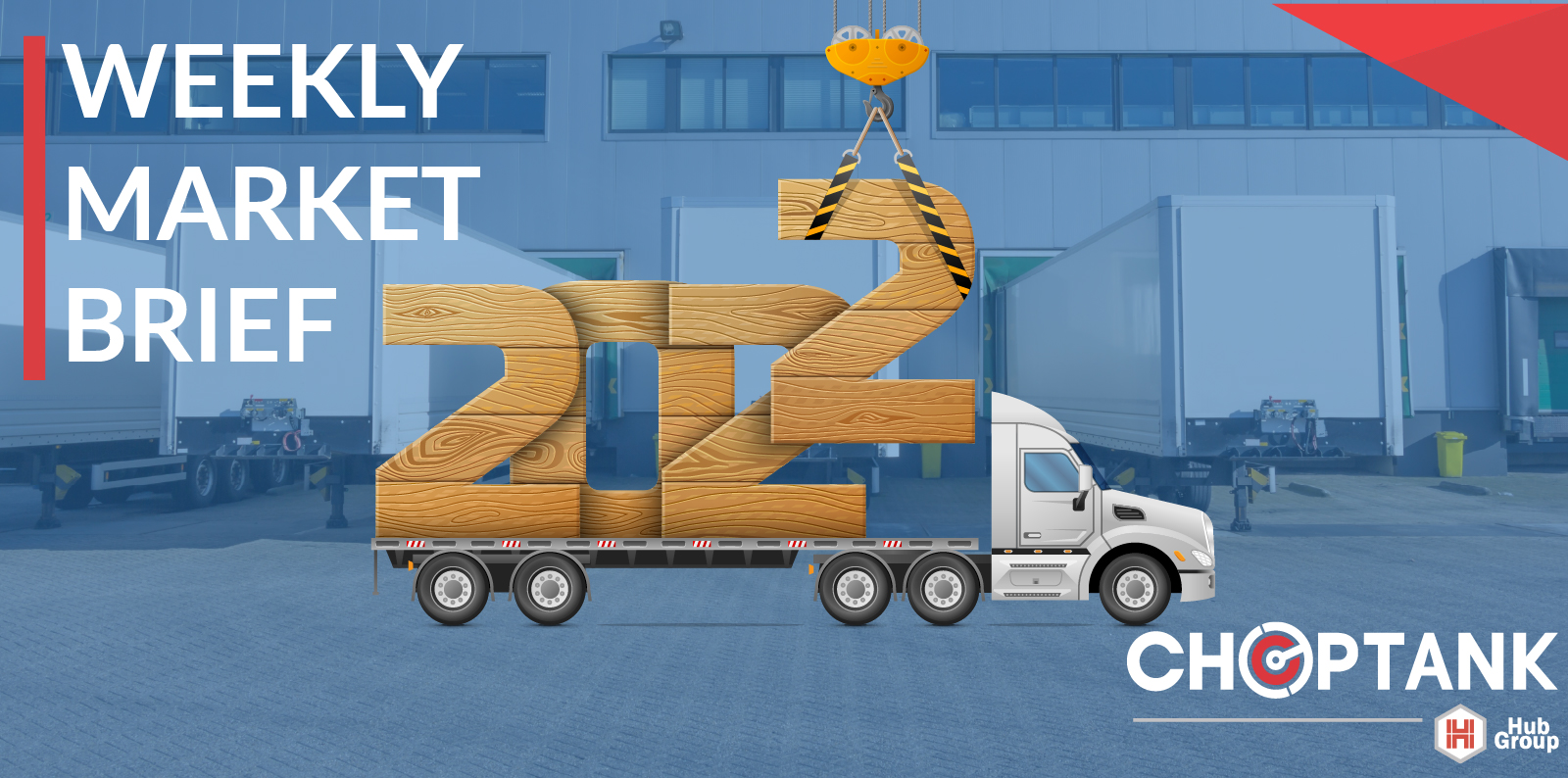 Resilience and Adaptability - Raising the Bar in 2022
January 4, 2022
The Choptank Weekly Market Brief is offered exclusively to Choptank Transport customers to provide accurate, timely, and relevant freight market information. The contents of this brief are collected from reputable sources including DAT, Freightwaves/Sonar, Truckstop.com, the Department of Labor, the Department of Transportation, and other sources as cited throughout the brief.
After two years of pandemic chaos, companies that have struggled with supply chain issues will be measuring their freight providers' resiliency and adaptability first and foremost, no matter what the freight market serves up this year.
They will be asking questions like, how well did their current providers fare when volumes surged and capacity was tight? Did their logistics providers deliver as promised when the massive port congestion began? Did they find rapid solutions when hurricanes, ice storms, and wildfires disrupted their most heavily trafficked lanes? These questions and others like them will be top of mind when companies re-evaluate their 2022 short- and long-term strategies.
Experts predict that many of last year's challenges in the industry are expected to continue in 2022, such as the truck driver shortage, high volumes, and continued port congestion.
It is hard to know just how long these issues will continue, but one thing we know for sure is that shipping costs in 2021 hurt manufacturers' and retailers' bottom lines. Carefully choosing a full-service solutions provider with the expertise and negotiating power that Choptank Transport provides, can mean the difference between thriving and not.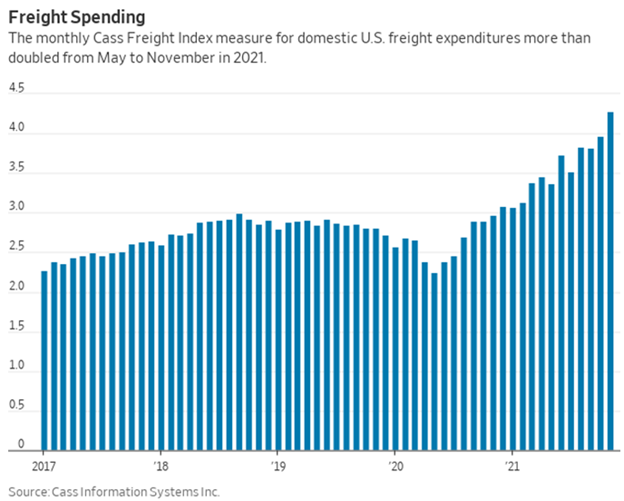 This week's video
Shortages to Watch in 2022
Source: Today
Numbers of the Week
420,373
The total number of carloads and intermodal units that U.S. Class 1 railroads moved in the week ending December 25, 2021, a 3.7% increase over 2020 data.
- Railway Age
$80,769
The average retail price of a used Class 8 truck in November. That is 67.8% higher compared with a year earlier, ACT Research reported. - Transport Topics
What's Up in the Truckload Spot Market?
December 20 - December 26, 2021: The last few days of 2021 saw spot rate increases for all three equipment types; reefer freight saw the highest uptick in rates, with a jump of 5.8% from the prior week.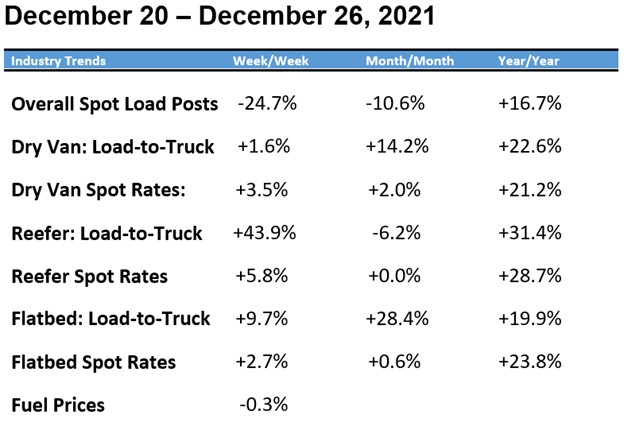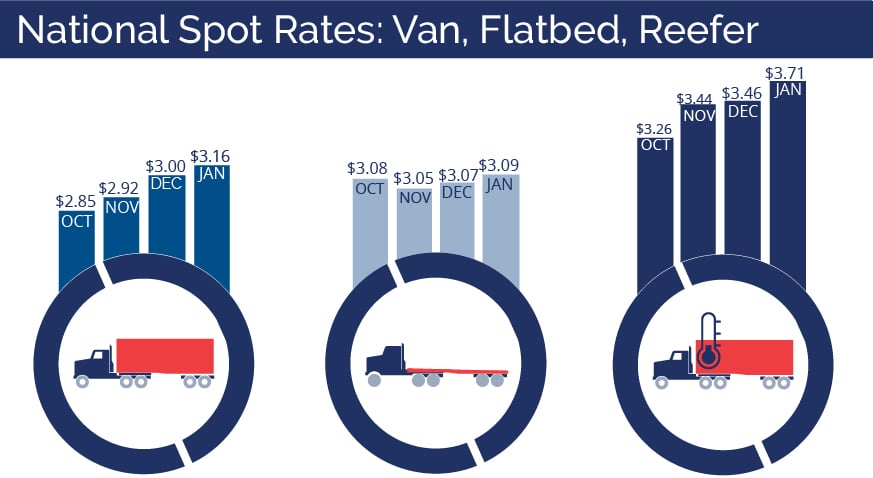 2021 National Outbound Tender Volumes
This past week saw the expected dip in freight volumes typical for this time of year. Drivers were home for the holidays, and warehouses were on tightened schedules with minimal working staff to accept or send freight. Of note on the chart below are the robust volumes that outpaced even last year's numbers at year-end.
At the beginning of 2021, volumes continued to decline for the first month and a half. It will be interesting to see if history repeats itself over the next few weeks. With an earlier-than-usual Chinese New Year in play and backlogs still prevalent at West Coast ports, there are too many variables to be certain what the future freight market holds.
Chart Below: Freightwaves/Sonar (Blue line represents 2021 volume, green - 2020 and orange, 2019.)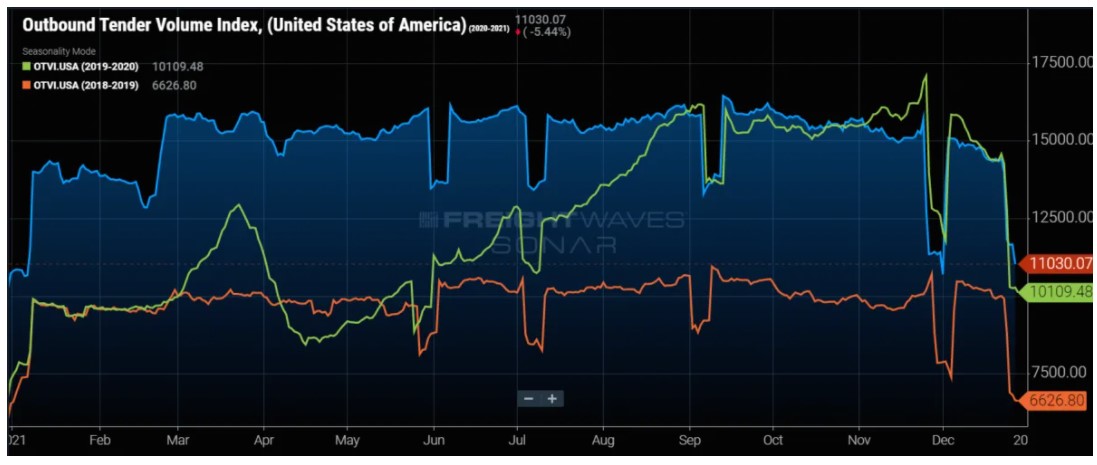 National Outbound Tender Rejections
No surprises on the chart below, as many drivers were at home enjoying family time over the holidays. That resulted in fewer trucks on the road and, consequently, a climb in tender rejections. This constituted one of the largest week-over-week climbs in rejection rates since late June, according to Freightwaves data.
Chart Below: Freightwaves/Sonar (Blue line represents 2021 tender rejections, purple - 2020 and green, 2019.)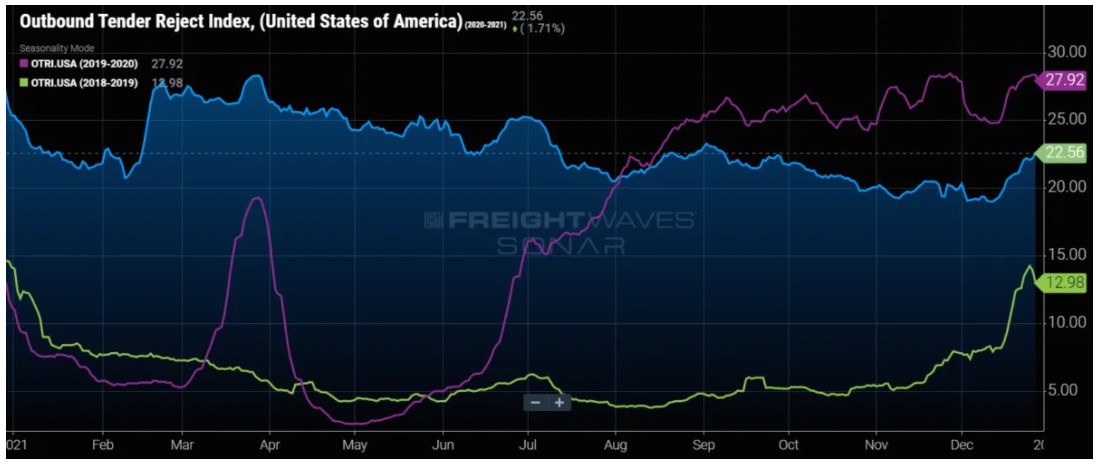 Tender Rejections by Mode
Of the three modes of truck services, the reefer market remains the tightest, although it did see a slight decline in rejections over the past week. Van, on the other hand, saw a distinct rise in rejections, as is normal with the holiday in full swing. Flatbed rejections experienced a downward tick, but only after reaching an all-time high last week.
Chart Below: Freightwaves/Sonar (Blue line represents van tender rejections, green - flatbed tender rejections and orange - reefer rejections.)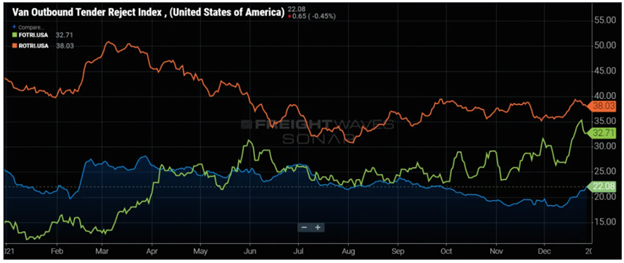 Rail/Intermodal News
There is some good year-end news in the rail and intermodal sector. CSX just announced that it has been named to the newly launched Forbes Green Growth 50 list of companies that are reducing greenhouse gas (GHG) emissions while growing profits. It is the only transportation company on the list.
In addition, the U.S. Department of Transportation has awarded $241 million in grants to 25 ports for facility improvements, six of which are rail-related ports. The total amount that these ports will get is $86.22 million. They include Aberdeen, MS; Long Beach, CA; Superior, WI; Tacoma, WA; Bay St. Louis, MS; and Morehead City, NC.
According to the Association of American Railroads, "...the first 51 weeks of 2021, U.S. railroads reported cumulative volume of 11,804,438 carloads, up 6.7 percent from the same point last year; and 13,952,907 intermodal units, up 5.2 percent from last year. Total combined U.S. traffic for the first 51 weeks of 2021 was 25,757,345 carloads and intermodal units, an increase of 5.9 percent compared to last year."
Chart Below: RailwayAge.com
Ports/Ocean Freight
In recent months shippers have found that in some instances, shipping cargo to the East Coast for inland destinations as far as west as Salt Lake City can be faster than shipping to the West Coast. In seeking alternatives to the Ports of Long Beach and Los Angeles, Freightwaves points out in a recent article that there are other viable ports shippers may want to consider. The five ports mentioned include Port of Hueneme, Port of San Diego, Port of Portland, Port of Cleveland and Port of Montreal. Read the article.
Other port-related articles: Oakland Port Plans More Space to Ease Farm-Export Space Crunch - Bloomberg
Port of LA announces new fee, this time for empty containers that linger – Press Telegram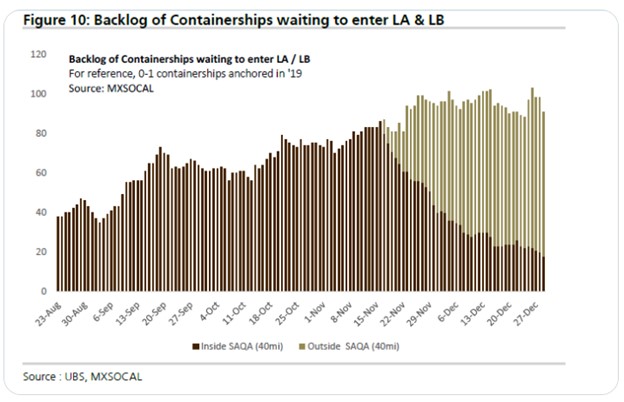 Note: SAQA is the area designated around the ports of LA/LB within which the number of vessels will be limited to reduce the risks posed to maritime safety and improve air quality.
Economic News
Last week's update, as reported by Baltimore-Washington Financial Advisors:
(Posted January 3, 2022)
Unemployment: For the week ended December 25, there were 198,000 new claims for unemployment insurance, a decrease of 8,000 from

the previous week's level. During the last week of February 2020 (pre-pandemic), there were 219,000 initial claims for unemployment insurance. States and territories with the highest insured unemployment rates for the week ended December 11 were Alaska (3.1%), California (2.7%), Puerto Rico (2.7%), the Virgin Islands (2.5%), New Jersey (2.4%), Illinois (2.3%), Minnesota (2.3%), Hawaii (2.0%), Massachusetts (1.8%), and Nevada (1.8%).
Related article: Workers Should See Job Gains Even Amid the Latest Covid-19 Wave - WSJ
Gasoline: The national average retail price for regular gasoline was $3.275 per gallon on December 27, $0.020 per gallon less than the prior week's price but $1.032 higher than a year ago. Gasoline production increased during the week ended December 24, averaging 10.1 million barrels per day. U.S. crude oil refinery inputs averaged 15.7 million barrels per day during the week ended December 24 — 124,000 barrels per day less than the previous week's average. Refineries operated at 89.7% of their operable capacity, 0.1 percentage point below the prior week's rate of capacity.
International Trade Deficit: The international trade in goods deficit expanded by $14.6 billion, or 17.5%, in November.
PMI for December: The end-of-year Purchasing Managers' Index came in at 57.7, which was slightly below expectations but still comfortably above 50--a sign of a healthy, growing economy.
Source: BWFA
and PMI information from Seeking Alpha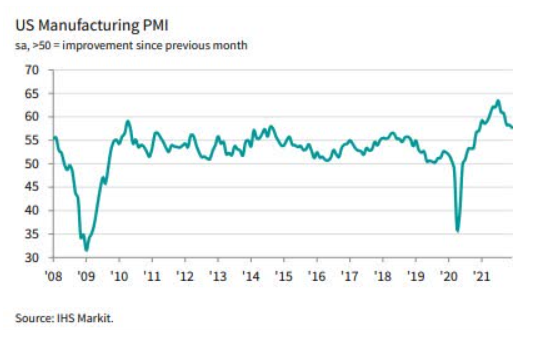 Market Conditions
This morning's market conditions are shown below for the previous day for van, reefer, and flatbed. Areas in red exhibit areas of extremely tight capacity.
Van Capacity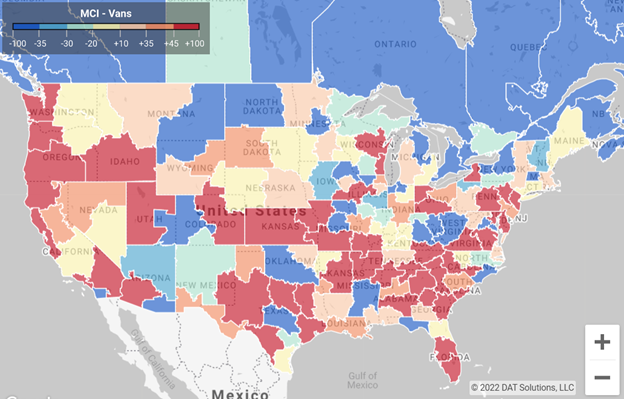 Reefer Capacity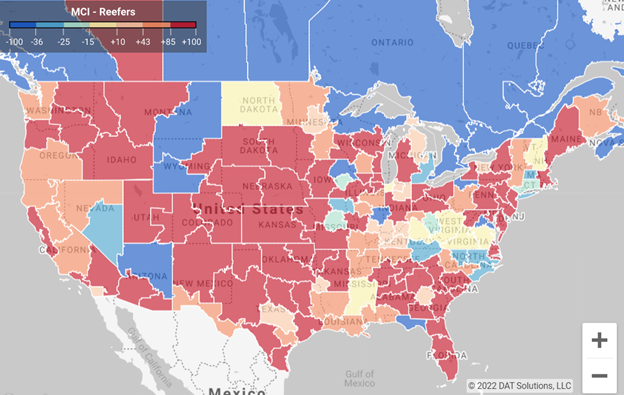 Flatbed Capacity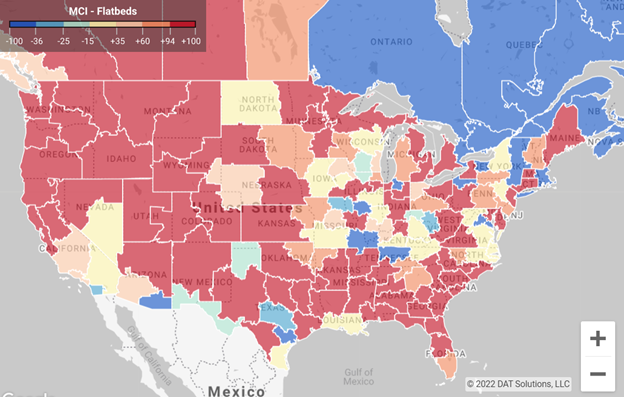 ---
Shippers rely on the relationships they have with their 3PLs to ensure a smooth continuation of service whenever capacity gets tight. We hope you will continue to count on Choptank for all your freight needs, whether it be dry van, reefer, truckload, LTL, intermodal or cross-border shipping.
We would love to hear from you
What do you think about the Choptank Transport Market Brief? Do you find it helpful? Is there additional information you would like us to include or is there information you don't find relevant? Send comments to: marketing@choptanktransport.com
Have a Question? Ask one of our Experts
Your sales representative or a member of our professional logistics team is ready to help, so give us a call! 800.568.2240. If this information was forwarded to you and you would like to receive it, sign up here.