Cross Border Shipping
Helpful Information for First Time Cross-Border Shippers
On an average day in 2020, about 30,000 trucks roll across the Canada-U.S. border, carrying more than $1 billion in trade. Both sides of the border are very particular about exactly what is coming into their country, its exact origins, and the proper paperwork. That is why we put together this helpful guide to get you started.
Those who are considering shipping products across any border in North America should become aware that there is a lot to keep in mind. It is not as simple as shipping freight from Florida to Ohio. There are added fees and required paperwork that if not filled out properly, or paid in full, can cause you problems bigger than just a headache, such as hefty fines and possibly even jail time.
Documentation is the number one, most important aspect of shipping cross-border. It is the most common reason shipments get held up or are refused. Missing paperwork and incorrect paperwork are the simplest errors to correct. Make sure everything is prepared ahead of time by double-checking you have everything you need before you begin the process.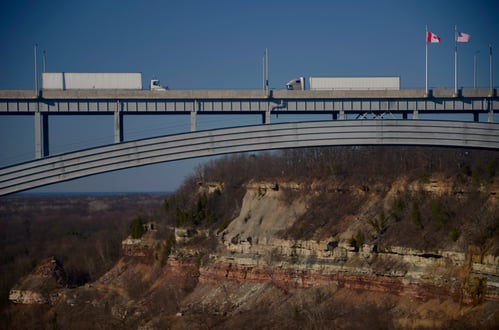 Before you start making the actual shipping arrangements, make sure what you want to ship is permitted into whatever country you are shipping into. There are restrictions and limitations for many items, even ones you would never suspect. For example, firearms, used-mattresses, collectible coins and stamps, hemp products including makeup, alcoholic beverages, fireworks, furs, and plants are just some of the prohibited imports into Canada. To get a full listing, click here. It is always better to check first before having your goods confiscated at the border.
STEP-BY-STEP CROSS BORDER SHIPPING PROCESS BY TRUCK (OTR)
STEP 1.
U.S. > Canada: Your first step as a shipper who wants to send commercial freight in or out of Canada is to make sure you have a Business Number BN. Whether you are a large corporation or an individual selling jewelry on Etsy, you must have this number. To set up a new account, go to the Canada Revenue Agency online and apply for a new import/export account.
Canada > U.S: Canada: A similar number is required if you are shipping from Canada into the U.S. The U.S. equivalent is called an Employer Identification Number, or EIN. If you don't have an EIN number already, you can apply for it through the Internal Revenue Service, IRS.
STEP 2.
Your second step should be hiring a customs broker (always make sure they are licensed) as it is their job to clear your freight for customs. Their responsibilities include:
Acting on your behalf for the transport of goods across borders by using their expert knowledge to explain customs laws and required compliance to their clients.

To submit all the documentation necessary to clear the goods that are entering the country.

Most customs brokers will pay the duties and fees for you, and then bill you later. Duties and fees are due within ten working days of entering the country.

Record keeping: In the U.S. it is the customs broker's responsibility to keep all documentation for at least five years after the date of entry.

Stay up to date on the latest changes and updates to customs-related laws and regulations for the areas they serve.





(See tips on selecting the right customs broker as well as some reputable firms Jesus to supply).
U.S. > Canada: If you are shipping goods into Canada, you will require a Canadian customs broker.
Canada > U.S: Canada: If you are shipping goods into the United States, then hire a U.S. customs broker.
STEP 3.
U.S. > Canada: You will need to get a Cargo Control Number, or CCN from a cross-border provider to ship from the United States into Canada. The CNN is also known as the Pre-Arrival Review System or PARS number. This number is used to identify both the carrier (four-digit code) and the shipment. By using this process of advance notice and review of the shipment, it accelerates the customs clearance process at the border.
Canada > U.S.: You will need to get a Pre-Arrival Processing System PAPS number for either the northern or southern border to ship from Canada into the United States. PAPS stands for pre-arrival processing system. All shipments that require pre-arrival clearance  must have a PAPS number. This is the equivalent of the PARS number for shipments going into Canada.
STEP 4.
U.S. > Canada: This step is critical for shipments going from the United States to Canada and it must be performed before crossing the border. All shipments must be registered with the ACI eManifest system, or Advance Commercial Information electronic database under the CBSA. It is important to note that the ACI eManifest is not the same thing as the CNN/PARS for customs clearance, although they are similar.
Canada > U.S.: You will need register with the Automated Commercial Environment, ACE) manifest if your freight is going from Canada to the United States. This is the system that the trade community uses to report imports and exports, and within which the government determines admissibility. CBP Trade applies expertise, technology, and automation to create streamlined and efficient processes to facilitate the global exchange of safe and legitimate goods.
EXPERT ADVICE FOR FIRST TIME CROSS-BORDER SHIPPERS
Choptank's Team Canada offers this expert advice for anyone new to cross-border shipping.
Make sure you have

all

customs documentation, shipping docs, and all other necessary paperwork ready PRIOR to your freight's pick

up.

Using the option to pre-clear orders with customs using carriers PAPS/PARS and port of entry –is a tremendous help

at the border, making it a much quicker process for the driver when they arrive.

In addition to the documentation, make sure you have all the broker contact information and shipment tracking information available to allow communication with customs ready if needed.
Still have questions? Contact our cross-border team at canada@choptanktransport.com and they will be happy to help you.
Cross Border Documentation Basics
These documents are required regardless of what border crossing in North America you are embarking on.
All boxes marked with shipping labels. Each box must state country of origin

Certificate of Origin
Commercial Invoice

Bill of Lading (HS code or international commodity classification code, must be used for classification for each commodity shipped)
Average increase in transit time for cross-border freight
Rail: 2-3 days
Truck (OTR): Less than 500 miles—add 1-2 days
Greater than 500 miles—add 2-3 days
Greater than 1,000 miles—add 3-4 days
Costs: A licensed customs broker can help you assess the cost of any cross-border shipments. Here is a breakdown of typical costs.
Base shipping fee

Customs brokerage fees
Based on HS code, value and trade agreements
In Canada: Provincial Sales Tax, Retail Sales Tax, The Goods & Services Tax, Quebec Tax

In U.S.: Possible Federal and State Tax
Import permits, possible processing and handling fees (depending on the cargo).
______________________________________
Helpful Terms to Know
ACI—Advanced Commercial Information
Advanced Commercial Information is a Canada Border Services Agency (CBSA) initiative to increase cross-border trade efficiencies and to improve the protection of Canadian citizens through advanced cargo clearance and risk-assessment screening. This allows for speedier border crossings and reduced wait times.
BN—Business Number
Your Business Number is a nine-digit account number that identifies your business to federal, provincial, and municipal governments. You can open several different accounts for your business through a single registration.
CBP—U.S. Customs Border Protection
CBP provides security and facilitation operations at 328 ports of entry throughout the United states.
CBSA—Canadian Border Services Agency
The Canada Border Services Agency (CBSA) facilitates the flow of legitimate travelers and trade. The Agency also enforces more than 90 acts and regulations that keep the country and its Canadian citizens safe.
CCN—Cargo Control Number
A Cargo Control Number is a unique number assigned to a shipment of goods entering Canada. It serves as a means of telling shipments apart for CBSA, while simultaneously identifying the carrier transporting the goods. Cargo control numbers are mandatory for almost every type of shipment being transported to Canada by highway carrier.
CRA—Canada Review Agency
Administering tax laws for the Government of Canada and for most provinces and territories.
EIN—Employer Identification Number
An employer identification number is a unique nine-digit number assigned by the Internal Revenue Service to business entities operating in the United States for the purposes of identification.
PAPS—Pre-Arrival Processing System
A system that links electronic entry information supplied by a Customhouse broker through the Automated Broker Interface (ABI) with a Standard Carrier Alpha Code (SCAC) and unique identifier number (e.g., bill of lading, pro-bill or entry number) provided by a carrier.
PARS—Pre-Arrival Review System
The Pre-arrival Review System is a Canadian Federal Government customs program that allows importers, or customs brokers acting on their behalf.
IRS—Internal Revenue Service
The internal revenue service is the revenue service of the United States federal government responsible for collecting taxes and administering the Internal Revenue Code, the main body of federal statutory tax law.
How to Select the Right Customs Broker
How do you know who to trust when you are selecting a customs broker? If you are working with a freight broker that you know and like, ask them for a recommendation. They most likely work with customs brokers frequently and may know who would be a good one for your freight. It is important to use a customs broker that is familiar with the commodity you are shipping, especially if is requires special handling. Remember, whatever country you are shipping into will be the country where you need to hire the customs broker, and again, make sure they are licensed.
Here are a few recommended brokers:
CANADA CUSTOMS BROKERS
Livingston International www.livingstonintl.com / (800) 837-1063 – General Inq.
N. Deringer www.anderinger.com/ (888) 612-6239
Shipment and Customs Entry Inquiries: (800) 448-8108
United States Postal Services (USPS) www.usps.com / (800) 275-8777
FedEx Trade Networks www.ftn.fedex.com / (800) 249-2953
BCB International Inc. www.bcbinternational.com
Pacific Customs Brokerage (West Coast) www.pcb.ca
ABC Customs Brokers Ltd. www.abccustoms.com / (888) 432-5403
Farrow www.farrow.com / (905) 677-8353
Examples of Prohibited or Restricted Items Entering the United States.
For more information, go to: Prohibited and Restricted Items | U.S. Customs and Border Protection (cbp.gov)
Alcoholic Beverages
Automobiles
Biologicals
Ceramic Tableware
Cultural Artifacts
Dog and Cat Fur
Drug Paraphernalia
Firearms
Fish and Wildlife
Food Products (Raw and Prepared)
Fruits and Vegetables
Game and Hunting Trophies
Gold
Medication
Pets
Plants and Seeds
Soil
Examples of Prohibited or Restricted Items Entering Canada.
For more information, go to: Restricted and prohibited goods (cbsa-asfc.gc.ca)
Firearms and Weapons
Explosives, Fireworks and Ammunition
Cannabis
Food, Plants and Animals
Vehicles
Some Consumer Products Deemed Unsafe
Any Dangerous Goods
Forestry Products
Minerals and Metals
Clothing and Textiles
Agricultural Products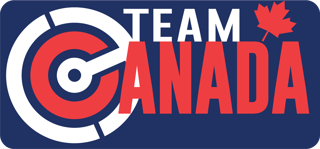 Choptank Transport has been in the 3PL business for more than twenty years. We are experts in cross-border shipping for truckload, temperature-controlled freight, LTL, flatbed and rail transportation. Choptank has a dedicated cross-border team that can help you arrange the movement of your freight seamlessly and efficiently between the United States and Canada. Choptank's team is familiar with the required documentation and associated costs to help guide you through the process, step-by-step. Contact us: Canada@choptanktransport.com