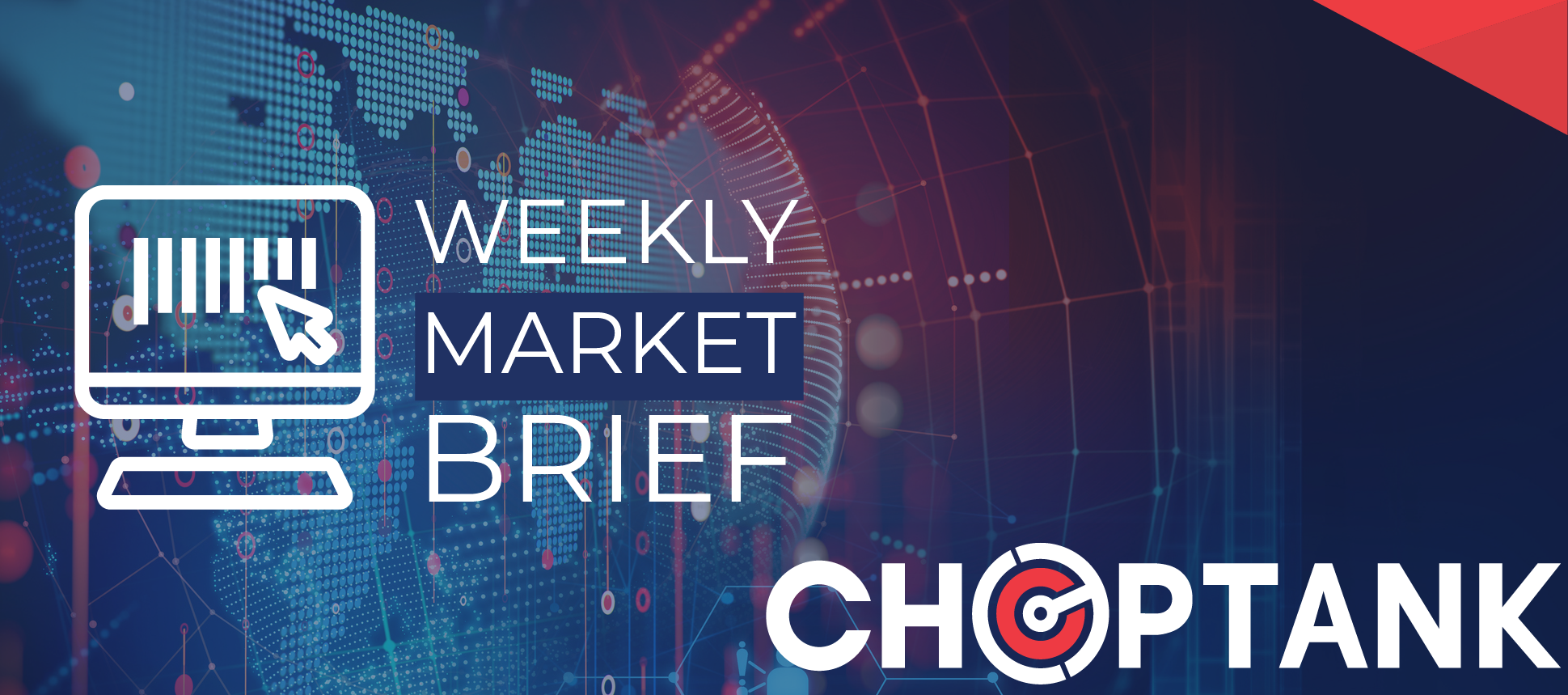 The U.S. Logistics Market
2020 Recap & Outlook
Executive Summary:
Truckload – Van
Record-level spot volume & rates.
Capacity restraints due to COVID-19 and driver shortage.
Imbalanced market created empty miles between destinations.
Outlook: Expectations are for slowed growth in freight tonnage for 2021 without pandemic surge conditions. The uncertainty of the market will drive shippers to look for shorter contracts.
Truckload – Reefer
Record-level spot volume and rates.
Capacity extremely tight, rejection rates soared in Q4.
Outlook: Q1 will see seasonal slowing but still predicted to be higher volume than 2020 with grocery shipments in Q1 taking the place of restaurants and eating out.
Truckload – Flatbed
Sluggish industrial sector for most of 2020. Rates and capacity flat.
Outlook: A slow but steady uptick in manufacturing and industrial is expected to increase activity in the flatbed market.
The housing market is expected to see 2.6% increase in residential construction, but a much larger decline is anticipated in commercial construction in 2021.
Less-Than-Truckload
LTL volumes crashed in April due to COVID-19.
LTL picked up pace again in August.
Outlook: With the post-pandemic recovery of small businesses in 2021, LTL could increase if truckload is up, but most likely not until second half of year.
Intermodal
Surge in imports drove volumes in 2020. Container shortages taxed intermodal operations.
Pricing remained higher than truckload.
Outlook: Intermodal capacity is expected to remain tight through Q1 due to high levels of port activity but will likely ease before truckload, which is usually the case.

Intermodal will continue to supplement tight truckload capacity in early 2021.
Ports
Port activity is expected to remain elevated in Q1 due to heavy imports.
Imports and exports are predicted to increase.
A hyperactive consumer market carried the U.S. economy in 2020. Total freight volume was down due to industrial, manufacturing and building markets slipping because of the pandemic. Other markets such as retail went into high gear, keeping the trucks loaded and demand high.
2020 became the year of disruptive imbalances. Certain lanes that were historically favorable were dismal, and lanes that were usually poor were going gangbusters. Different equipment types fared better than others. Unpredictable became normal, and the industry discovered the need to pivot quickly.
Factors and Events that Helped Shape 2020
COVID-19: The pandemic brought change to the world and disruption to the freight market. Major shifts in consumer behavior combined with a sudden limited workforce, unreliable warehouse hours, and unpredictable volumes brought about a new way of thinking and doing in the supply chain. Technology, specifically freight digitization, became more important than ever.
2020 FACT: 15% of small businesses collapsed during the pandemic and 110,000 restaurants closed.
Economy
Manufacturing: There are currently low inventory levels at U.S. retailers. According to the Institute of Supply Management Metrics, the manufacturing customers' inventory chart may be an early indicator that replenishment will be needed in Q1 to keep the freight market strong in 2021.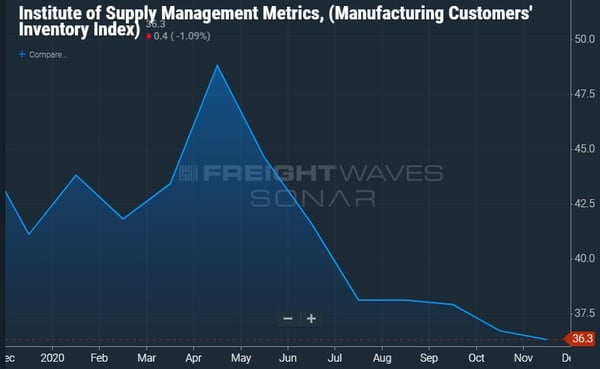 Driver Shortage: The driver shortage was more pronounced than ever this year. With a workforce already in jeopardy from low pay and an older demographic, existing drivers were pulled out of the market by the Drug & Alcohol Clearinghouse. Carriers also had to contend with rising insurance costs and pandemic-compromised driver school enrollment.
2020 Fact: The Drug & Alcohol Clearinghouse disqualified more than 20,000 drivers this year.
Unemployment: According the Department of Labor, in the week ending December 12, the advance figure for seasonally adjusted initial claims was 885,000, an increase of 23,000 from the previous week's revised level. This week, 803,000 are still looking for aid.
For the week ending December 5, the largest number of claims were in California (+48,341), Illinois (+33,485), Texas (+22,729), Pennsylvania (+16,955), and New York (+16,814), while the largest decreases were in Louisiana (-2,666), Kentucky (-1,151), New Mexico (-378), the Virgin Islands (7), and North Dakota (96).
In an article published by Bloomberg on December 17, 2020, "More than 5 million Americans are already claiming benefits, while millions more have exhausted them entirely."
Millions of Americans are waiting for the next wave of relief funding—the $900 billion rescue package. For many, the relief programs they counted on are completely exhausted or are scheduled to expire the day after Christmas. Luckily, it just has been announced that the Christmas deadline has been extended as part of the $900 billion rescue package.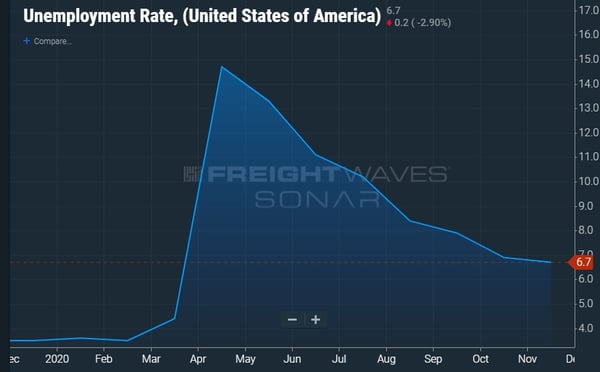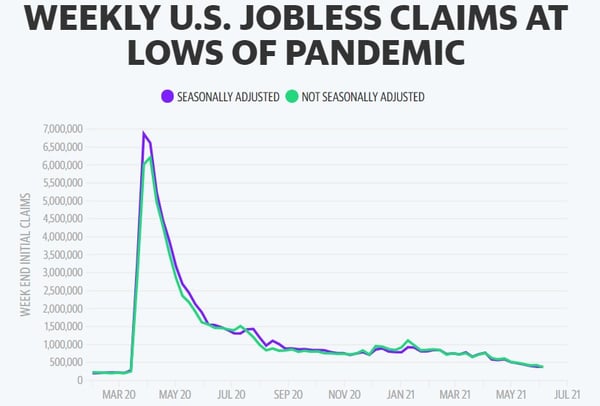 (Chart: Freightwaves SONAR. Jobless Claims 2020)
Contract vs Spot Freight: According to DAT, contract freight and spot rate are typically split 90:10. Since the emergence of COVID-19, for several months it became closer to an 80:20 ratio. In October, for example, DAT contract volume revealed that their total dry freight volumes had declined 1.6% y/y, but when separating the spot volume from contract volume, it told a completely different story. While dry van contract volumes decreased by 10% y/y, spot market volumes rose by 107% y/y. Again, we witnessed an imbalanced market.
Presidential Election, Trade Policy and Regulations
Nationally: The presidential election was one more uncertainty to add to the year's angst. With a new DOT secretary in place in 2021, people may be concerned with new policies that could affect the supply chain. The new presidency raises questions about the new infrastructure proposal and how it will be carried out.
Regulations were a big part of trucker's lives in terms of COVID-19 this year, including ATA's call for aid to truckers who are at high risk for contracting the virus as they play a pivotal role in keeping America's freight moving. Changes to hours of service were also implemented to help ease trucker regulations during the pandemic with four revisions to the final rule. Internationally: Worries over the trade war with China added to the year's sense of instability, along with the renegotiation of NAFTA as USMCA.
TRUCKLOAD l Dry Van
Year in Review & Outlook
Contract Market
Volume started out the year (Q1) at levels comparable to 2019 and 2018.
High demand, rates and tight capacity surged in March due to the pandemic.
Erratic volumes led to an imbalanced market.
One in every four loads were rejected from Aug – Dec.
Outlook for 2021 – shippers are reviewing their contract rate business and are looking at mini-bids 3 to 6 months out instead of long-term contracts. They are also looking at building just-in-case inventories.
| | |
| --- | --- |
| Van Outbound Tender Volume Index Q1 | Van Outbound Tender Volume Index Q2 |
| Van Outbound Tender Volume Index Q3 | Van Outbound Tender Volume Index Q4 |
(Chart: Freightwaves SONAR. Contract Market Dry Van Outbound Tender Volume Index)
Van Rejection Rates
Rejection rates soared right after the pandemic hit as panic buying set in and capacity decreased almost overnight.
One in every four loads was rejected beginning in August until the end of the year.

Van Spot Market
Volume/capacity: When the market flipped in late March-early April, volumes soared on the spot market as capacity tightened and shippers were opting to move their overflow contract freight onto the spot market.
Van Spot Rates 2020 vs 2019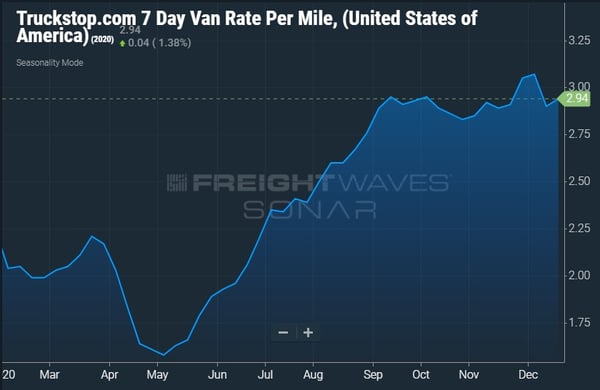 (Chart: Freightwaves SONAR. Truckstop.com Dry Van Spot Market Rate Per Mile)
Van Capacity on the Spot Market in 2020

(Chart: DAT Solutions, DAT freight and analytics)
Choptank Transport Truckload Van and Reefer


TRUCKLOAD l Reefer
Year in Review & Outlook
Contract Market 2020
Record-high rejection rates.
Reefer volume started out the year (Q1) at levels comparable to 2019 and 2018.
High demand, high rates and tight capacity hit the U.S. in March due to the pandemic.
Outlook for 2021 – strong reefer freight market is expected to continue in Q1.
Spot Market
Reefer rates hit record highs this year on the spot market.
Capacity was extremely tight – almost half of all reefer loads were rejected in mid-November, with even higher rejection rates in some areas.
| | |
| --- | --- |
| Reefer Outbound Tender Volume Index Q1 | Reefer Outbound Tender Volume Index Q2 |
| Reefer Outbound Tender Volume Index Q3 | Reefer Outbound Tender Volume Index Q4 |
Reefer Rejection Rates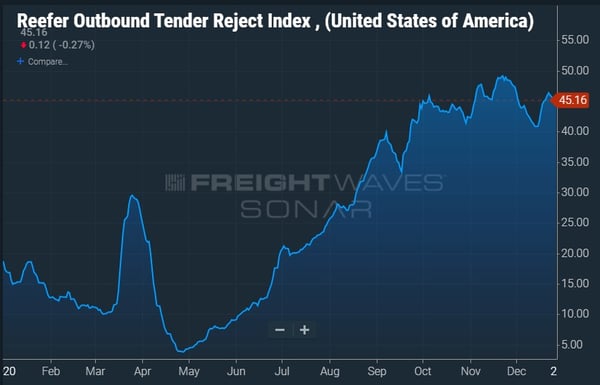 Reefer Spot Rates 2020 vs 2019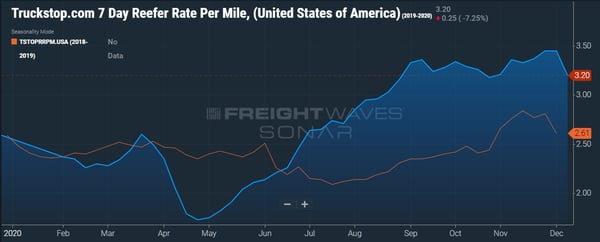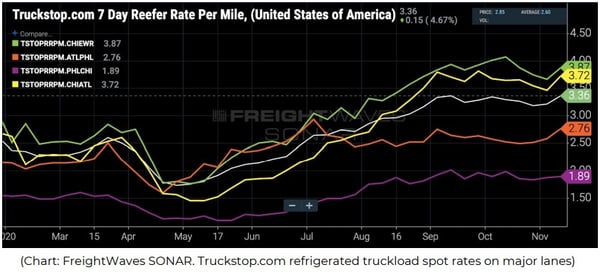 (Chart: Freightwaves SONAR. Truckstop.com refrigerated spot market rate per mile)
TRUCKLOAD l Flatbed
Year in Review & Outlook
While van and reefer markets turned upside down, the flatbed market remained mostly flat throughout 2020.
Rates and volumes remained level, especially in contrast to the bear market of 2018.
Outlook for 2021: If the industrial sector recovers early in the year as some predict, flatbed volumes should increase as well.
Flatbed Capacity on the Spot Market in 2020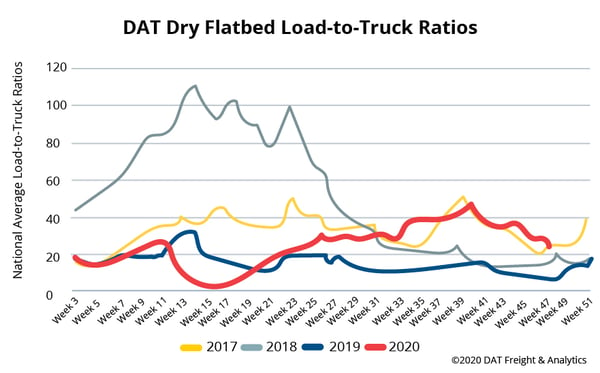 (Chart: DAT Solutions, DAT freight and analytics)
Flatbed Spot Rates on Major Lanes in 2020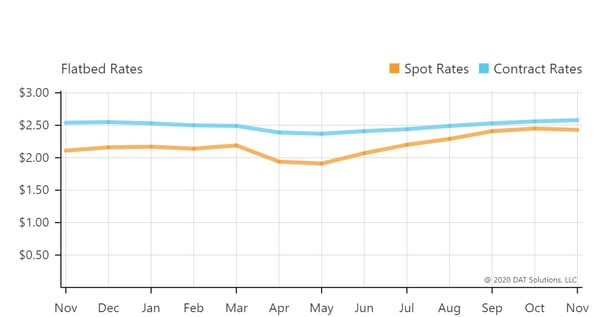 (Chart: DAT Solutions, Flatbed spot and contract rates 2020, DAT freight & analytics)
LESS-THAN-TRUCKLOAD
Year in Review & Outlook
Robin Tull, Choptank Transport Senior Manager of Specialized Logistics: "An amazing amount of LTL freight moved in 2020, especially considering the many market constraints and COVID-19-related closures at terminals and warehouses. People got creative and had to find workarounds this year to handle the volume while being understaffed due to COVID-19. Valuable lessons have been learned that we all can take into next year. It has been a strong market and we saw a steady increase in volumes as the year progressed. I predict it will continue that way into 2021. If we can be this successful in 2020, during a pandemic, we can expect better things in 2021."
Many of the larger LTL freight providers such as YRC and XPO experienced uneven financial results due to the pandemic. Most of them suffered losses in Q2, although those that focused on retail this year fared better than those focusing on industrial. Volumes were down for most LTL carriers in the second quarter y/y but then began a slow but steady increase in Q3.
Choptank Transport LTL Shipment Volumes (Dry and Reefer) 2020

The LTL tonnage and Cass chart below illustrates how LTL volumes rebounded in 2020.


INTERMODAL
Year in Review & Outlook
Intermodal volume was hit hard by the pandemic. From January through July, volumes were below their previous-year levels. In August, domestic intermodal saw a 3% gain and in November, an increase of 11.5%.
Domestic intermodal has seen a slight uptick in volume over the last few months due to peak season, but the market was hampered by rates that were the same or higher than OTR for a large part of the year. Rail spent the first seven months of 2020 keeping rates as they were, and that hurt the overall intermodal market. Railroads are slower to adapt than truckload to market changes. When truck capacity became tight in Q3 and Q4, there was a huge demand for intermodal as an alternate mode of transportation. Rates did not change but capacity did.
Intermodal Volumes: Total intermodal volume was down as much as 15% year over year in April and May. It has rebounded up to nearly 6% in September. Domestic volume hit a low point of being down 18% year over year in April, and it was up 11% in September. This V-shaped recovery has put a lot of strain on the intermodal providers.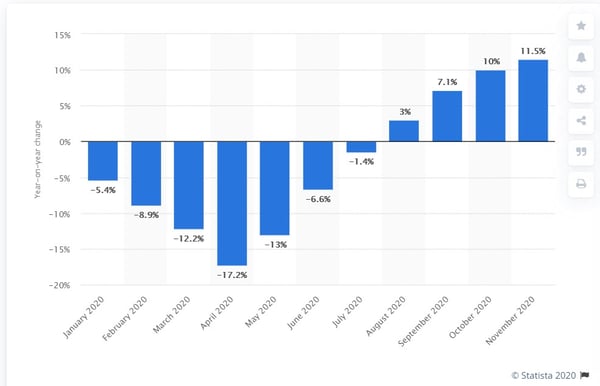 Analysts predict continued strength in intermodal volumes as port volumes continue to remain high in Q1. They also forecast prolonged issues with operations due to bottlenecks caused by an imbalance of containers, labor shortages, limited space and high volumes.
PORTS
The surge in volumes at U.S. ports in 2020 was a double-edged sword. Caused by consumers spending more money on goods than on services during the pandemic, vessel delays became frequent, especially for the Los Angeles and Long Beach areas where volumes were exploding. The Gulf Coast and East Coast ports also experienced heavier than normal volumes. The congestion was exacerbated by container equipment imbalances and chassis shortages.
There are still large numbers of empty containers sitting at ports that do not have a way to get to ports where demand exists, at a reasonable rate. This caused severe delays in the delivery of goods and added to the congestion problem.
According to Freightwaves, "Based on the Ocean Shipments Index, we expect the East Coast to take in more shipments (in second week of Dec) than the West Coast. The Port of Baltimore and the Port of Savannah are expected to see strong positive year-over-year growth in import shipments. At the Port of Baltimore, shipment growth is expected to be at 27.5% y/y, whereas the Port of Savannah is expecting growth of 39.4% y/y."
Port Outlook: The international outlook for maritime trade is that it will recover and expand by 4.8% in 2021, according to an article in Supply Chain Brain. The availability of containers and a waiver for detention charges at ports will be important factors to shippers next year.

Choptank Port and Intermodal Volumes 2020

The Year Ahead - 2021 and Your Success
The new year does not come with a crystal ball and roadmap. It does, however, give us valuable experiences from the challenges of this year. If the forecasters are correct, they are predicting a slow-growth year for freight in 2021. But there are many assumptions tied to this outlook. It depends on if the virus is held in check and the vaccine is as effective as the pharmaceutical companies claim. It also assumes that the stimulus package will be approved and put money back into the U.S. economy. Consumer sentiment and behavior constitute yet another wild card.
One thing is fairly certain. Costs are expected to increase as capacity is not being added by smaller fleets and the driver shortage continues to affect the industry. If the market recovers in 2021, fuel prices likely will rise again. Shippers may want to factor this in when planning their freight spend.
2020 taught us a great deal about adaptability. It reinforced the necessary role technology plays in the industry—to adapt to new situations through visibility and real-time data or to be at a great disadvantage. Digitization will be even more important in 2021 to optimize freight and reduce risk.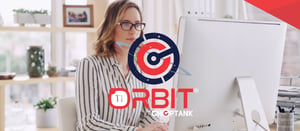 Learn about Choptank's transportation intelligence platform, ORBIT TI.
This past year also reinforced the idea that relationships in the supply chain are monumentally important. Long-term connections that encourage respect and provide driver-friendly conditions have as much to do with a successful logistics plan as the important data that goes into every transaction.
How robust will 2021's freight market be? That will depend on a recovering economy, which will depend on the success and quick distribution of the vaccine. So far, it looks promising and analysts are forecasting economic growth in 2021.
To best prepare for a prosperous 2021, we have a few suggestions to help you get there.
Take the first slow shipping day to review your shipping processes. Find out where you may be losing time, losing costs, losing efficiencies.
Determine how many of your issues are caused by human error. Can automation or digitizing processes eliminate these problems to reduce costs? Ask your provider what new technology might be available to you.
Collaborate early with your transportation providers. Try to provide accurate volumes and be explicit about your company's freight needs.
Make sure all your shipments are tracked and you can get real-time information on all your loads. Ask about forecasting so you can more accurately plan your freight spend.
Have a backup plan in place so you can be proactive if you are suddenly facing unexpected rate increases.


Prepare to ship critical freight a day or two early to keep costs down and ensure on-time delivery.
From all of us at Choptank Transport, we wish you a Happy New Year!

---