presents the 3rd Annual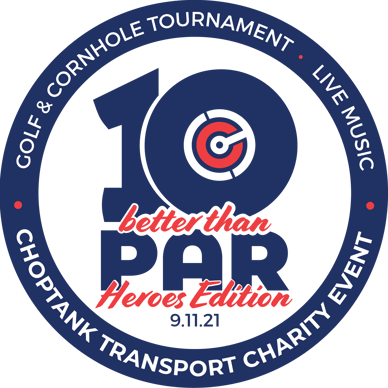 Join Us for our 10 Better Than Par Heroes Edition Charity Event
When: Saturday, September 11, 2021
Where: Hog Neck Golf Course, Easton, Maryland
Golf Tournament Details:
8am Registration, 9am Shotgun Start
4 Player Teams = $400/team
Shotgun Start
Best-Ball Scramble
Prizes for 1st, 2nd, 3rd, Closest to Hole, and Goodie Bags
Cornhole Tournament Details:
11am Registration, 12pm Start
2 Player Teams = $125/team
32 teams, 1 Bracket
10 sets of Boards in Play at Once
Double Elimination Tournament
Prizes for 1st, 2nd, & 3rd
Live Music by THE ROCKETS
One of the area's biggest party bands for well over 20 years! You may know this band from local bars/restaurants around Ocean City. They bring the noise to every show and play a little bit of everything
Sponsors of Golf or Cornhole at all levels will receive one wristband for The Rockets. If you are playing in our tournament (Golf or cornhole) please be sure to purchase your wrist bands as a group to get the discount! Additional wristbands for family and friends or non-players for $20/person.
Charitable giving is one of the primary ways we, as a community, can help ease the suffering of others. Organizations, such as the ones we have selected for our 10 Heroes, are full of everyday champions who go above and beyond their regular duties to help others, with little regard to their own time or safety. Many of these organizations have suffered greatly during the pandemic as normal fundraising efforts came to an abrupt halt. We hope you will consider joining us in the effort to help by becoming a sponsor.
Thank You to Our Sponsors